Orubebe Berates Oshiomhole Over Attack On Jonathan
Elder Godsay Peter Orubebe has slammed Governor Adams Oshiomhole of Edo state for his inciting statement against former president Goodluck Jonathan.
Speaking to newsmen in Abuja, the ex-minister of Niger Delta affairs berated Governor Oshiomhole who he described as a "villa sycophant" who is willing to switch allegiance to whoever is in power, Vanguard reports.
READ ALSO: Oshiomole Vows To Reveal More On GEJ's Govt Looting
[article_adwert]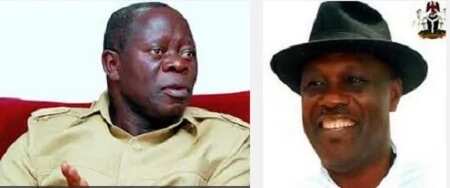 He said: "Oshiomhole is an ingrate and a popular villa sycophant who is quick to switch allegiance to whomever is in power.
He said: "Human memory is short", adding: "It's unfortunate that Oshiomhole who should talk like a governor is today, biting the fingers (Jonathan) that fed him and seems to have forgotten in a hurry that he once cried around the former president for assistance and recognition."
Orubebe went on to advise President Muhammadu Buhari to be wary of the likes of Oshiomhole, who according to him, will choke the president with loud cheers all in a bid to have the access to dip his hands in the nation's cake.
READ ALSO: 5 Governors At Raging War With Predecessors
Governor Oshiomhole had earlier blamed Goodluck Jonathan for Edo state's misery.
According to him, his government was forced to secure a loan of $75million from the World Bank because of the former president Goodluck Jonathan's looting.
These remarks also did not go down well with Akinwumi Adesina, the former minister of agriculture and rural development to the former president, who has also joined hands with Orubebe to lambast the Edo state governor.
Orubebe's popularity soared on March 31, during the collation of results of the presidential election at the International Conference Centre, when he led some officials of the Peoples Democratic Party (PDP) to disrupt the exercise, as he accused Professor Jega of being biased.
He took a microphone from an official of the INEC to accuse Jega of taking sides with the All Progressives Congress, requesting that Jega should stop further announcement of the results. Orubebe said the former INEC boss was attending to the complaints brought forward by APC at the expense of the PDP.
Source: Legit.ng