REVEALED: Prostitution Is Now Big Business In Festac Town
Festac Town is a residential estate that was originally designed to house the participants of the second World Festival of Black Arts and Culture which held in 1977. But the famous town is fast becoming a haven of sex workers.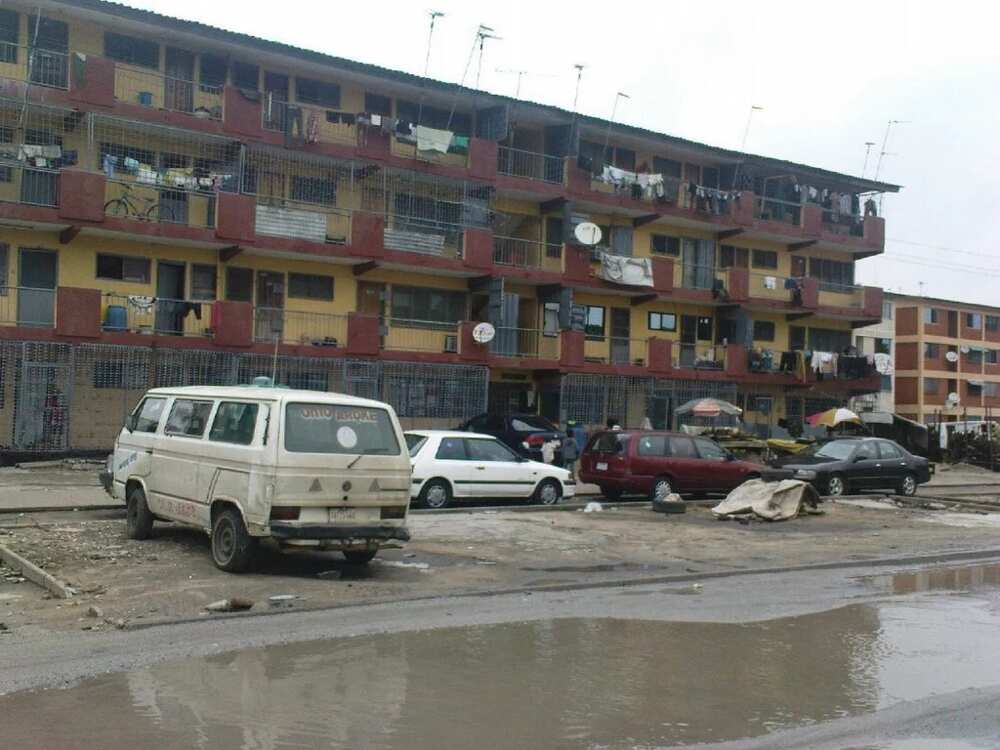 Like many other government built estates around lagos, Festac has dilapidated almost beyond recognition, and that is not only with respect to the infrastructures. The once purely residential estate seem to have evolved into a commercial town where many activities legal and illegal now thrive successfully.
For Festac town, the glory days seem over, as a plethora of private developers and investors have sucked the nectar of this beautiful arts village that was the toast of Lagos at a time.
Town Ruled By Prostitutes
One of the most thriving businesses that characterizes Festac town at present is prostitution. Prostitution has taken over Festac, so much that some say that there is a festival of sex that hold in certain parts of the town. The trade seem to be booming, as many commercial sex workers can be seen on the prowl, harassing residents.
First Avenue seem to be the most preferred spot, one notices that under the cover of the night the ladies of the night gather on the long stretch and wait patiently like birds of prey.  Marijuana and cigarette smoking fill the arena and they puff and loiter the axis of the avenue.
READ ALSO: PHOTOS: Top 10 Lagos Attractions To Visit This Summer Holiday
It is sad to note that even teenagers of 14 and 15 years of age also ply the trade there at Festac town, often under the tutelage of some other experienced older ladies, who we gathered get their shares from whatever proceeds the lasses make over night.
A recent investigation showed that the highest congregation  of sex workers in Festac is in a brothel found near the bride, linking the town with the extension. The area is become a major sex market with ladies of all sorts plying their trade alon
In some kind of synergy, one finds out that where the whores gather to trade, drug dealing and many other shaddy deals tend to thrive, and sadly no one seem doing anything about it.
How the ladies operate
According to our underground investigator, some of the prostitutes' reside in the brothel located near the bridge, quite a number of them taking up rooms at the rate of N3,500 daily, a bill that is shared among two or three persons, depending on their arrangement. The ladies take tuns to entertain clients in their rooms. There are shabby details as to fees, as every one of them is to fix her own fee for services rendered.
Some the ladies interviewed revealed that it depends on the time, class and desperation of those involved. Though there is an average charge of  between N1,500 and N3,000 for a short time service, while N3, 000 is the barest minimum to have a call girl spend the night with you in her room.
Crazy as it sounds, one Lucy told our undercover reporter that some of the girls would go for a three-some if the price was right. For as low as N5,000 Lucy said she could take on two men for the short time. She boasted that it was nothing special and would not wear her out.
For sums up to 10 thousand Naira, most of the girls said they would be willing to do about anything including and not limited to anal sex. With loud music booming certain beautiful blasphemies, the brothel seemed very alive, and investigations show that it goes on the same way everyday, though business as they choose to call it, worked better between Friday and Sunday.
READ ALSO: Revealed: 10 Riskiest Places To Buy Land In Lagos (Photos)
As with many other red light districts, the morning after tells a gory tale with used condoms strewn all over the place, and sometimes pants and bras of variant colours littering the environ, evidences of some sex trade had not in the brothel but on the street, in various corners around the brothel itself.
Accidents
Asides once or twice when police have come to harass them, they said there are barely accidents, except for one time when a customer was found dead the morning after he had an all night session. There was another of a girl who was found dead in her room, but there was no know cause of death and the client she had seen the day before was not identified in any way. A custom they say they have changed, and now take details of all men who come to sleep at the brothel over night.
The plight of the residents
Residents living close to the brothel say they have continue to decry the presence of such a franchise in a place that should be a residential area. They say the brothel, its harlots and the clients that patronise them cause a lot of nuisance. Loud music and noises troublin their sleep and for those with kids, they say it leaves a negative impression on their children and wards.
READ ALSO: Revealed: Town In Lagos Where Men Don't Use Condom
It is reported that they begin to  play loud music from 6.00pm till 5.00am the following day.
The residents lament that it is scary to have the brothel where it is situated because it makes for a goos hangout spot for many criminals, some even go as far as calling it a den of thieves.
The residents' plea
The residents of Festac especially the phase one area where the sex trade seem to thrive more, said they have petitioned the Federal Housing Authority severally, still there seem to be no change, it is come to a point where they only plead that the noise pollution be reduced, since it seem almost inevitable to evacuate the brothel.
Festac town was a purely residential estate. Originally referred to as Festival town or Festac village, located along the Lagos – Badagry Expressway in Lagos. It derives its name from the second World African Festival of Arts and Culture held in Nigeria in 1977. Participants in the festival were given accommodation in the housing units, which were later allocated to winners, who emerged through a ballot.
Source: Legit.ng