Between Ooni Of Ife And President Buhari, Jonathan
Alayeluwa Oba Okunade Sijuwade, Olubuse II, passed away at the age of 85 after a short illness in a London hospital on Tuesday, July 28. His death still came as a surprise to many because his illness was not public knowledge, but having been on the throne for 35 years, he would be feeling fulfilled in his grave.
Oba Sijuwade's interest in business and politics were well promoted, so his relationships with the key political figures in Nigeria were well-known and respected among Nigerians.
In 1984, when Major General Muhammadu Buhari was military head of state, he banned a trip to Israel of the Ooni and his close friend, Ado Bayero, the emir of Kano who died in 2014. This was considered a disgrace of the highest order.
But 30 years later when Buhari was seeking a return to power, it was no doubt an opportunity for Sijuwade to pitch his tent with Buhari's rival, ex-president Goodluck Jonathan, in the 2015 presidential election.
READ ALSO: Palace Denies Death Of Ooni, Says He Is Still Alive
What would he be doing with a man who "disgraced" him many years ago?
Ooni openly expressed his support for Jonathan and was not afraid to be seen as a pro-Peoples Democratic Party monarch.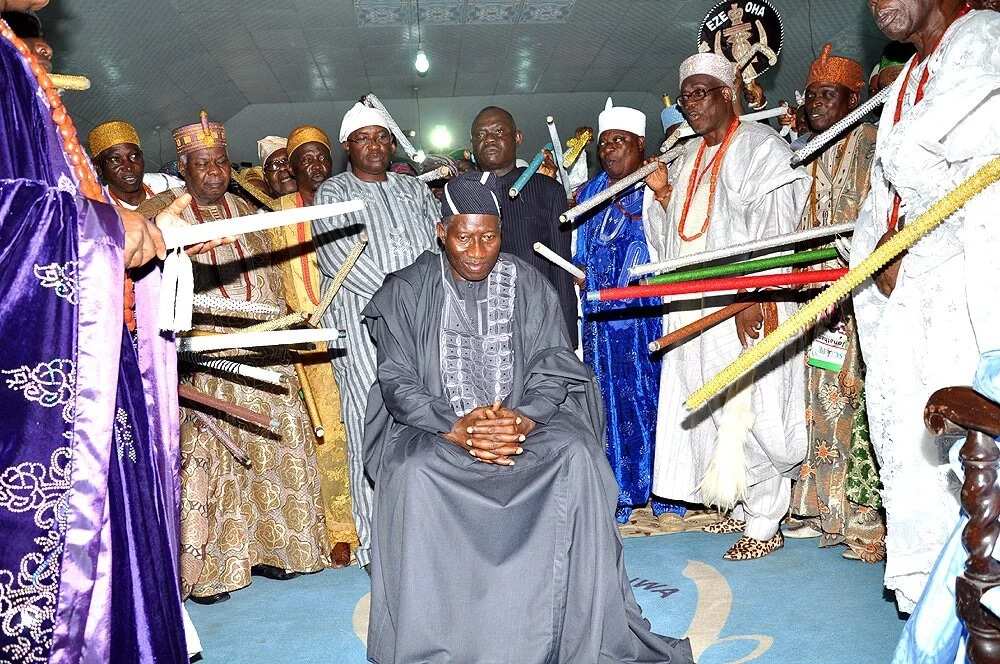 His rulers prayed in front of the cameras for ex-president, who sat down in their midst.
But the prayers hardly worked as Buhari defeated Jonathan, who tenderly called Ooni his "father", in the March 28 presidential election.
However, he was never afraid to go against the grain, even as most Yorubas wanted Buhari did not make him go with the choice of majority.
In 1993, crisis occurred when the government of General Ibrahim Babangida canceled the election of MKO Abiola, a Yoruba son, who seemingly won the presidential poll.
While the Yorubas chose to fight to a standstill, he met with Babangida and came out saying "Babangida is talking sense."
READ ALSO: Meet Ooni Of Ife's Beautiful Wives And Children
Many would say Ooni of Ife was playing the role of a father, a royal one at that, to resolve the tension in the land after the controversial cancellation, but at that moment he was characterised as the biggest enemy of Yorubaland.
Fearless, he went ahead to inspire participation in the transition programme of General Sani Abacha, who had taken over administration and sent Abiola into detention for "treason" for announcing himself president on the basis of the June 12, 1993 poll.
The South-West was deliberately against Abacha and called on all Yorubas to treat him as a leper.
Abacha attempted writing a new constitution to commence a new political process altogether, but majority of Yoruba leaders announced a boycott.
Sijuwade interfered one more time, encouraging his people to go out and vote delegates into the conference.
Ooni's famous statement: "Ejade ke lo try best yin" ("go out and try your best") — a weak way of saying "go and vote" without using those exact words — drew him more enemies than friends. There were, however, many other controversies.
Source: Legit.ng