Buhari Says Only United Effort Will End Boko Haram
President Muhammadu Buhari, has said that only united work between Nigeria and neighouring countries will help to defeat Boko Haram terrorists in the North-Eastern part of Nigeria.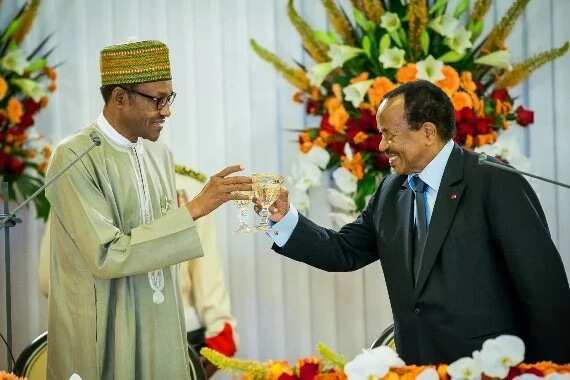 Femi Adesina, the presidential aide, made this known in a statement issued on Thursday, July 30.
He cited the president as speaking at a state dinner held in his honour at the Unity Palace in Yaounde, as part of activities of his working visit to Cameroon.
READ ALSO: Finally, Boko Haram Group Begs President Buhari For Peace Talks?
President Buhari added that the sub-region cannot afford to hesitate in their determination to get rid of the evils of terrorists.
"We recognize that none of us can succeed alone. In order to win this war, we need the collective efforts of each other, standing together as a formidable force for good, to defeat and end these acts of terror against our people," Buhari said.
Adesina added that Buhari told guests at the dinner hosted by President Paul Biya that the security situation in the region gave an opportunity for Nigeria, Cameroon, Chad, Niger and Benin to work together for their joint security, peace and socio-economic development.
"Let me assure all of my relentless pursuit of all possible means to safeguard Nigeria's territorial integrity, protect the lives and property of our citizens as well as my commitment to continue to collaborate with Cameroon and our neighbours, within the framework of the Lake Chad Basin Commission.
 "The Federal government of Nigeria is committed to respecting international norms to resolve this matter and to restore normalcy to all the affected areas as soon as possible," Buhari added.
The Nigerian leader, who had earlier on Wednesday, July 29, held a closed-door meeting with his Cameroonian counterpart, thanked Biya for giving refuge to Nigerians who had fled their homes because of the Boko Haram.
READ ALSO: How President Buhari Plans To Negotiate With Boko Haram
In his own part Biya while commending Buhari on his successful swearing-in into office, said his electoral victory has provided an opportunity for him to preside over the "destiny of Nigeria."
His words: "Mr President, a dark cloud is looming over our countries even as we welcome you; we are facing the same threat, which may rock the foundation of our two nations.
 "This danger bears the name of Boko Haram, its atrocities and crimes are jeopardising peace around Lake Chad and especially in our two countries."
It should be noted that President Buhari's next destination is Benin. Nigerian leader is expected back to Abuja on July 30 and just in two days he will embark on another visit.
Faction of Boko Haram has reportedly approached Buhari and begged to commence negotiations for peace.
Source: Legit.ng