Nigerian Shatters World Academic Record In Russia (Photo)
A Nigerian student, Victor Olalusi, has reportedly scored 5.0 Cumulative Grade Point Average (CGPA) at the Russian National Research Medical University, Moscow, a world record.
This piece of information was made available by the federal ministry of education on Wednesday in Abuja, when it honoured the young doctor, who achieved the feat in 2013, arguably the first in the world.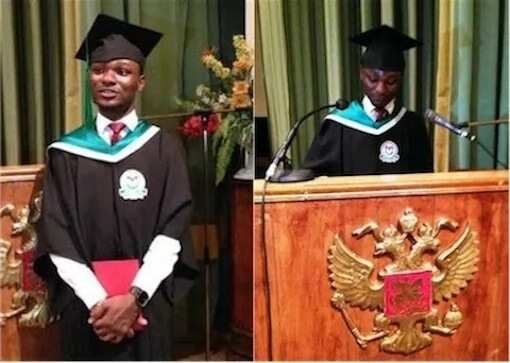 READ ALSO: Making Us Proud! Four Nigerian Female Teenagers Develop Award Winning App In America
PM News reports that Olalusi, who was the best graduating student in the whole of the Russian Federation in 2013, studied in RNRMU under the Russia-Nigeria Bilateral Education Agreement when he achieved the enviable feat.
Dr MacJohn Nwaobiala, permanent secretary in the ministry, said a lot of Nigerian students were brilliant but Olalusi was a genius and had become an ambassador not only to the ministry but to Nigeria and Russia.
He said: "We have to search the Guinness Book of Records for anybody who has achieved 5.0 in a university. It is curious and strange that all those that evaluated his performance could not find reason to reduce a point from him.
"You should be the ambassador of the Federal Scholarship Board, Ministry of Education, Nigeria and the Russian Federation.
"I look forward to the day you will stand before the President to receive your honour. We have recommendations to that effect."
READ ALSO: Read What Happened To A Group Of Students Who Argued In Favour Of Gay Rights
Olalusi was also urged to continue in his responsibility as a role model to young Nigerians and to explore opportunities in postgraduate research.
Mrs Ifeoma Agunwa, the director of the Federal Scholarship Board, while addressing the audience during the event, noted that Olalusi made 5.0 GPA in all the courses he took in the seven years he studied medicine in Russia.
"Olalusi never had a 4.99 GPA. Even in the Russian language class, he did not fall below 5.0," she explained.
The representative of the Russian Embassy in Nigeria, Mr Artem Romanov, agreed also, that Olalusi's feat was very significant for everybody in Russia and commended Nigerians for having much potential in Russia.
According to him: "Nigeria is blessed with abundant human potential which is officially acknowledged in Russia.
"It has been acknowledged in the Russian Ministry of Education that Nigerians have a lot of exceptional talents. Genetically, Nigerians grasp knowledge easily.
"Olalusi is a hardworking person. It is not easy to achieve such in Russia; it goes with talent and hard work.
"I urge you to engage your knowledge in the development of your father land."
Only recently, two Nigerian teenagers, 13-year-old Osine and 15-year-old Anesi Ikhianosime, built a web browser named Crocodile Browser Lite.
Source: Legit.ng