Pastor Who Fed Members Live Snake Reacts To His Arrest
Penuel Mnguni, a very controversial South African pastor has said he cannot be destroyed by anybody.
Mnguni is always in the news for asking his congregants to do strange things. Last week he asked his congregation to swallow live snakes, which led to his arrest.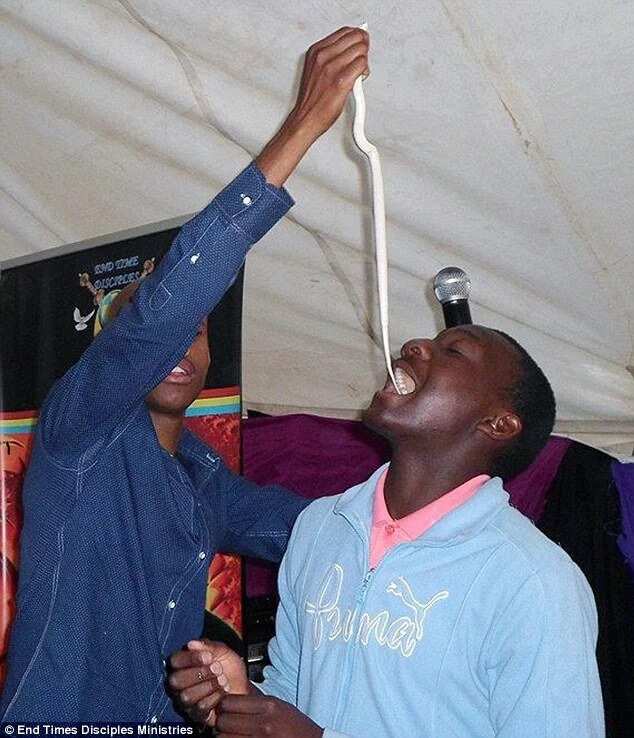 He was charged with animal cruelty after pictures of him feeding snakes to some members of his church surfaced online.
Mnguni, who heads the End Times Disciples Ministries in Soshanguve, was later released on bail.
Speaking after his release, the pastor said South African police do not know who they are fighting.
He was quoted as saying: "Maybe I need help if someone thinks I'm possessed let them come and deliver me, but if nothing come out then I will deliver you. Then one demon came and held her hands on the head of the Man of God but instead that demon was delivered. All laws, constitution and bi-lows are powerless; if they want to arrest me let them also arrest (Nandos).
READ ALSO: Show Of Shame: What Two Pastors And Church Members Did In Church
"God made these animals for us to eat; the world is fighting today because we used the same weapon. No one can destroy me, already I'm destroyed. Police don't know who they are fighting against. There are people who are religious out there. These prophets who spoke about this long before it came to be and he was criticized same as my father. If you go to heaven and not find me it's not heaven. To God Be the Glory,"  he said.
Mnguni is a disciple of another controversial pastor, Lesego Daniels, who rose to fame by making his congregants drink petrol and eat grass.
After reports of him asking members of his church to swallow live snakes surfaced, he was said to have asked them to undress and eat their clothes including their underwear, some days later.
Source: Legit.ng