Police Arrest Man For Raping, Torturing Crocodile
One more highly suspicious story about the man who repeatedly raped a crocodile is making rounds on the Internet.
The article that first appeared at Thugvirals.com tells about Rupert Darwin, 59, who allegedly tied a 3,6m crocodile and sexually assaulted it during the month. The odd incident came to light after Darwin was caught having sex with the beast in his backyard, in a small town of Collier County, Florida, USA. The witness called the police and the man was detained on multiple counts of animal cruelty and one count of illegally keeping a wild animal.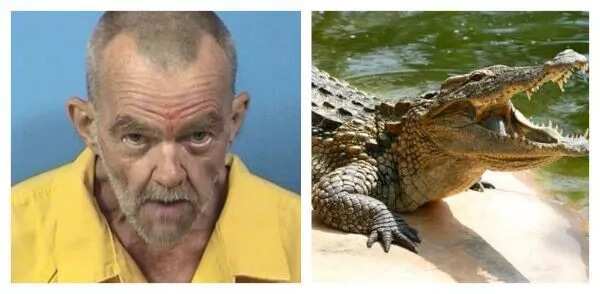 While giving evidence the unnamed witness said: "I heard him say, 'next time you try to kill a man, you best get the job done. Now you're my bitch forever. It was the damn strangest thing I've ever seen. The alligator didn't even move. It was like it didn't give a s**t that man was having sex with it."  Locals also describe Darwin, who works as a fisherman, as weird and reticent.
READ ALSO: Randy Boyfriend Rapes His Girlfriend For A Year: Read Why
Trying to explain his behaviour Darwin said: "The gator tried to eat me and this was revenge, pure and simple. I don't have no sexual attraction to gators, but I wanted to teach this bitch a lesson. I could have just killed her, but that would have been too easy. She was getting what she deserved." He added that he was planning to get a revenge on an animal after it attacked him when he was fishing.
READ ALSO: Rapist Beaten To A Pulp While Trying To Assault Female Kickboxer
The alligator is now being treated for minor injuries and will be released back into the wild in a couple of weeks. Several weeks ago featured a story abouth the woman, who claimed she was raped by a pig and now is expecting a baby pig as her first child. Both stories are considered to be hoaxes.
Source: Legit.ng