10 Facts About Chief of Army Staff General Buratai
President Muhammadu Buhari has appointed services chiefs on July 13, Monday. Legit.ng has compiled 10 facts about Nigeria's new Chief of Army Staff Major-General Tukur Buratai.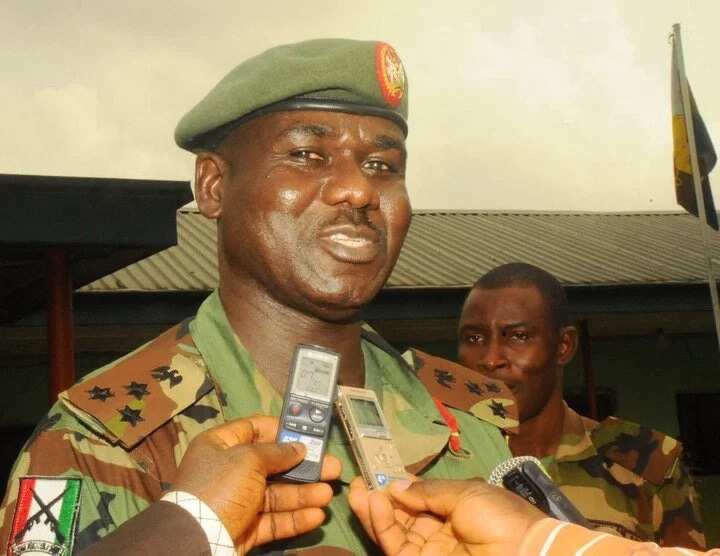 1. Maj-Gen. Buratai hails from a Buratai town in Biu local government area in Borno state that has suffered greatly from the brutal threat of the Boko Haram group.
2. General was born on November 24, 1960.
READ ALSO: Buhari Sacks Service Chiefs; Names Replacements
3. He started his army career after he was admitted into the prestigious Nigerian Defence Academy in Kaduna in 1980 as a member of the 29th Regular Course.
4. Buratai joined the military with a Teachers' Grade II Certificate, which he obtained with distinction. He later attended the National Defence College, Bangladesh.
5. Major-General hold two Master's degrees, one in History from the University of Maiduguri and another in Philosophy from the Bangladesh University of Professional, Dhaka.
6. Furthermore, Major General Buratai attended the Disarmament, Demobilization and Reintegration Course in the year 2000 at Cornwallis Park, Nova Scotia, Canada, and attended the United Nations Staff and Logistics Officers Course, India.
7. When he was the Commander 2 Brigade Port Harcourt and Sector Commander Joint Task Force Operation Pulo Shield, Major-General Buratai brought about improved security in Rivers and Bayelsa states, launched the fight against oil theft, piracy, kidnapping and armed robbery. He also greatly improved the barracks infrastructure in Port Harcourt.
8. Until his new appointment today, he was the Commander of the Multinational Joint Task Force which has its headquarters in Ndjamena, Chad.
9. General Buratai whose hobbies comprise farming, squash racket and jogging, is faced with the task of leading the troops to achieve this lofty objective.
READ ALSO: PMB Is Running A Northern Government - Southern Groups
10. One year ago Boko Haram attacked the house of Buratai, a Major General, who was commanded then the Joint Task Force in the Niger-Delta.
It should be noted that according to the report of the social initiative Buharimeter President Buhari in his 30 days in office has shown some level of commitment in dealing with issues of security.
In his first decision as country's leader Buhari has relocated military command centre to the epicenter of Boko Haram insurgency, Maiduguri.
General Buratai becomes one more northerner appointed by President Buhari.
Source: Legit.ng