President Buhari's Nine Appointees So Far
While many Nigerians have been clamouring for President Muhammadu Buhari to appoint all his ministers since he assumed office on May 29, the former head of state has only named some key personnel.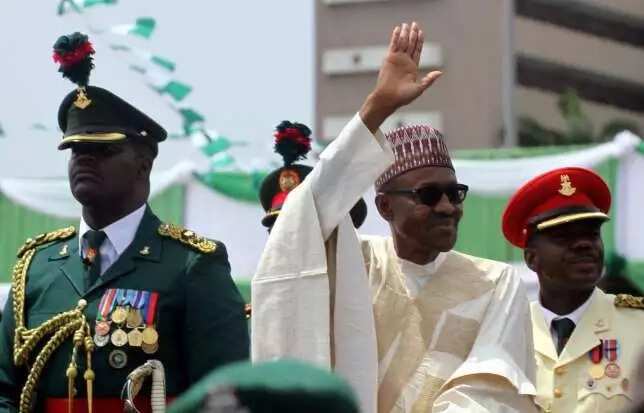 As Nigerians continue to await President Buhari to announce his ministers, Legit.ng brings to you major appointments made so far by the President:
1. Femi Adesina (SSA)
Femi Adesina is the Senior Special Adviser (Media and Publicity) to the president. Adesina is the current President of the Nigerian Guild of Editors (NGE) and serves as the Managing Director/Editor-in-Chief of The Sun newspapers.He is a pioneer staff of The Sun newspaper where he became the editor, and later the managing director and editor-in-chief, a position he will be quitting for the new position.
2. Lt. Col Mohammed Abubakar - (ADC )
President Muhammadu Buhari appointed Aide De Camp, ADC. He is a Lt. Col. Muhammed Lawal Abubakar from Kano state.An ADC is a personal assistant or secretary to a person of high rank, usually a senior military, government officer, or Head of State. Lawal Abubakar will be supervising the president's security details.
3. Lawal Kazaure - State Chief of Protocol 
President Muhammadu Buhari appoints Malam Lawal Kazaure as his State Chief of Protocol (SCOP) .Abdullahi Kazaure is a career Foreign Service official and currently serves in Aso Rock Villa as a Special Assistant (Presidential Matters)
4. Abdulrahman Mani - CSO 
Abdulrahman Mani was appointed by President Muhammadu Buhari as his new chief security officer (CSO) before his inauguration as president.  He is an operative of the Department of Security Service (DSS). Mani's appointment also came with accelerated promotion by the secret service.
Mani was deployed by the DSS as a security detail to Buhari in 2011 weeks before he launched his campaign that year.
READ ALSO: Buhari May Be Intimidated To Say All He Is Doing
5. Ahmed Idris - Account-General of Federation
Ahmed Idris who hails from Kano State, was born on November 25, 1960 and was until this appointment, was the Director of Finance and Accounts in the Federal Ministry of Mines and Steel Development.
6. Mordecai Ladan - Director, Department of Petroleum Resources (DPR)
Mordecai was born on the June 24, 1957 and is married with children. Ladan is a Petrochemist by profession, who joined DPR in Novermber 23, 1987 as a Senior Analytical Chemist. He has a B.Sc. (Hons) in Chemistry from the Ahmadu Bello University, Zaria July 1982; West African School Certificate from the Federal Government College, Kano June 1978. He also bagged M.Sc. Petrochemicals & Hydrocarbon Chemistry from the University of Manchester Institute of Science & Technology, UK March 1986. He later became the Head, Safety, Health and Environment Division in May 2014 until his recent appointment as Director,  Department of Petroleum Resources. He is replacing  Mr George Osahon, whose tenure elapsed on June 19.
7. Mrs. Amina Zakari -  INEC ag. Chairman
President, Mahammadu Buhari appointed Amina Zakari as the acting chairman of the Independent National Electoral Commission on June 30,2015
Amina Bala Zakari, a pharmacist by profession hails from Jigawa State. She completed her Secondary Education from the prestigious Queens College Yaba, Lagos. She graduated with a Bachelor of Science (B.sc) degree in Pharmacy with Second Class upper (Best Graduating Student) in 1980 from Ahmadu Bello University, Zaria.
She had her National Youth Service Programme at the Federal University of Technology, Bauchi between 1981 -1982, where she set up a Pharmacy and Drug Store Dispensary as her service year project.
She then moved into the consultancy field to serve in various capacities as a consultant in Health and Social Services from 1997 up till her appointment as National Commissioner, INEC.
READ ALSO: PDP Calls On Buhari To Remove Amina Zakari
8. Lawal Daura - the director general (DG) of the Department of Security Services (DSS) 
President Muhammadu Buhari replaced Ita Ekpenyong by appointing his kinsman on July 2. However, on the next day, the presidency explained that Lawal Musa Daura was called from his retirement and would be the new acting DG of the DSS.
9. Garba Shehu - the Senior Special Assistant on Media and Publicity
President appointed Garba Shehu as the Senior Special Assistant (Media and Publicity). Garba Shehu is a veteran journalist and former newspaper editor. Garba Shehu served as the Director, Media and Publicity of the APC Presidential Campaign Council. He was the President of the Nigerian Guild of Editors sixteen years ago.
Source: Legit.ng