Photo: Buhari Orders Arrest Of Wife's Younger Brother
President Buhari has reportedly ordered the arrest of  his brother-in-law, Musa Yola, over a fraud allegation.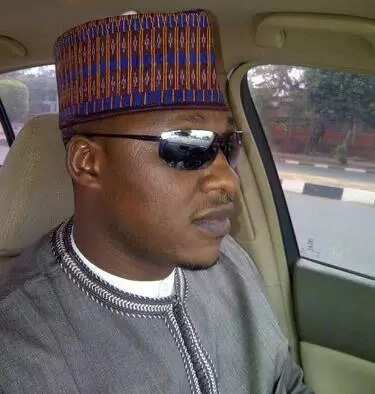 According to Sahara Reporters, Musa Yola, who is also known as 'Alhaji Yola' was ordered to be arrested  for allegedly defrauding an unnamed businessman. Alhaji Yola, who is the immediate younger brother of President Buhari's wife, was said to have duped the unnamed businessman to the tune of  N300m, promising to give him political access to secure an oil block from the Buhari administration.
READ ALSO: One Dollar – One Naira: After Buhari's Election Naira Extremely Falls
According to Sahara Reporters' source, President Buhari on hearing the issue, called for the immediate arrest of Mr. Yola last Monday, asking that he should be brought to him in handcuffs in the company of the businessman he duped.
The president was said to have questioned the duped businessman, saying he ought to have known that he could not be a part of the fraudulent deal, hence, he should not have allowed his ignorance and stupidity to part with such a significant amount of money. However, the president ordered agents of the State Security Services (SSS) attached to Aso Rock Villa to thoroughly investigate the scam. He also ordered the SSS operatives to ensure that the businessman recovered his money from his brother-in-law.
READ ALSO: 30 Days Evaluation: PMB Fires Back, Says It Takes Painstaking Planning To Clean PDP's Mess
An SSS source told Sahara Reporters, "Alhaji Yola has refunded the money to the affected businessman." He added: "Alhaji Yola has been released on bail." 
Yesterday news broke that Tamuno Jacob Igbomie, a former security aide to Patience Jonathan, was shot dead by unknown gunmen.
Source: Legit.ng