Wike Slams Amaechi Again, Claims N800m Was Squandered
The Nyesom Wike vs Rotimi Amaechi saga does not look like coming to an end.
Governor Wike of Rivers state who has continually accused former governor of the state, Rotimi Amaechi of embezzling from the state treasury and looting the government house has again accused the APC chieftain of squandering up to N800m on Indian consultants.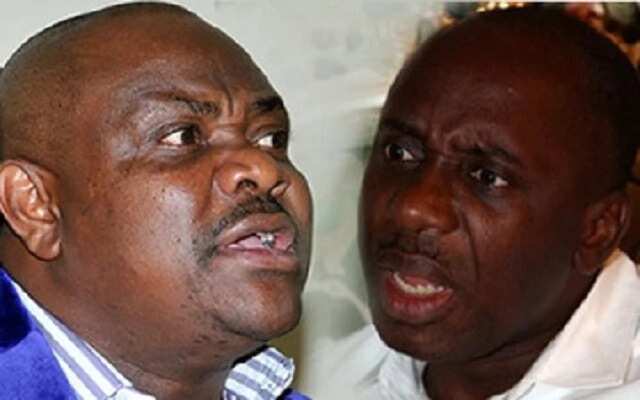 Wike, during an interactive session with journalist in the government house, claimed that his predecessor paid Indian consultants N800m to run the Nne Kurubo Model School at Ebubu-Eleme.
He alleged that the state government owed the consultants some money which led to the shutting down of Nne Kurubo Model Secretary School.
Wike also claimed that Amaechi paid N9billion to some consultants to award scholarships to Rivers state students overseas despite the state having a scholarship board which was responsible for that.
Wike said it was impossible to run a state with consultants without accruing debts. He also denied Amaechi's claims that he leftN7 Billion naira in the state account before quitting.
He however claimed that if his predecessor had so much in the state treasury, he would have been able to pay Pensioners,settle the allowances owed Rivers students on scholarship and pay the workers of the disbanded TIMARIV.
READ ALSO: Why Rivers Will Always Remain A PDP State – Governor Wike
The governor also also debunked rumour circling in the social media that former President Goodluck Jonathan paid him N108 Billion saying he heard it but refused to respond because the allegation was bogus.
According to PM news, Wike said: "People should not think that Nigerians are unintelligent people to believe such tale as if N108Billion is such money that can be paid without a trace.We must show some sense of intelligence. Was the money paid to me before I was sworn in?, Was it in cash? Did the former President have the power to sign out that kind of money?"
The governor cleared the air on the N10 Billion naira loan he recently acquired from Zenith Bank. He said the money will be used for specific projects that were beneficial to the state but abandoned by Amaechi's government.
They include; Ilabuchi road linking Eagle Island,the Law faculty at the Rivers University of Science and Technology, Akpajo/Woji Road, Rumuepricom-Rumuolumeli road and roads in Diobu,Eleparawon.
Amachi and Wike has been involved in a war of words over allegations that Amaechi looted the state government house by removing all the valuables and spending the state money to fund projects for his party and his for his personal use.
On Friday, Wike claimed  he met an empty treasury upon assumption of office on May 29.
Last week, reported emerged that Wike might layoff the 13,200 teachers employed by Ameachi after a resolution passed on Tuesday by the State House of Assembly gave him the right to do so.
Source: Legit.ng