Benue Governor To Borrow N10 Billion
Samuel Ortom, executive governor of Benue state has been given the green light to borrow N10 billion by the state house of assembly.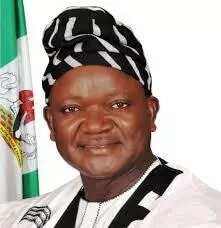 According to Punch, the resolution came after the governor made a formal request to borrow money to pay the salary arrears of government staff that was inherited from the former governor Gabriel Suswam.
READ ALSO: 7 Governors Face Humongous Debts, Wage Crisis
Some of the money would also go into attending to other pressing state matters.
Joseph Ojobo moved the motion for the approval and another member of the assembly, Ianna Jato seconded. Both were PDP members.
Bem Mngutyo, a member of the All Progressives Congress representing Tarka State Constituency opined that it was a great move as the availability of fund would allow the state to perform its responsibility
"Ours is to see how the government can move forward. The state is in a precarious situation, where salaries are not paid," the former Benue State Nigerian Union of Journalists chairman noted.
"Even if borrowing is not the best approach, it is pertinent to know that the best thing to do now is to borrow. Perhaps, we can step up ways of our Internally Generated Revenue because our situation seems to be worse than states that were created after Benue."
Recently, Samuel Ortom warned members of his cabinet that he would not tolerate womanizing in the government house.
Source: Legit.ng