I Would Never Insult Buhari - Tinubu
Former Governor of Lagos state and National Leader of the All Progressives Congress (APC), Asiwaju Bola Ahmed Tinubu, has raised an alarm over a plot by some people to turn him against President Muhammadu Buhari.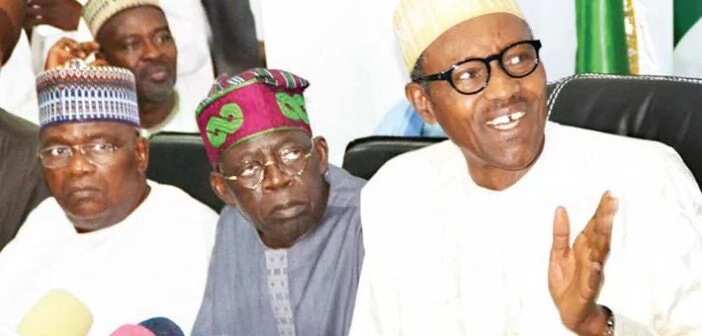 The former governor of Lagos State in a statement by his media office said this in response to a report that claimed Tinubu accused President Buhari of moving against the party by helping Senator Bukola Saraki to emerge as Senate President.
Tinubu however said he never made a public statement about the National Assembly since Saraki and Yakubu Dogara emerged as Senate President and the Speaker of the House of Representatives.
READ ALSO: Buhari's One-term Pledge, APC Leaders Fight Dirty
The APC leader said he could never insult the President or castigate a government that he helped to form.
Read the statement below:
"The story first published on an online news site and later parroted by other online news outlet is an example of irresponsible journalism. This story has no source. It is a blatant fabrication to serve the interest of its sponsors. Tinubu has not spoken about the Senate election. This story is a perverse fiction. Not journalism.
He has never said these lies so wrongly attributed to him. There is no chance he will ever utter such words against President Buhari, a man he worked very hard for to become President, along with millions of Nigerians who voted. Tinubu would not accuse the President of plotting his own injury. If anything, he is alarmed by how this may impair the government's substantive reform agenda.
It is a mischievous attempt to drive a wedge between Tinubu and Buhari. There is no need to try to put words in Tinubu's mouth. He will talk when and if it is necessary. His major preoccupation now is how Nigerians can support President Buhari and his administration to achieve the reform and change promised during the election."
READ ALSO: 5 Signs Buhari Will Soon Dump Bola Tinubu
Sunday Dare, Tinubu's media aide also denied reports that the senate president visited Tinubu in Lagos recently stressing that it is just a lie.
Dare who said Tinubu has been in France since the past week stated it was impossible for the APC leader to be in two places at the same time.
In a related development, a Senator representing Ondo North senatorial district, Robert Boroffice, said that national leader of APC,  did not play any role at influencing the leadership positions of the 8th National Assembly.
Source: Legit.ng