President Buhari Must Work Hard To Be Remembered, Praised
Editor's note: As President Muhammadu Buhari enters week three of his tenure, Nigerians are already discussing his foreign trips, relationship with the G7 countries, him delaying the announcement of ministerial list, and the size of the government, among other issues.
To earn the eternal respect of Nigerians, President Buhari should make good of his promise to hold the the well-being and safety of those who voted him into power above everything else, Legit.ng guest contributor Eedris Ngene says.
This article expresses the author's opinion only. The views and opinions expressed here do not necessarily represent those of Legit.ng or its editors.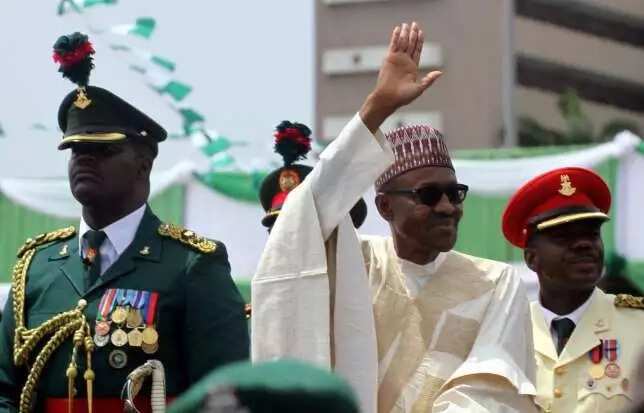 It's been over two weeks since your inauguration, and I believe this is the right time to write you this open letter.
When the 2015 presidential election result was announced, I was really excited. Not for you, but because the true winners in the elections were Nigerians who came out en-masse to make their voices be heard and demanded that "enough is enough".
I also believe that our country will be faring far better under your leadership. Younger generation has never experienced your leadership skills 'first-hand' before now, but we did read and hear a lot about it. We grew up in a country of selfish politicians who enjoy watching people suffer; politicians who would embezzle billions at the expense of innocent Nigerians, the funds meant for basic necessities. Maybe ours was an unlucky generation.
Because of the situation my fellow Nigerian youths and I have found ourselves in, I became interested in learning about those Nigerian heads of state and presidents who earned the respect of ordinary people. Most of our Nigerian leaders have some sort of 'skeleton' in their 'cupboard,' and, after their tenure ended, were cursed by ordinary Nigerians.
You, however, happen to be one of the few ex-leaders who 'stood out,' and one, if not the only, living ex-head of state that millions of ordinary Nigerians still remain loyal to and love so much.
During the 2007 and 2011 elections, even though I admired your personality and believed in giving you a chance to lead our great nation, I did not campaign nor vote for you; in fact, I did not vote at all because I stopped believing in the system long time ago. The corruption at the electoral level was massive and glaring.
As of 2014-2015, it became obvious that Nigeria had become a 'ticking time bomb' and stood at a crossroads. We needed someone who would move the nation to prosperous heights since the ex-president (GEJ) could not do so with many years and multiple chances given to him. At this point, it became very important and necessary for ordinary young Nigerians like myself to get involved in politics of making Nigeria a better place no matter how small our effort may seem.
Politics was something I hated, and politicians, to me, are among the few categories of people I despise. But, because I believed in a better Nigeria, I broke my own rule and campaigned for a politician. I kicked off a grassroots campaign for you. As the then-ruling PDP continued with their 'hate' campaign and propaganda against you, Nigerians who believed in you took up a counter-campaign to clear you of the false propaganda and allegations. Social networks had turned into a battlefield. We were not ready to give up. We kept up the campaign on and off social platforms and spent money for then campaign when necessary.
President Buhari, it is very important that you realize that it was the grassroots movements of ordinary Nigerians like me that increased your popularity nationwide, not your party or your fellow politicians. I hope you do not end up betraying the trust or the little hope left we ensued on you. We took your campaign very serious, to the point where people started accusing us of being paid by the APC. Our integrity was questioned by people who knew we hated politics. But we never gave up.
President Buhari, I hope you do not fall into the footsteps of past Nigerian leaders. 'Selling' your candidacy to some people was tough at times because of the hate campaigns instigated against you. People accused you of many things, but I told them: "Hate him or like him, his integrity remains despite the hate you spread".
If you end up disappointing Nigerians, people like me who once believed in you will end up hating you. I believe you will move the country forward because, at this point in your life, you should be trying to be the 'Mandela of Nigeria,' leaving behind a great legacy that will remain in our lips and the lips of generations unborn. President Buhari, you have to choose how you want young Nigerians like me to remember you and tell stories of you to generations to come.
You will gain nothing if you start looting like others. But you have everything to lose when Nigerians start abhorring you for disappointing them, and you risk to end up being cursed even after your passing away.
We do understand that the country is currently in a huge mess, and we know that a lot of efforts and time is needed. In this regard, we will continue to be patient with your administration and advice others to also be patient.
Do not destroy the integrity younger Nigerians believe you have always had. Do what needs to be done and we, as patrotic Nigerians, will always try our best to support and rally support of others for you. Finally, we Nigerians hope that before your four-year administration ends we would be able to boast of having constant electricity supply and a Nigeria with great security for all.
We will continue praying for the success of your administration.
The author, Mr Ngene, can be contacted via email: idrisngene@yahoo.com.
Your own opinion articles and news/photo reports from your area are welcome at info @naij.com. More details in Legit.ng's step-by-step guide for guest contributors. Drop us an email at info@corp.legit.ng telling us what you want to write about and why. Contact us if you have any feedback, suggestions, complaints or compliments. We are also available on Facebook and Twitter.
Source: Legit.ng