President Buhari Orders Release Of $21m To MNJTF
President Muhammadu Buhari said on June 13 that he had directed the release of $21million, out of the $100million pledge, to the Multinational Joint Task Force within the next week.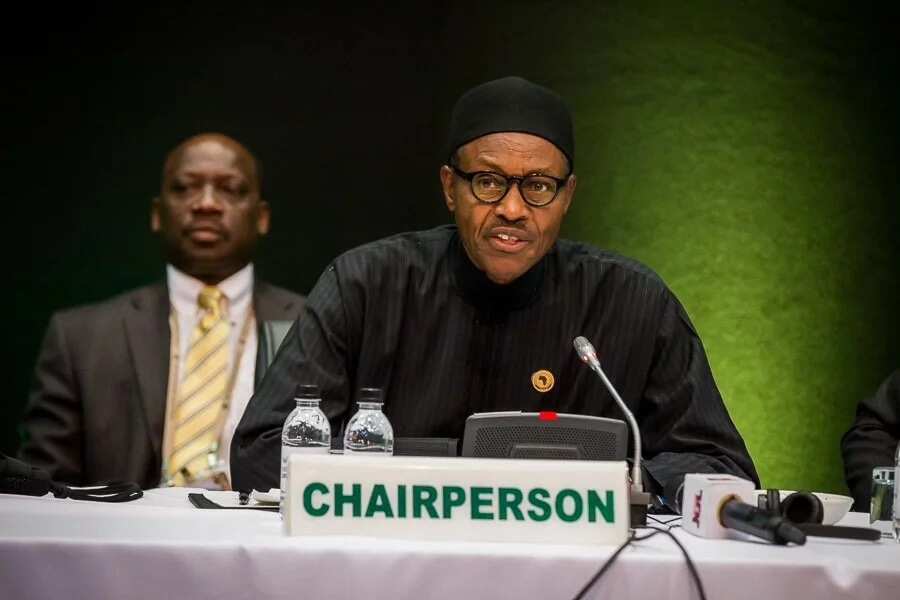 According to The Punch, Buhari made this known during the African Union Peace Security Council meeting in Johannesburg, South Africa.
READ ALSO: PHOTO: See What Buhari Was Spotted Doing Onboard His Presidential Jet
He was quoted as saying by Daily Post:
"The Boko Haram insurgency has extended it's reached to Nigeria's neighbours but is not necessarily limited to these immediate countries as terrorism is a global phenomenon with linkages across the globe.
Given this dimension of global terror it requires to act according in brotherhood and partnership to fight our common goals against agents of evil.
"I'm pleased to note that Cameroon, Chad, Niger, are demonstrating this secret, they are fighting alongside Nigeria under the umbrella of Multinational Joint Task Force to defeat Boko Haram.
"In this regard, the member countries Lake Chad Basin Commission and Benin, met recently where far reaching decisions were taken to immediately put into operations the Multinational Joint Task Force.
"To this end, the summit approved the immediate provision of $30 million for the Multinational Joint Task Force.
"Consequently out of the pledge of $100 million which Nigeria made to Multinational Joint Task Force, I have directed that $21 million be released within the next one week."
Recall that speaking last week at the Lake Chad Commission meeting Nigeria's president promised to pay $100million pledged by Nigeria towards the Multi-National Joint Task Force's effort to defeat Boko Haram.
"Permit me, at this junction, to recall that Nigeria has already pledged the sum of $100 million for the smooth take off of the MNJTF. I hereby reassure you that my government will keep faith with this promise."
The pledge is likely to be fulfilled in the nearest future, based on the fresh reports.
Source: Legit.ng