PHOTO Report: Chief Of Army Staff Meets Troops At The Frontline
Nigeria's Chief of Army Staff (COAS), Lieutenant Keneth Tobiah Jacob Minimah recently put on a brave face and went to the frontline of the war against Boko Haram to pay visit and boost the morale of the Nigerian troops currently battling the insurgents.
He addressed the troops of 7 Division Strike Group (7 DSG) and 121 Special Force (SF) Battalion that comprised the Armed Forces and Nigerian Army Special Forces located in Pulka, 26 Task Force Brigade in Gwoza, 28 Task Force Brigade and 174 Battalion in Mubi encouraging them to keep up the good work they have been doing so far.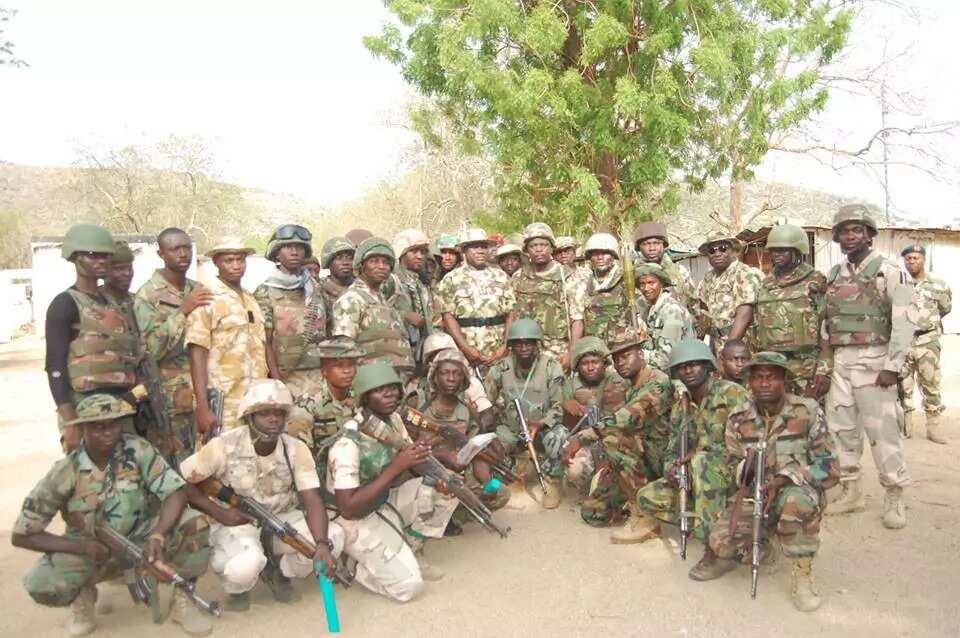 Lt Minimah flanked by excited soldiers.
In Pulka he met Commander, 7 DSG, Lieutenant Colonel Umar Faruq Abubakar and the Commanding Officer of 121 SF Battalion, Lieutenant Colonel Murtala Danjuma Abdulsalam who explained to Minimah their respective tasks in the crucial war.
READ ALSO: Amnesty Disturbing Nigerian Army
Then Minimah thanked the soldiers and commended them on their valor, courage and bravery, which turned the tide against the Boko Haram terrorists and their accomplishments thus far.
The Chief of Army Staff then informed the troops that Nigerians and President Muhammadu Buhari was proud of them.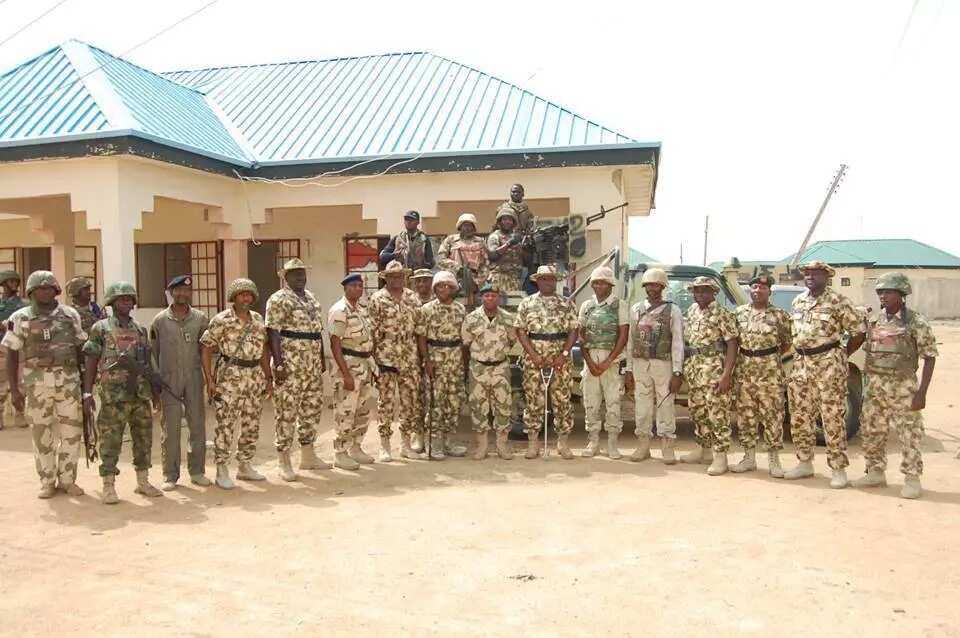 Lt Minimah Poses for the camera along with gallant soldiers.
He noted that he would continue to support them and enjoined them to maintain the momentum.
He also urged the gallant soldiers to be more dedicated, disciplined, professional and continue with the same zeal and determination till attainment of the set objective of locating and destroying Boko Haram camps and enclaves.
READ ALSO: The REAL Reason Behind Osinbajo's Absence At Buhari's Security Meetings
The 7 Division Strike Group have been able to defeat the insurgents in held territories such as Pulka and Gwoza, they were able to destroy quite a number of the terrorists' camps in Kirawa and Kinene, recovering on their way valuable war machines and arms.
At the headquarters of 26 Task Force Brigade Gwoza, Minimah was met by the Brigade Commander, Colonel Irenuma Irabor who came along with Lieutenant Colonel Chidozie Amoha, Garrison Commander of 26 Task Force Brigade.
Brigade Commander gladly told the COAS that they have been able to recapture of Gwoza and due to the military having a base there, the people have finally been enjoying a back to normal life.
He also explained that the Borno State government and youth vigilantes along with the Nigerian army have been screening of returnees and preventing infiltration of fleeing terrorists from Sambisa forest.
READ ALSO: Saraki, The Judas Of Nigerian Politics?
Then Minimah thanked the commander for his work and the efforts of the Nigerian Army and indeed the nation victory over Boko Haram terrorists.
He addressed the Brigade Garrison, elements of 82 Battalion, 121 Special Force Battalion and 122 Special Battalion, and told them that the nation was proud of them for finally getting on top the war against the insurgents.
More photos below...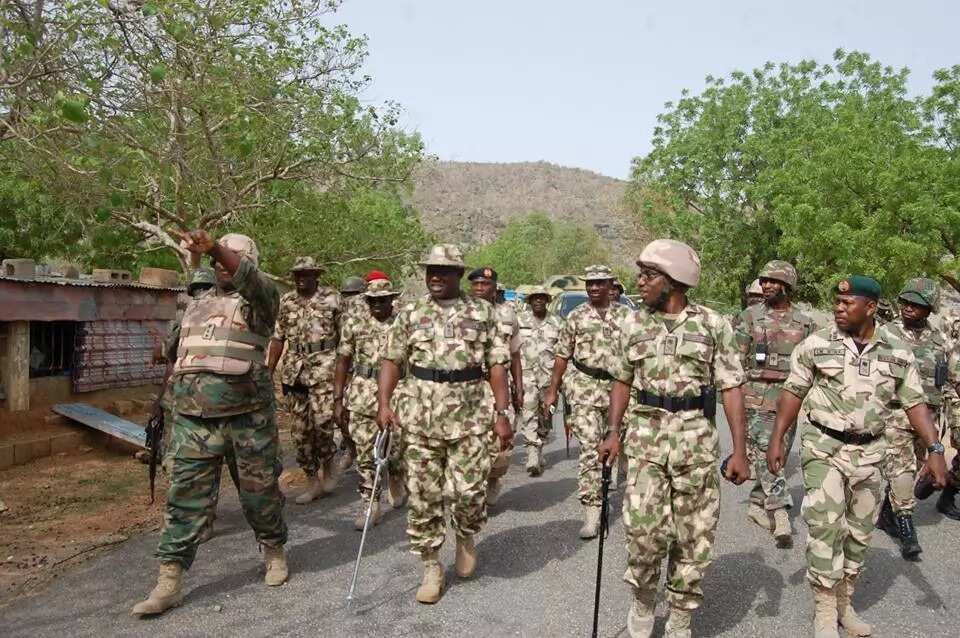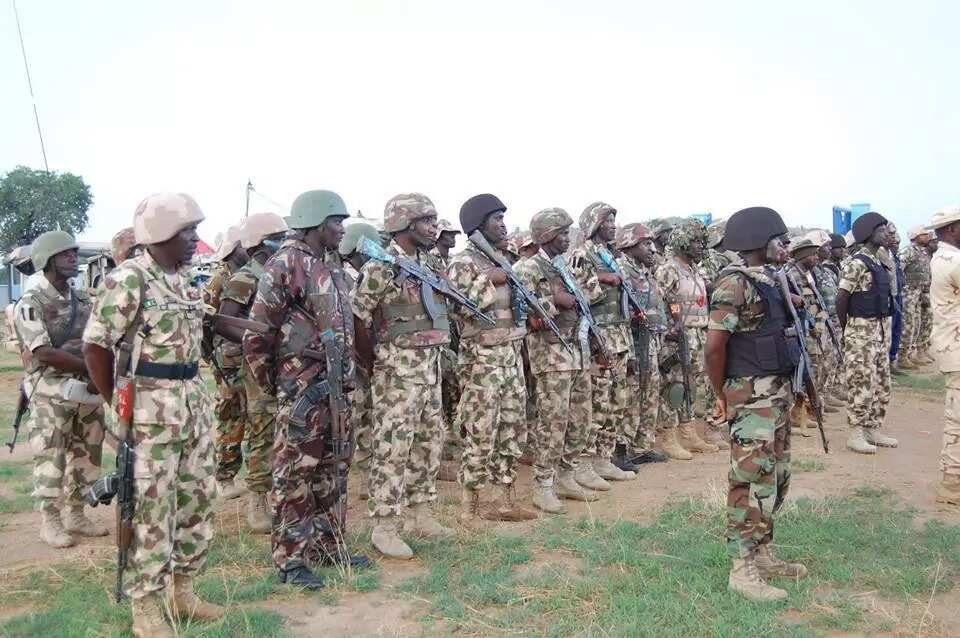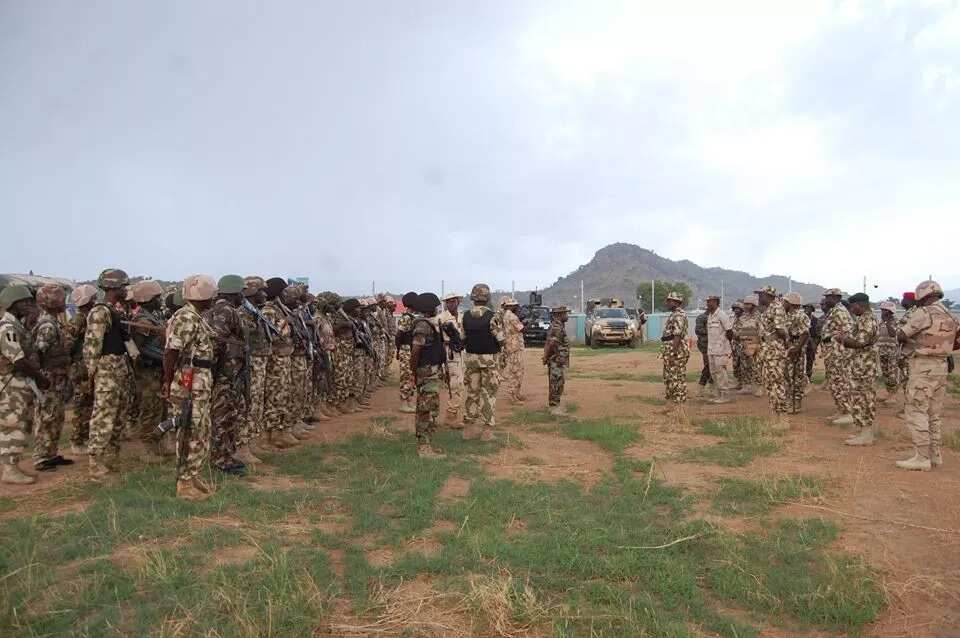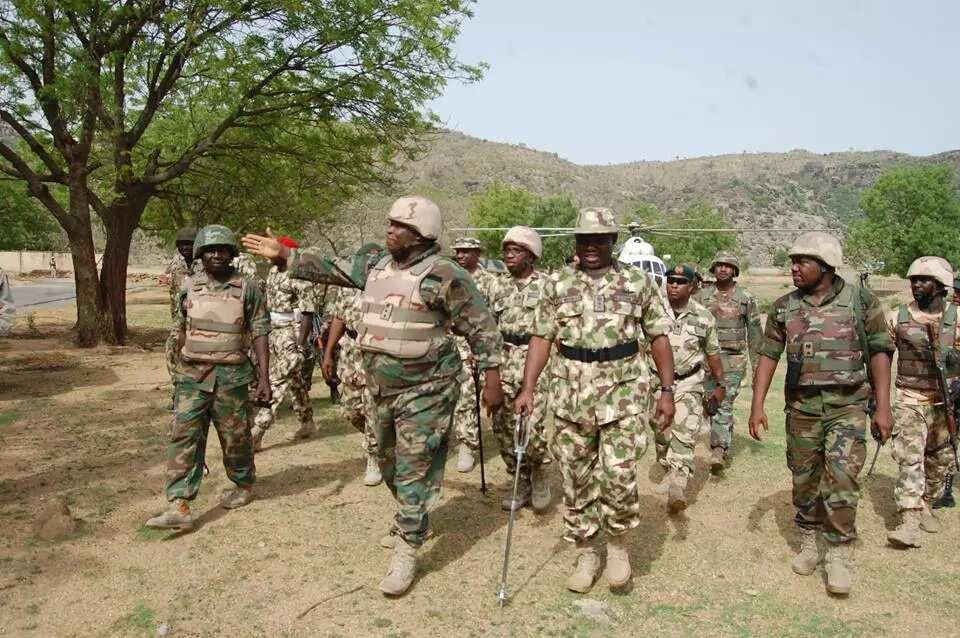 Source: Legit.ng