BH: Nigeria And Chad Agree To Strengthen Cooperation
Nigeria's President Muhammadu Buhari and his Chadian counterpart Idriss Deby on June 4 vowed to enhance cooperation in the fight against Boko Haram insurgency.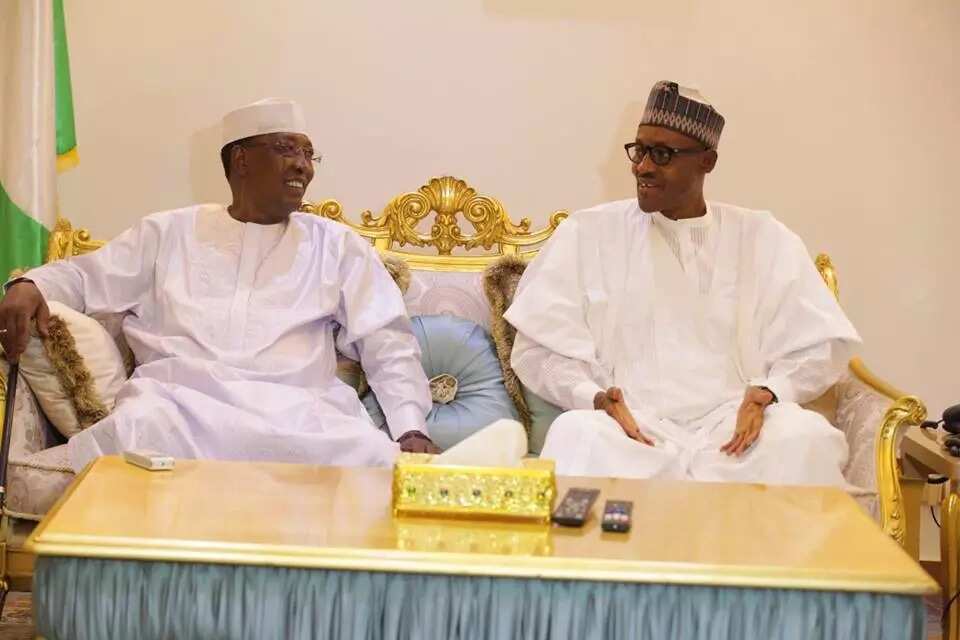 According to The Nation, this was contained in a communiqué signed in N'Djamena. Both leaders stressed the importance of making the Multi-National Joint Task Force (MNJTF) fully operational to ensure maximal effectiveness.
Buhari's media aide Garba Shehu provided in a Thursday statement that the two leaders also urged the international community to support the countries in their anti-terrorism battle.
"Both Heads of State agreed that the war on Boko Haram should be supported by emergency development initiatives in areas affected by this insurgency group. This will help to overcome the harmful effects faced by local populations."
Nigeria's president praised the Chadian troops involved in the fight against Boko Haram, Premium Times adds.
READ ALSO: PHOTOS: President Muhammadu Buhari Arrives Chad For Boko Haram Talks
"Your troops have stood shoulder to shoulder and fought gallantly with ours in the fight against the forces of evil. This is a remarkable show of good neighbourliness, which we must reinforce in the years ahead."
Buhari, who was on his first visit to Chad after the official inauguration, said he would return to Nigeria with the assurance that Nigeria and Chad are poised to intensify their cooperation.
Deby on his part praised his Nigerian colleague for the "wise decision" to relocate the military command centre from Abuja to Maiduguri.Meanwhile sad news are reaching us from Maiduguri, Borno state capital, where a female suicide bomber attacked the army checkpoint killing many soldiers.
Source: Legit.ng