Hacker Group, Anonymous, Accuses Elon Musk of Killing Bitcoin Investors' Dreams, Threatens Him
- Elon Musk has come in the crosshairs of the hacker group, Anonymous, following his series of tweets that caused bitcoin investors to lose money
- Anonymous accused the Tesla founder of cancelling its decision to accept bitcoin as payment due to his longing for government contracts
- The hacker said in a video that Musk has destroyed lives of those depending on bitcoin gains and it is coming for the carmaker for his role in the crypto crash
PAY ATTENTION: Join a community of CEOs, founders, and decision-makers: subscribe for a free monthly business newsletter Digital Talks and succeed BIG!
Hacker group, Anonymous, said it is coming for Tesla founder, Elon Musk, due to his role in the crash of bitcoin, which has affected the investment of retail and institutional investors.
Anonymous said Musk has destroyed lives with his Twitter rant that threw a spanner in the works of the most popular cryptocurrency. He was accused of liquidating the dreams of many.
In the video released by the hacker, the SpaceX founder was described as a narcissistic rich dude desperate for attention. Prior to the statement from Anonymous, Musk had been blamed for the decline in bitcoin value.
Bitcoin had been on a bullish run since the second half of 2020 until Musk tweeted about distancing Tesla from bitcoin, months after announcing that the carmaker has acquired $1.5 billion worth of the crypto.
The disclosure triggered panic sale among investors of bitcoin and other cryptocurrencies, causing the value of bitcoin to fall by 17% immediately from over $55,000 to below $45,000.
A month after Musk's tweet, bitcoin is trading at $35,785.33, and its market capitalisation is half of the over $1 trillion it posted before Musk's May 12, 2021 tweet.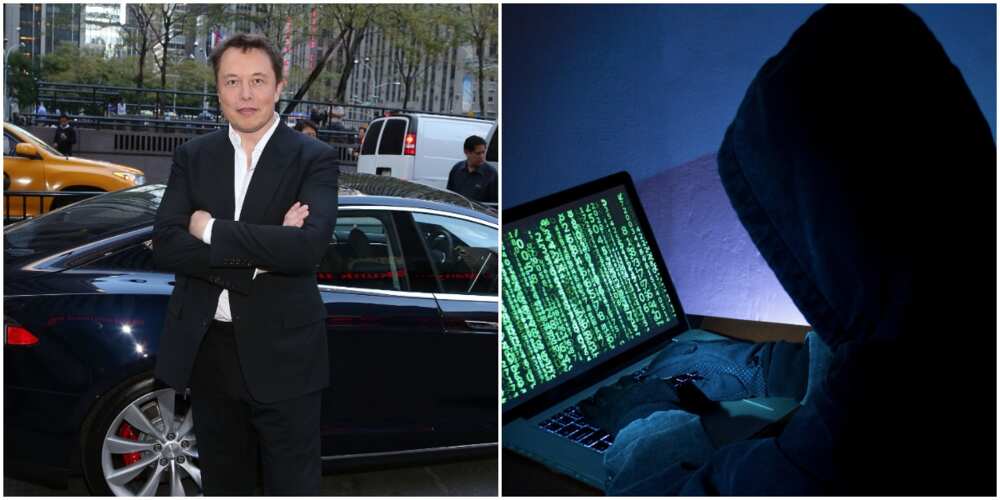 Anonymous said the tech founder backed away from the digital coin in order to get a government contract:
"It is now widely believed you have been forced to denounce your company's involvement with Bitcoin in order to keep that green government money flowing into Tesla's coffers."
The video of Anonymous further stated that millions of retail investors were counting on their crypto gains to improve their lives, but Musk ruined it and mocked them:
"As hardworking people have their dreams liquidated over your public temper tantrums, you continue to mock them with memes from one of your million dollar mansions."
The video ended with Anonymous signature, stating that:
"You may think you are the smartest person in the room, but now you have met your match. We are Anonymous! We are Legion! Expect us."
Meanwhile, Legit.ng had previously reported that the living condition in Lagos State is dropping as the number of high net worth individuals decline within the state.
It was gathered that the number of billionaires and millionaires living in Lagos has reduced over three years, between 2017 and 2020. The decline puts the state as fourth in the wealthiest cities in Africa.
While Lagos ranks fourth, another Nigerian city that made the list is the capital of the country, Abuja. The state came ninth among seventeen cities that featured on the report.
Source: Legit.ng