Fact-Check: Is It true 2 People Jumped Off and Disappeared from Crashed Plane that Killed Attahiru, Others?
On Saturday, May 22, Daily Post published a report claiming two people jumped off the crashed plane that killed the Chief of Army Staff, Ibrahim Attahiru, and 10 other military officers.
PAY ATTENTION: Join Legit.ng Telegram channel! Never miss important updates!
The report also claimed that the two people who allegedly jumped off with the aid of parachutes disappeared afterwards.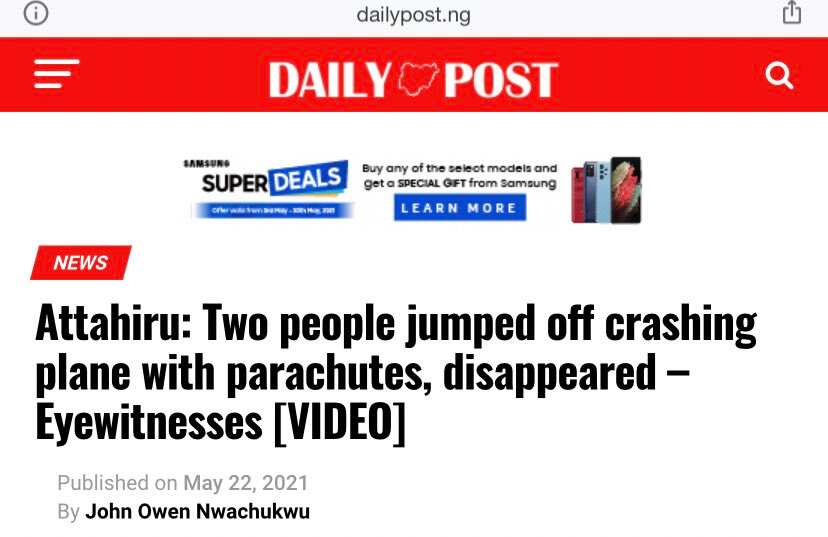 Verdict:
The (now-deleted) report is false. It was based on a video that first appeared on the internet in 2018.
Full Text
On Friday, May 21, Nigeria lost the Chief of Army Staff, Ibrahim Attahiru, and 10 other military officers, including the crew members, in a plane crash in Kaduna state.
The following day, a report surfaced on Daily Post claiming that eyewitnesses who gave the account of the tragic incident said two people escaped from the crash with the help of parachutes.
Legit.ng's checks indicate that the report was based on footage tweeted by one Nwachukwu John Owen, @johnown99.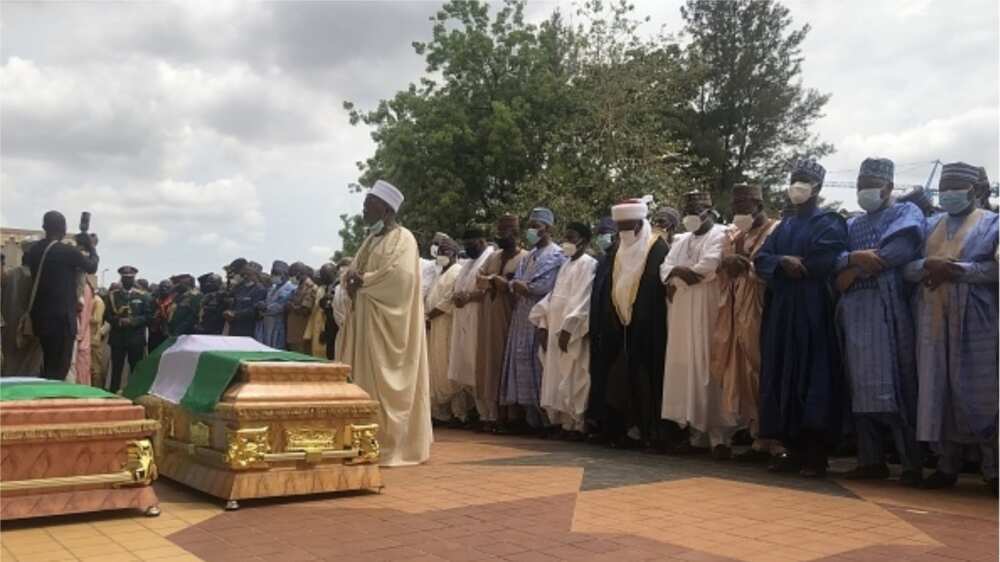 Further checks show that the video was also posted by many other Twitter and Facebook users and published by many blogs.
In the video, an unidentified man is seen narrating an incident he witnessed which appeared to be an aircraft crash.
He narrated how two persons escaped from a crash incident using parachutes.
Verification
Checking through YouTube, Legit.ng found the original video where the footage was cut from. While the man in the video was indeed talking about a plane crash, it was not the Kaduna incident as the video was published on YouTube by Voice TV Nigeria on September 28, 2018.
Further checks indicate that the incident described in the video was the crash of two NAF aircraft during aerial display rehearsals in preparation for the Independence Day anniversary celebrations in 2018.
The plane crash incident occurred in Abuja on September 28, 2018. The incident was also confirmed in a tweet by NAF's spokesman at the time, Ibikunle Daramola.
The tweet reads:
Conclusion
The report claiming that two people jumped and disappeared from the crashed plane where Attahiru and 10 others died is FALSE.
The video the report cited as its source was about a 2018 crash.
PAY ATTENTION: Install our latest app for Android, read best news on Nigeria's #1 news app
Meanwhile, Attahiru and other officers who died in the plane crash have been laid to rest at the National Military Cemetery, Abuja on Saturday, May 22.
Honour guards performed the 21-gun salute for the late COAS at the graveside.
A live video from the burial ceremony of the deceased heroes was posted on the Facebook page of the Nigerian Army.
Source: Legit.ng