Youth Leaders to FG: Save Nigeria From Imminent Collapse
- Conversations around how Nigeria can move past its current dark stages are ongoing
- Hamzat Lawal of Connected Development is leading the conversation by hosting young leaders in Abuja
- Such conversations are firstly focused on the peaceful co-existence of Nigeria and generally addressing the country's challenges
PAY ATTENTION: Join Legit.ng Telegram channel! Never miss important updates!
Youth leaders working towards a peaceful co-existence of Nigeria have urged the federal government to urgently convene a national dialogue to address issues of poverty, youth unemployment, and insecurity to save the country from collapse.
The leaders made the call on Friday, April 30 in Abuja at a National Cohesion and Tolerance Dinner organised by a leading civil society organisation, Connected Development (CODE), and attended by Legit.ng.
The event was graced by about 25 youth leaders from various political, ethnic, and religious backgrounds to discuss the way forward for Nigeria.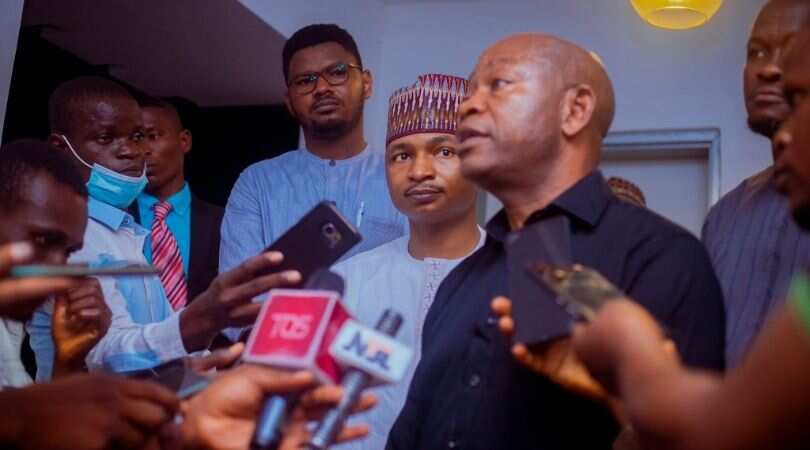 PAY ATTENTION: Install our latest app for Android, read best news on Nigeria's #1 news app
Several youth leaders were also in attendance and conversations focused on the role of the youth in promoting peace and other activities that unite the country rather than those that divide it.
Speaking to journalists on the sidelines of the event, founder of CODE, Hamzat Lawal said:
"We are not happy with the situation of what is happening in Nigeria today, but as a young person, the destiny of this country is in our hands.
"One of the biggest challenges facing us today is that we so much amplify hatred, disunity and bigotry. We should take a stand and tell our elites that we cannot be distracted, no matter what happens.
"We must continue to respect each other, tolerate ourselves. I believe we have a big role to play for Nigeria to become great for future generations, and that future starts now.
"Our collective responsibility is to protect everyone no matter how different we think they are. As young Nigerians, we are heavily involved in promoting and ensuring peace and unity within our nation."
Also speaking, the executive director of the International Centre for Energy, Environment, and Development, Elwah Eleri said it is very important for Nigeria to come together and have conversations around various issues in order to tone down hate rhetorics.
His words:
"Young people should focus on their future so that we can talk about things that unite us, and also see how we can solve the issue of poverty, low standard of education and lack of job opportunities.
"If we are able to address this, I think what we are facing today would reduce to the lowest minimum."
In his remarks, a Catholic priest, Rev. Fr. Robert Achiga said young people should focus on prominent Nigerians who like dialogue and peace in the society as opposed to those constantly promoting violence through their comments.
He said:
"The problem we have now is that we are struggling apart and a lot of people are fighting for something in a divisive way.
"Any leader who thinks he is a leader only for a section of this country is doing that section more harm than good because the members of that region will continue to co-mingle with people of other regions.
"It is wise for any leader to lead the whole of Nigeria and not in sections and I am sure there are leaders who are more nationalist than many others that we see. Let us just copy the good examples and forget about those ones that divide us. The youth should be focused."
Meanwhile, a data analyst and journalist, Rotimi Sankore has taken to his Twitter page to give reasons why Nigerian governments at all levels are failing to address the mounting insecurity in the country.
According to him, Nigeria is failing to address the problems due to:
1. Bandits and extremists have plenty of recruits
2. 100 million citizens are in extreme poverty
3. 60 million citizens are unable to read or write
4. 10 million to 13 million children are out of school
5. Unemployment is at 33%
In a related development, the British Minister for Africa, James Duddridge, has described Nigeria's security situation as massively complex, stressing that no partnership would resolve the multiplicity of the country's problems.
Duddridge made the comments while responding to questions from journalists attached to Nigeria's ministry of foreign affairs.
The British minister had visited his Nigerian counterpart, Geoffrey Onyeama on Tuesday, April 27 to discuss matters of interest between both countries when he was accosted by the reporters.
Source: Legit.ng