Billionaire Ned Nwoko Reveals his Great Passion for Eradicating Malaria in Nigeria, Africa
There is no doubt that malaria is a risk for 97% of Nigeria's population, while the remaining 3% live in the malaria-free highlands.
PAY ATTENTION: Join Legit.ng Telegram channel! Never miss important updates!
In this exclusive interview with Legit.ng's regional reporter, Adewunmi Adeoye, the billionaire and former House of Representatives member, Ned Nwoko, explained the rationale for his passion for malaria eradication in Nigeria and Africa.
Why are you so passionate about malaria?
It is my love for humanity. It is my love to save lives that would be wasted otherwise. According to the World Health Organisation (WHO), over 500,000 people die annually in Africa. That is huge. I am saying that all the other problems put together are not up to that.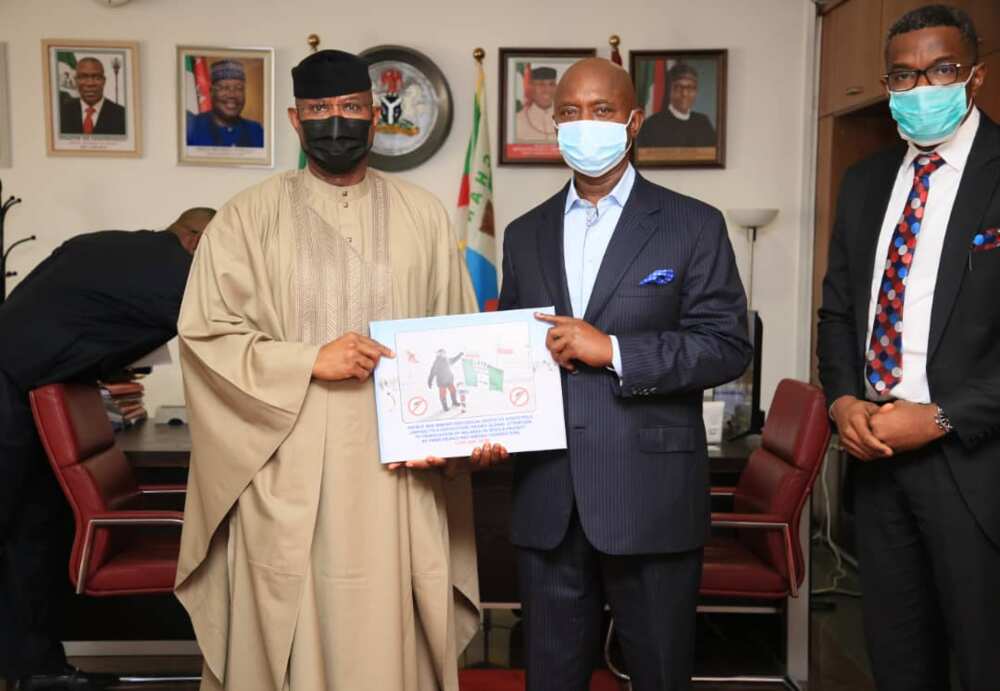 All the other causes of death in Africa such as HIV/AIDS is not up to the number of people that die annually from the scourge of malaria. So, from that perspective, malaria is our number one enemy.
From your viewpoint, has the government been doing enough to nip this in the bud?
There is little or no attempt by successive governments at addressing the issue. Governments are very cosmetic. They just want to provide some clinics here and there to treat malaria. But, that is not the solution.
What is the solution?
The solution is to prevent it. It is just like COVID-19. Some people have realised that treating COVID-19 is not the best way. It is preventing it and that is the reason for the ongoing drive for vaccination because they want to stop it.
We must stop Malaria and what causes malaria. What is the thing that causes malaria? We know it is the mosquito. And what makes malaria multiply is a bad environment.
So, What's Ned Nwoko Foundation's target on this?
Our target is to have proper sanitation which includes or starts with waste management. We are looking at how to collect waste from our offices, markets and so many other places while transporting them to every designated centre in the local government where we are going to have a recycling plant. And from there, we recycle them into other reusable products like power generation.
If we have a recycling plant that has a power generation component, waste will become wealth because we will generate sufficient power. We will generate power in every local government where there is a recycling plant. With this, over 5 million youths will be employed.
So, we are going to have a small industry with the youths owning these industries to generate bags and bins. They will be colour coded. They will have one for papers, bottles, plastics and other composites.
Every street will have the days vehicles will be there to collect them. It will be done religiously. So, they will be collected from those streets and will be taken straight to the centres to be properly sorted for recycling and utilised.
When that is done, you will find out that people will live longer, there will be jobs and mosquitoes will have no place to hide. Once we are able to get this recycling process started, everywhere will be fumigated.
Really?
Yes. So, there will be a lockdown but it won't take more than a month. Malaria is not a one-man problem. Some people might not understand the long-term implication. But, many people have died and many more will die. Malaria is endemic. It is within our system.
People feel it is part of us but it is not. We don't have to accept it. We must reject it. In rejecting it, the government must lead this fight to ensure a cleaner environment. That is the short-term solution.
The long-term solution is to invest in vaccines. We are doing something on that but it is not exclusive to Ned Nwoko Foundation. There are other individuals who have similar interests and compassion. Government can also invest.
We should admit the fact that malaria is a major problem. Malaria kills. You can imagine the amount of money we spend every day in Nigeria treating malaria. We will go for diagnosis to injections or tablets for maybe about N20,000 and that is a lot of money because the vaccine will cost you less than N5,000 for a lifetime for each person.
What stage is the Malaria vaccine you are working on in synergy with other people?
There are three stages. The first stage is to get a local researcher to research into it- consulting professors in Nigerian universities which we have done. From my visit to Antarctica, we have been able to verify two companies that are researching into it. So, we are investing and working with them. And there are some companies that have been doing some trials. So, we are also working on them too.
When should Nigeria, Africa expect this Malaria vaccine?
It is a process. So, it is not a timetable. We are following it up. You will recall I highlighted three stages. So, we are ready to support anyone that works out first. It is not exclusive to us. We also want the government to support us.
What form of support do you want from the government?
The first step we have taken now is to prepare a bill that will be introduced to the National Assembly. We want an Agency to be established that will focus on dealing with this.
PAY ATTENTION: Install our latest app for Android, read the best news on Nigeria's #1 news app
The Agency will be charged with the responsibility of managing waste, disposal of waste, working on the vaccine development and usage, charged with the responsibility of fumigating Nigeria. So, I am sure that within 3 years of the life of the agency, the endemic would have dealt with. So, the government has a role to play.
Meanwhile, Legit.ng had previously reported that Governor Babajide Sanwo-Olu of Lagos asked the residents of the state to consider any malaria-like symptoms experienced as COVID-19 infection until proven otherwise.
It was reported that he said anyone with such symptoms should proceed to any of the state's public health facilities or laboratories to get tested for free.
Source: Legit.ng