How I Survived Biafra War, 73-Year-Old Ex-Soldier Makes Stunning Revelation
When Godfrey Nwosu decided to pay his uncle a visit in Onitsha after finishing his Standard Six Education, he never knew he was on a journey to learn what would end up being his main source of livelihood; after spending years at the battlefront as a Biafra soldier.
PAY ATTENTION: Join Legit.ng Telegram channel! Never miss important updates!
Nwosu is a 73-year-old former Biafra soldier who now works as a tinker inside the Onitsha Tools Market, Onitsha, Anambra state.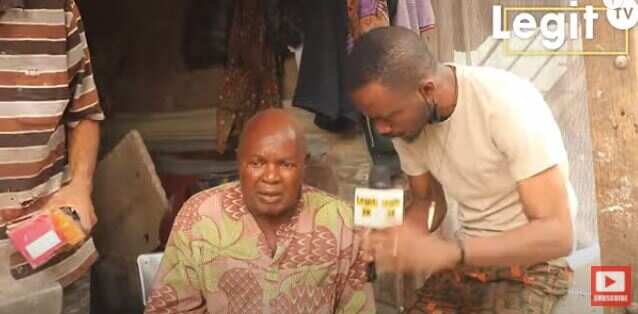 During a recent visit to the market, the former Biafra fighter shared with Legit TV's Damilare Okunola his unplanned venture into the tinker job and his years at the battlefront.
The first time in Onitsha
After finishing his Standard Six education, Nwosu had nothing to do. So he decided to visit his uncle in Onitsha who was a tinker. Though he was not interested in the job, he started playing with some metal works, producing piggybanks and small boxes to make some tokens.
Nwosu was with the uncle until the outbreak of the Biafra/civil war. In 1968, he went back to his village where he joined the Biafra army, alongside about six other people.
Surviving the war
Nwosu who joined the army in 1968 said he would not have agreed if anyone told him he would survive the war because he went through many things, including seeing his friends and comrades dying.
"The person you converse with now, maybe one hour after, you can't see him again," Nwosu said.
The septuagenarian added that he also escaped death through a divine intervention when he was caught by the soldiers of the Nigerian Army.
He said:
"God saved me, I entered into the hands of the Nigerian Army one time but I was saved by God."
Nwosu also recalled how he escaped another death when their commander, Captain Akpan from Akwa Ibom, mobilised his colleagues to face the Nigerian soldiers. All of them did not return.
Nwosu said he was not in the camp that day as he was sick. So, he escaped another death.
Out of the about six people who joined the Biafra army from his village, he is the only one who survived the war.
"Military is a game of either you survive or you die," Nwosu noted.
Despite the tragic experience, Nwosu said he does not regret fighting in the war.
Tinker work: life after war
When the war ended, he returned from the bush and went back to Onitsha to continue the tinker work with his uncle. As he started making money on his own, he left his uncle to rent his own apartment.
In 1977, he relocated to Kano to try his hands on trading. Sadly, he failed. Thereafter, he returned to Onitsha to continue the tinker work.
Around 2005, he got a contract to do a special trunk box which appears to be a big break for him.
Now, he produces trunk boxes which sell for N25,000 each, chest boxes, cooking pots, among others.
With the job, he has been able to train his children, some of whom have joined him in the business.
Nwosu's family
The 73-year-old is married with eight children. Though he failed at trading in Kano, it was in the northern city that he met his wife. They got married in 1981.
PAY ATTENTION: Join Legit.ng Telegram channel! Never miss important updates!
In another news, a retired Assistant Inspector of Police, Ambrose Aisabor, has said the secession group, the Indigenous People of Biafra (IPOB), is stockpiling weapons by attacking and looting security formations.
Aisabor said the group aims to achieve the Biafra Republic by engaging in war with the Nigerian government.
Source: Legit.ng