Secession: FG Says Agitators will flee From Nigeria When Crisis Erupts
- Lai Mohammed, the minister of information and culture, has reacted to agitation by secessionists
- The minister explained why secession will not benefit the country
- The official highlighted some of the challenges facing the country
PAY ATTENTION: Join Legit.ng Telegram channel! Never miss important updates!
The minister of information and culture, Lai Mohammed, says people agitating for secession will be the first to flee the country if such agitation leads to crisis.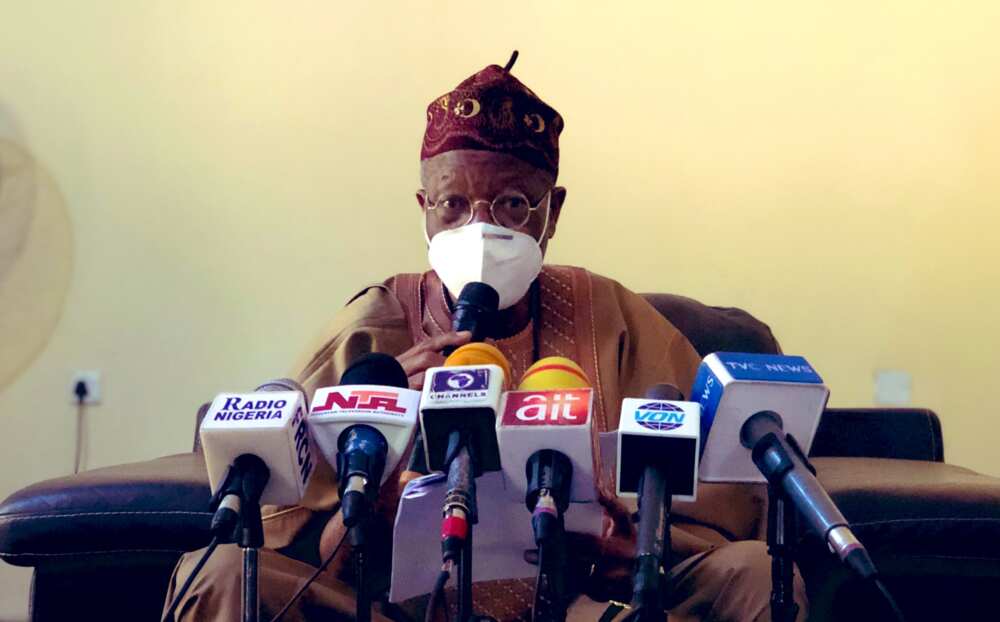 Mohammed, who spoke on Sunday, April 18, in Lagos when he appeared on Bond FM radio programme, urged Nigerians not to listen to promoters of secession, The Cable reported.
He said:
Those who support separation and secession will be the first to run away when any problem starts.
"We should not listen to them as many of them have about four passports of other countries.''
The minister insisted that secession is not the solution to the challenges facing Nigeria.
According to Vanguard, Mohammed pointed out that issues in the country such as ethnicity, activities by extremist groups and farmer-herders clashes are not new.
The politician explained that rather than calling for separation, Nigerians must look for a way forward.
He said:
You don't cure headache by beheading the patient.''
Meanwhile, the Yoruba Council of Elders (YCE) has distanced itself from the secessionist call being championed by Sunday Adeyemo, a Yoruba youth leader popularly known as Sunday Igboho.
Igboho had recently said Yoruba is no longer part of Nigeria, calling on people of the ethnic group residing in the north to go back home.
However, Kunle Olajide, the secretary-general of the YCE said Igboho does not represent the Yoruba people in his call for secession.
In another news, a group, Yoruba Appraisal Forum (YAF) has raised the alarm about an alleged plot by some elements posing as agitators for Yoruba freedom, secession, and self-determination to cause fresh violence and chaos in the southwest region of the country.
YAF alleged that the plot was aimed at instigating bloodshed to achieve their plans to hasten the disintegration of Nigeria.
It further accused the agitators of mobilising youths in the region for more violent protests and bloody confrontation with governmental authorities and security agencies.
Source: Legit.ng