Queen Elizabeth II Pens Goodbye to Prince Philip with Handwritten Note: "I Love You"
- Queen Elizabeth II left a handwritten note on her husband's casket, a beautiful reminisce to their early days as lovers
- The note bore her final words of love alongside flowers placed on the casket that she personally selected
- The queen sat alone during the funeral at St. George's Chapel per COVID-19 protocols
PAY ATTENTION: Join Legit.ng Telegram channel! Never miss important updates!
As the United Kingdom and the world bid farewell to Prince Phillip, The Duke of Edinburgh, Queen Elizabeth II said goodbye to her husband and the love of her life.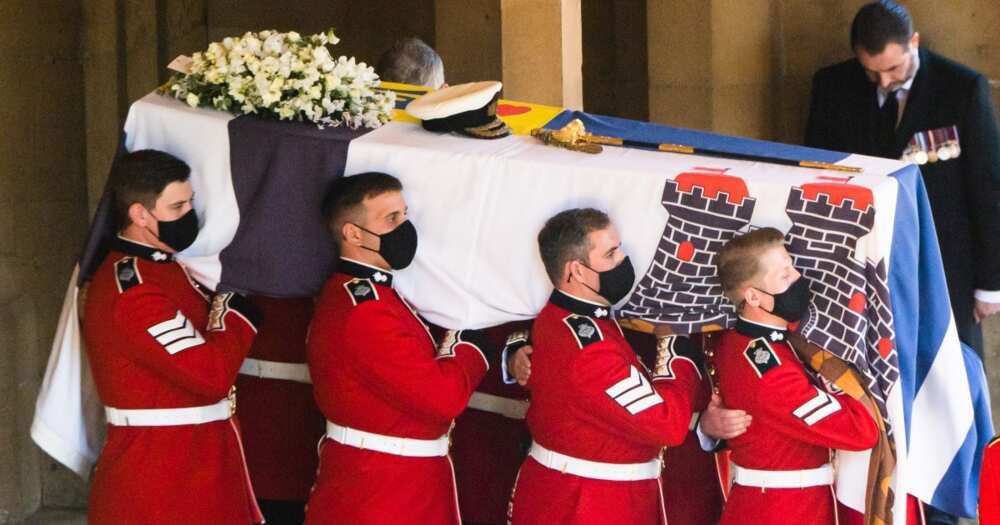 The queen and Prince Philip were married for 73 years before his demise on April 9, aged 99 years.
While saying goodbye to her late husband, the queen left a handwritten note on her husband's casket, a beautiful reminisce to their early days as lovers.
As the duke's casket was being transferred to be interred in the Royal Vault at St. George's Chapel, one could spot the late's naval cap, and the Royal Navy officer's sword laid on top of the coffin.
Apart from that, there were white roses nicely placed that were personally selected by the queen and a handwritten note alongside the flowers, with her final words to her love.
According to E! News, the note read in part, "I love you", which was fitting as the two, who met when the queen was only 13 years old, used to communicate in letters back in the day.
Queen Elizabeth II sat alone inside the chapel per the COVID-19 strict guidelines, and even whilst wearing a mask, one could tell she was in real grief.
Even while dressed in a black outfit, hat and mask, at one point, she was spotted looking down, seemingly overcome with emotion during the tough period.
She would also look at her children, grandchildren and great-grandchildren to confirm if they were okay, which showed how caring and selfless she is.
The Royals were not dressed in military attire, which the queen reportedly banned a few days to the occasion to accommodate Prince Harry and Prince Andrew.
After resigning as a senior prince, Harry was deprived of his honorary ranks. He faced the prospect of becoming the only family member to wear a suit during the funeral.
Source: Legit.ng