Obaseki Sends Strong Message to Buhari's Govt, Insists on N60bn Claim
- Governor Godwin Obaseki has taken a firm stand on his claim that more money was printed to bridge allocation to states
- The Edo state governor insisted that the federal government actually made the move
- Obaseki, however, said he is not interested in arguing with the government on the issue
PAY ATTENTION: Join Legit.ng Telegram channel! Never miss important updates!
Governor Godwin Obaseki is not ready to make a U-turn on his claim that the Buhari-led government printed an additional N60 billion to support its allocation to states across the federation.
Although the Edo governor promised not to join issues with the government on the matter, he advised the Nigerian leadership to put an end to the alleged financial rascality so as to prevent the economic woes faced by the country.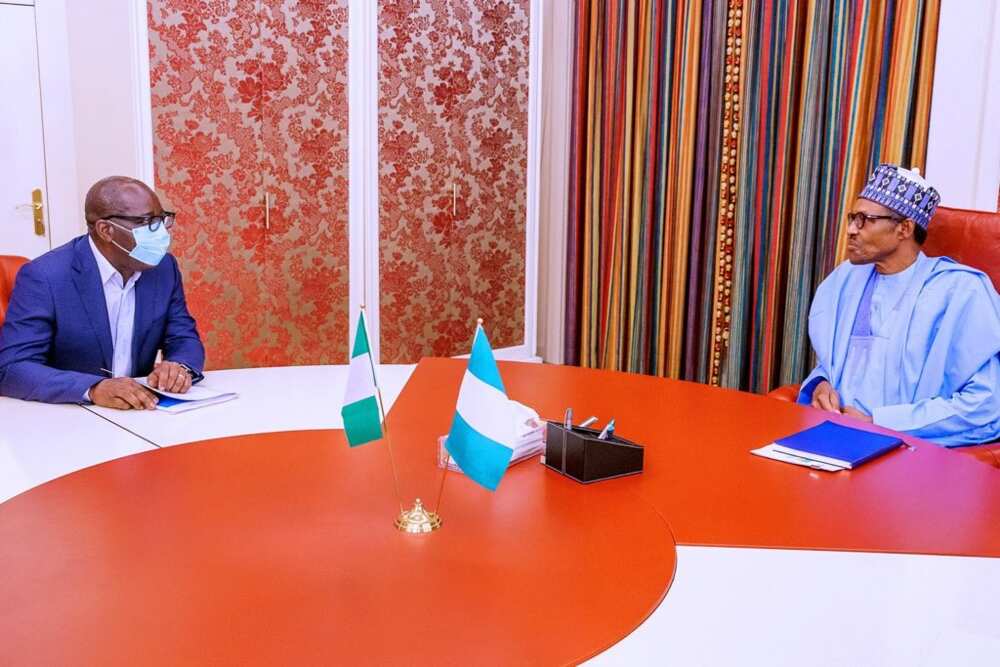 Obaseki called on the ministry of finance, budget and national planning to seek the support of Nigerians during this trying period.
Added to this, the governor stated:
"Rather than play the Ostrich, we urge the government to take urgent steps to end the current monetary rascality, so as to prevent the prevailing economic challenge from degenerating further.
"We believe it is imperative to approach the Nigerian project with all sense of responsibility and commitment and not play to the gallery because ultimately, time shall be the judge of us all."
Asked what the economic implication of printing money in such a manner, a well-read Nigerian economist, Christian Obanye, who spoke with Legit.ng on Saturday, April 24, explained that the negative effect will be inflation.
Obanye noted that this will invariably lead to excess circulation of cash in the system without value creation:
His words:
"If a government prints money faster than the growth of real output it reduces the value of money and this invariably causes inflation.
"Governments often resort to printing money when they cannot finance their borrowing by selling bonds. This hyperinflation can be extremely damaging to an economy."
Substantiating Christian's explanation, another expert in the field, Marcus Shedrack, a chartered administrator, told Legitng:
"The result of excess currency in circulation causes what is known as hyperinflation. Simply put, this means an increase in money supply leading to the high price of goods and services at an alarming rate, eg 50% increment monthly."
Earlier, the claim that Nigeria printed N50-N60 billion last month to cushion its financial trouble had been denied by the federal ministry of finance, budget, and national planning as well as the Central Bank of Nigeria (CBN).
Osita Nwanisobi, the spokesperson of CBN, on Sunday, April 11, said he was not aware of any money printed by the government. He disclosed this while speaking to journalists.
PAY ATTENTION: Get the Latest Nigerian News Anywhere 24/7. Spend less on the Internet!
Similarly, the media aide to the finance minister, Yunusa Abdullahi said questions on the matter should be directed to Edo state governor, Godwin Obaseki, who made the claim or the CBN.
Also, the federal government had denied it printed N60 billion to augment March allocation to states as alleged by the governor. The government described the allegation by the governor as untrue and sad.
Source: Legit