Legit TV: Meet Beautiful Faces Behind Various Life-Changing Legit.ng Videos
Over the last four years, Legit.ng, Nigeria's leading digital news hub, Alexa's 7th most visited website and biggest African Facebook news publisher, has been paddling the boat of life-changing and thoroughly impactful journalism through engaging video contents.
PAY ATTENTION: Legit.ng is on a mission to support vulnerable children of Calabar – join the initiative on Patreon, let's change more lives together!
The first video was uploaded by Legit.ng on its Youtube channel in February 2018. Ever since then, it has been a worthy ride impelled by exploration of beautiful ideas aimed at inspiring, entertaining, educating, promoting businesses and brands and impacting a myriad of people's lives positively.
With over 1,965 videos covering different series including The Slum Chronicle, My Migration Story, The Gas Flare Curse and The Naija Wedding, Legit.ng has been able to give strength to the forgotten voices and relay the Nigerian human interest stories in a beautiful way ever.
All these breakthroughs and groundbreaking discoveries, however, would not have been actualised without the extensive efforts of a team of vibrant young familiar Nigerian faces synergising ideas to make Legit.ng a leading light in the media industry - and arguably the peoples' favourite.
In celebration of their efforts, we shall be unveiling who they are to our readers in sequences.
1. Damilare Okunola: Team Lead
Damilare Okunola is the team lead of the Legit.ng video team, a thorough journalist, producer and inquisitive interviewer.
He studied Mass Communication at the prestigious Nigeria Institute of Journalism (NIJ) and cut his teeth as a sports writer before working as a metro correspondent, content editor, presenter across some of Nigeria's most reputable media organisations including PM News/THE NEWS, UNILAG FM, METRO FM, before joining the team at Legit.ng in 2015.
"My role as the team lead is basically to ensure THE JOB IS DONE, and this is one thing I devote time and resources into actualising. Pretty taxing, but quite fulfilling at the same time.
"My job at Legit TV has made it easier for me to put my thoughts into expression, and help people without a voice find expression.While many give me accolades for helping many Nigerians get a better life, I'd say the bulk of the credit has to go to Nigerians and those who have the heart and the intention to help.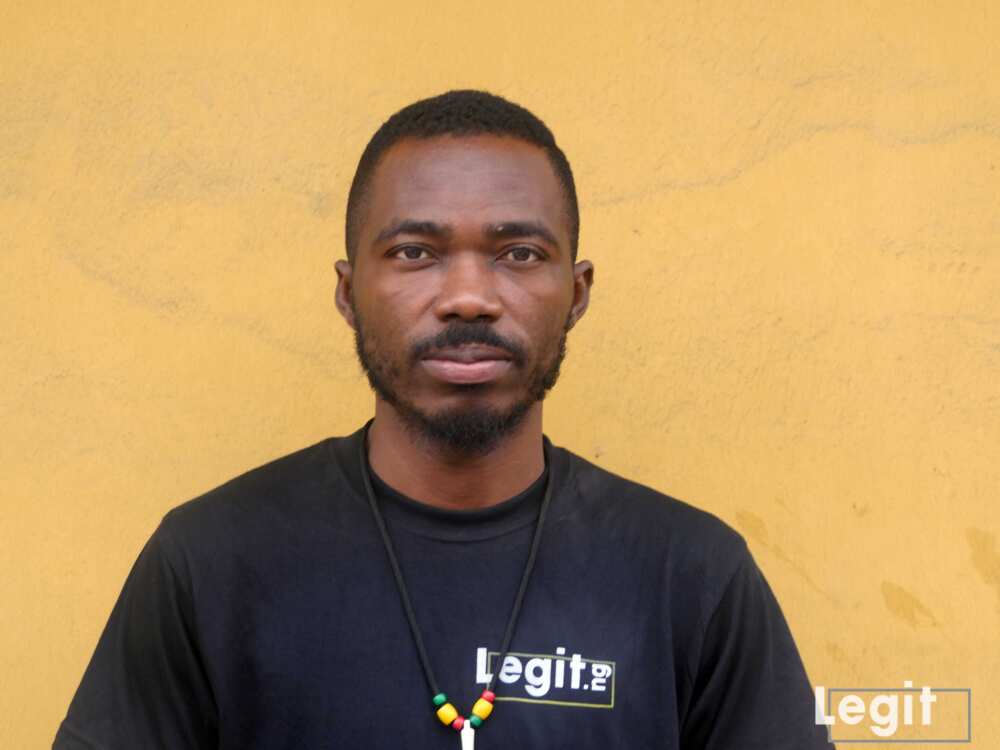 "But I'm most proud of the team for their understanding and all their efforts at ensuring that we get the job done no matter what.
Okunola said there are many videos that linger as his favourites because each one of them comes with its challenges. He, however, said the interview he had with Nigeria's Transport Minister, Rotimi Amaechi, is one he fondly remembers.
According to him, he couldn't sleep the night before the interview because he didn't want to ask the minister routine questions like some of his colleagues.
"I only went to bed at about 1am when I had gotten the exact questions that'd trigger a strong reaction from him. As expected, the video went viral and it served the exact purpose I needed it to serve.
A self-styled number 1 "Nigerian street journalist", Damilare has interviewed top political personalities in Nigeria.
2. Abiosola Alawode: Senior Video Presenter and Digital Producer
Abisola Alawode aka "Abisola The Great" studied International Relations and Political Science at Crawford University, Igbesa, Ogun State.
He is currently a senior video presenter and digital producer with Legit.ng. He has at different times been a senior correspondent, editor, reporter and content writer in his career.
Well known in the industry for his work with celebrities, the list of stars Abisola has interviewed is quite exhaustive. They include Vice President Yemi Osinbajo, Ugandan musician and Presidential hopeful Bobbi Wine, Hollywood Star Adewale Akinnuoye-Agbaje, popstar Davido, and all ex-housemates of popular reality show BBNaija, among others.
What guides Abisola's work is the fact that he believes there are distinct stories everywhere. It is now left to him to find them and present them to the audience in a way that they will enjoy.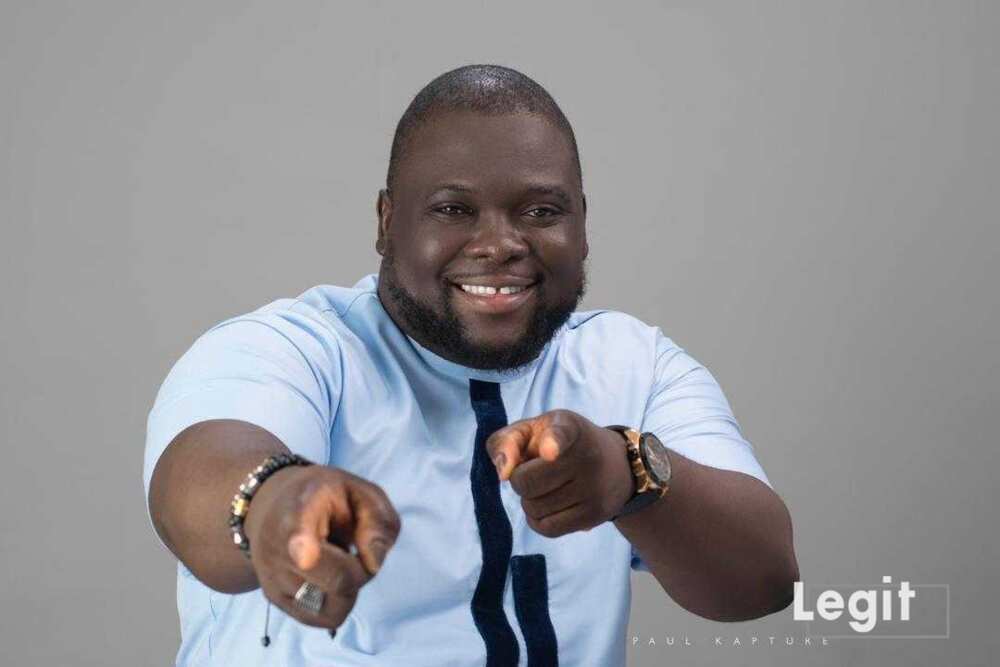 This is what led to him creating his most recent video series with First class University graduates and Nigerians living in the Diaspora.
It was with this in mind that he sought out and interviewed Tobi Ajayi, a young Nigerian man who makes cars in Nigeria. That particular video generated a lot of feedback as it was released to mark Nigeria's 60th independence anniversary.
"I'm a natural-born storyteller and I'm glad I get to tell stores for a living. Since I joined Legit.ng more than four years ago, the impact of the work we do amazes me on a daily basis.
"Our work has changed people's lives in so many ways and they often come back and give us feed back. I particularly like that.
"Often times, our videos go viral and one video that I remember and often break into heaps of laughter when I do is my interview with a BBNaija hopeful who said she was willing to do anything just to get into the show. This particular video has now become a classic in every sense of the word.
"Another example is my coverage of what teenagers had to go through just to get their National Identity Numbers (NIN) before they could write their JAMB exams.
"Days after publishing that video, the Nigerian government called off the programme and allowed the students write their exams without the NIN. Talk about impact!"
3. Temitope Popoola-Olaiya: Presenter and Content Editor
Temitope Popoola-Olaiya, an intrepid journalist, is a presenter and content editor for Legit.ng, with her favourite projects, "Relationship Matters and Aproko Corner" being one of the most-watched online TV programmes.
She is a Masters Degree holder with a PDG in journalism from the famous Nigeria Institute of Journalism (NIJ), Ogba, Lagos state.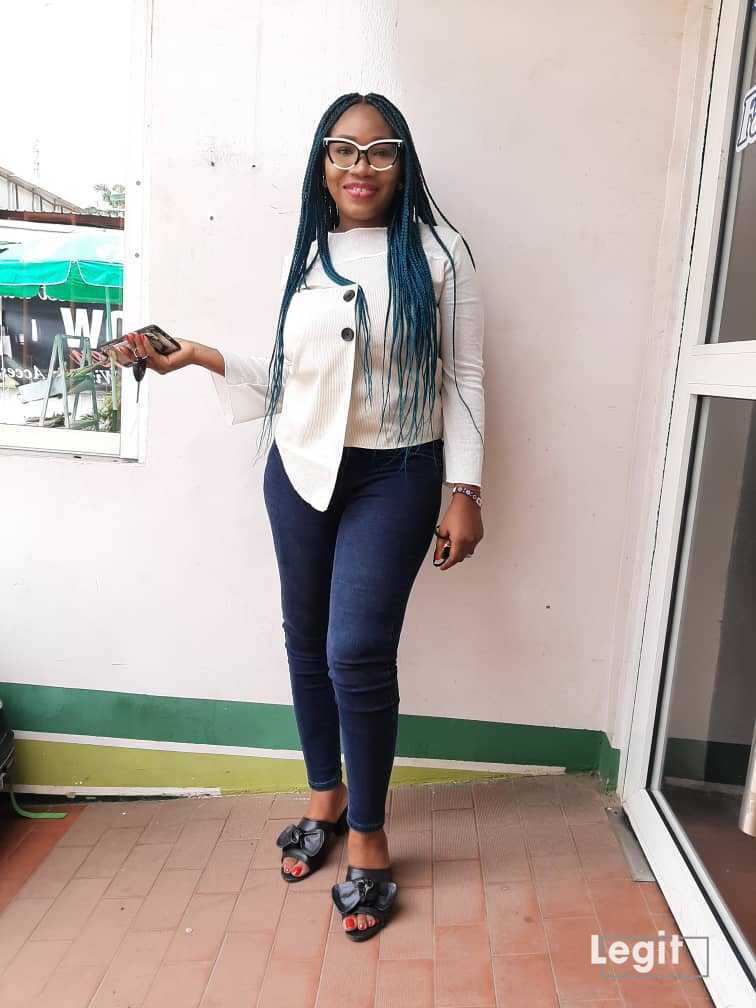 "I love the fact that my roles have changed a couple of times as it has given me the opportunity to explore various aspects of journalism.
"It's also a delight for me, that I can help people tell their stories in the best possible ways."
4. Shoyemi-Amodeni Adedolapo
Shoyemi-Amodeni Adedolapo is a multimedia person. She has transformed from a content editor (entertainment, wedding and gossips) to a presenter.
Adedolapo studied Mass Communication at Babcock University, Ilisan-Remo, Ogun state.
"Asides from meeting people on the streets, what I love about my job again, is the fact that it's helping me boost my self-confidence."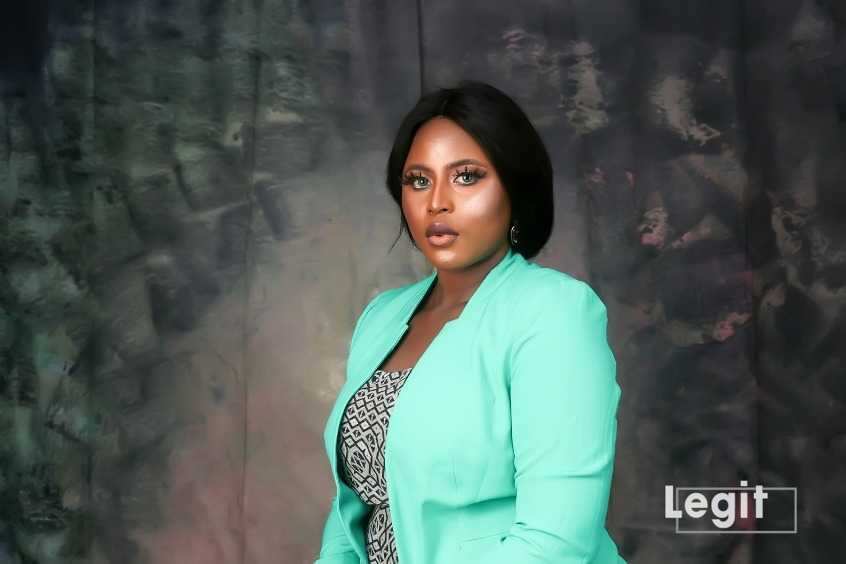 Some of her favourite projects are:
5. Monday Idara: Video Editor
Monday Idara is one of the video editors at Legit TV.
He is also a video director, cinematographer and photographer who has a keen interest in street interviews, human angle stories and celebrity interviews.
He has covered some of the biggest gigs on the entertainment scene and is one of the most hardworking guys on the team.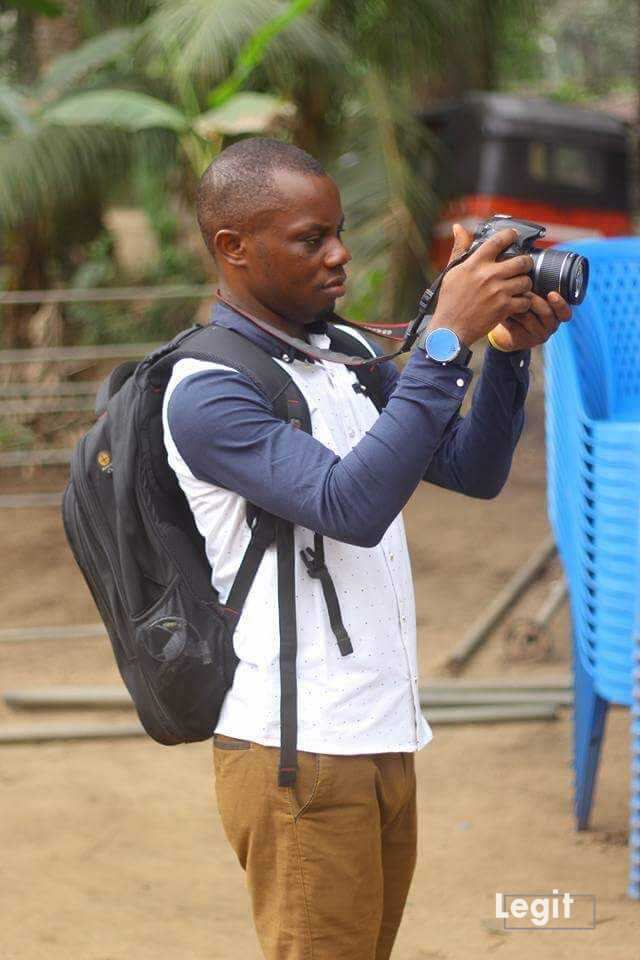 "One thing I love about my job is the ability to make an impact in people's lives by having the opportunity to tell their stories
"I also like that I can give them a voice and a platform for their stories to be heard."
Some of his favourite projects are:
6. Bright Daniels: Media Producer
Bright Daniels is an experienced multimedia specialist with a demonstrated history of working in the media production industry.
He is also highly skilled in video, live streaming, live productions. At Legit TV, he is a digital producer (livetream and videography).
His favourite video/projects are all human interest and live stream projects.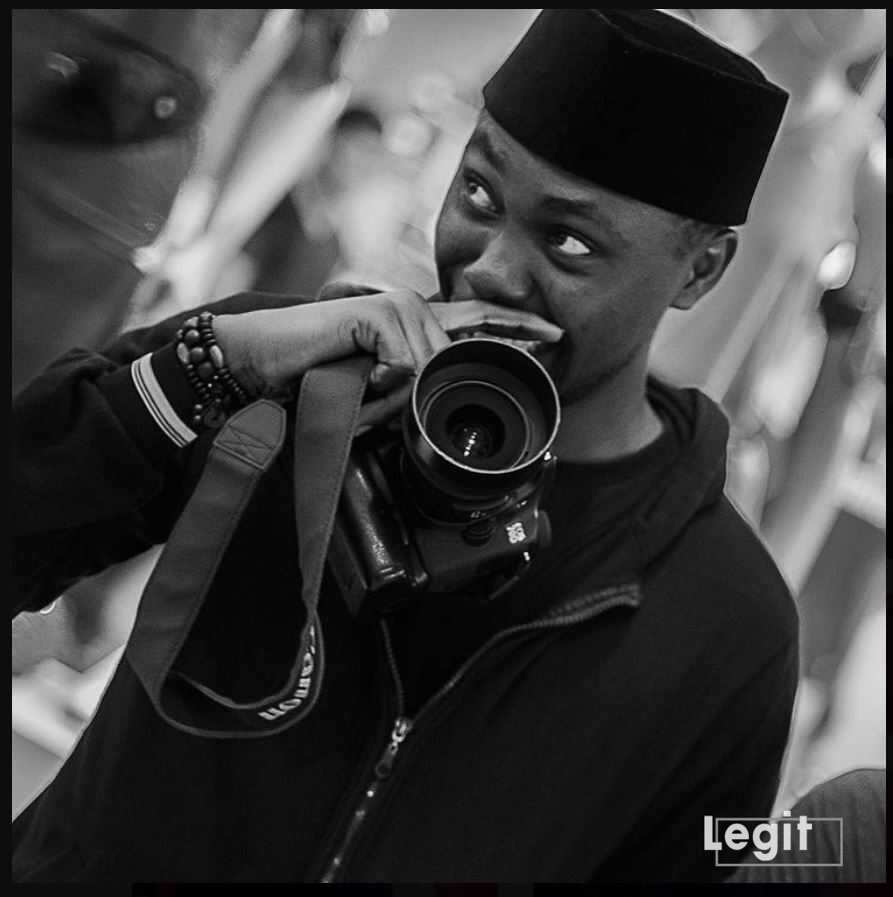 "What I love about my project is the ability to be able to tell people's story from their perspectives and approach every project creatively to give output that will inturn impact the people, make their voices heard, and have an impression on the audience too."
7. Emmanuel Osodi: Documentary Videographer
Emmanuel Osodi is a social documentary videographer and a photojournalist living and working in Lagos, Nigeria.
He studied Photojournalism at the College of Journalism in Lagos, Nigeria, and focuses on reportage, urban portraits, social and cultural issues.
In December 2009 he was invited by the British Council to participate in a photography project called My Home is Here. The project involved travelling around Nigeria to produce images of Climate Change in Nigeria and as part of this project, he won a Canon 5D Mark II camera.
In 2011, he was nominated for the Joop Swart Master class (World press photo) in the Netherlands.
He participated in a photography Master class in 2013 with Goethe-Institute, Lagos, Nigeria. The Goethe Institute is the Federal Republic of Germany's cultural institute, operational worldwide.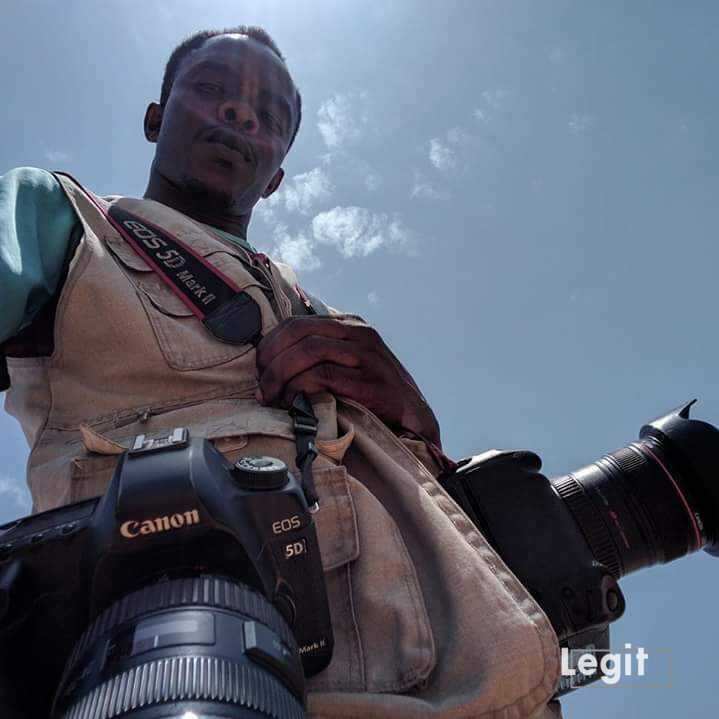 PAY ATTENTION: Download our mobile app to enjoy the latest news update
He was also a participant at the Report Women project training for investigative reporting of girls and women in Nigeria, put together by Wole Soyinka Centre for Investigative Journalism and the Royal Netherlands Embassy.
He worked as a photojournalist with The News Magazine and PM newspaper in Lagos state. And he is currently working with Legit.TV as a photojournalist/videographer.
He loves every single work he has worked on as a staff of Legit.ng.
Source: Legit.ng