BUA Cement Plans to Pay N70billion to Shareholders, as Founder Set to Earn N65billion
- The Nigerian billionaire will receive N65 billion from BUA Cement for the period ended December 31, 2020
- Abdulsamad Rabiu will earn N39.3 billion for his direct shares in the company and get N25.2 billion for his indirect stake
- The company is paying its shareholders N70 billion following its 2020 financial year when BUA grossed N209.4 billion
PAY ATTENTION: Join a community of CEOs, founders and decision-makers: subscribe for a free monthly business newsletter Digital Talks and succeed BIG!
The founder of BUA Group, Abdulsamad Rabiu, will earn N65 billion from his cement business following the company's performance last year. The amount grossed by Rabiu is as a result of his shares in the company.
The billionaire is the largest shareholder in BUA Cement, owning a direct stake of 19,044,995,225 shares of the company. He also has an indirect stake of 12.2 billion ordinary shares in the cement manufacturer.
Rabiu's indirect stake is owned through Damnaz Cement Company Limited, BUA International Limited, and BUA Cement Company Limited. As the majority shareholder, the businessman accounts for 56.24% of the firm.
His combined direct and indirect stakes in BUA Cement earned him N65 billion due to the final dividend of N2.067 per share announced by the company for the year ended December 31, 2020.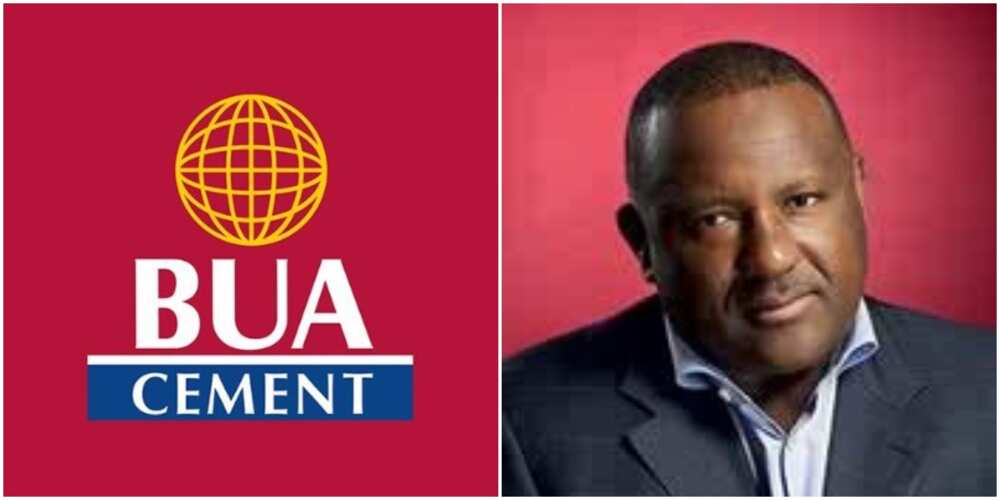 When separated, Rabiu will receive N39.3 billion from his direct holdings, while his indirect stakes will earn him N25.2 billion during the same period. This will increase the wealth if the billionaire who is the sixth richest person in Africa.
In total, BUA Cement will be paying N70 billion to all its shareholders. The company was able to make this payment decision due to its impressive financial performance in 2020.
The cement maker's revenue rose to N209.4 billion in full year 2020, against the N175.5 billion BUA reported in 2019. Its profit after tax also surge to N72.3 billion last year, surpassing the N60.6 billion recorded a year before.
Meanwhile, Legit.ng had previously reported that Nigerian startup, Pricepally secured an undisclosed amount to fund the company's operation which began two years ago.
The ecommerce platform plans to assist Nigerians in accessing affordable farm produce which has become increasingly expensive for Nigerian households. Pricepally also want to increase the availability of foods for families.
The Lagos-based startup raised the funds from asian venture capitalist, VC Samuaria and Launch Africa Ventures, an African venture funder.
Source: Legit.ng