Nigerian Governor Reveals Why Bandits Are Targeting His State, Speaks on Negotiation
- Governor El-Rufai has said his government's policy of not negotiating with bandits is why the criminals are attacking his state
- The Kaduna state governor, nevertheless, said his government will not change its policy regarding the bandits
- El-Rufai said the best way to deal with the bandits is to wipe them out using military solutions, noting that the criminals do not deserve to live
PAY ATTENTION: Join Legit.ng Telegram channel! Never miss important updates!
Malam Nasir El-Rufai, the governor of Kaduna state, has said bandits and kidnappers are attacking the state because of his government's position not to negotiate with the criminals and give them money
The Kaduna governor who appeared as a guest on Channels TV on Sunday, April 4, said the state government would not change its stand on the issue, arguing that it was uncivilised to negotiate with criminals.
According to him, those who consider the option of negotiating with bandits are irrational and emotional.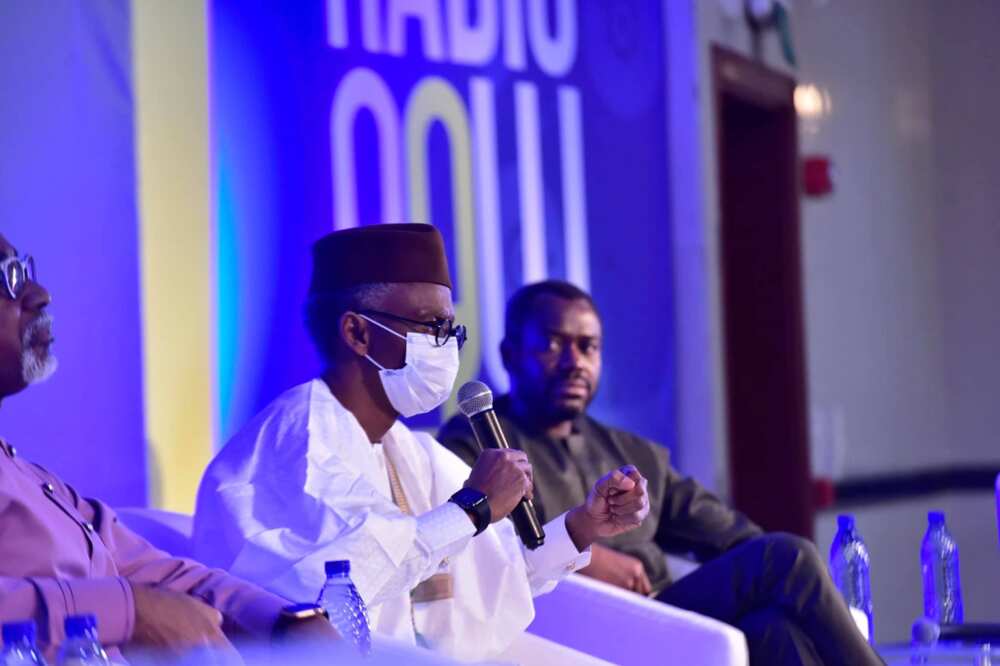 He said:
"I think that the bandits and their leaders decided to collectively target Kaduna state because of the position we have taken that we will not negotiate with them, that we will not give them a penny of taxpayers' money.
"And whoever comes to Kaduna for the purpose of banditry or kidnapping is most likely going to end up dead."
Proposed solution
Governor El-Rufai said rather than negotiating with the criminals, the solution to banditry and other criminal activities is to intensify military operations from the air or the ground and wipe all of them out.
His words:
"We believe that the solution to this problem is to intensify military operations from the air or the ground and wipe all of them out. We do not think any bandit deserves to live."
The governor said the only option in a civilised society to deal with criminals was to apply the full weight of the law.
He said when 95 percent of the criminals have been wiped out, the remaining five percent can be rehabilitated provided they are ready to repent and go back to normal civilian life.
The governor added:
"There is no other option. There is no society that sits and negotiates with criminals, nowhere in the world. You are empowering them, you are emboldening them."
Status of the abducted students
Regarding the abduction of 39 students from the Federal College of Forestry Mechanisation, Afaka in Kaduna, Governor El-Rufai said the state government was using technology and coercive instruments to locate the kidnapped students and pursue the bandits.
Obasanjo, Gumi propose solutions
Meanwhile, Former President Olusegun Obasanjo and a prominent religious leader in the north, Sheikh Ahmad Gumi, have released a joint statement after their closed-door meeting on Sunday, April 4, in Abeokuta.
In a statement sent to Legit.ng, the Nigerian leaders recommended special courts to try bandits, kidnappers and anyone caught carrying arms illegally.
They also urged the federal government to take the issue of insecurity up with the Economic Community of West African States (ECOWAS).
Source: Legit