Breaking: Resident Doctors Begin Indefinite strike April 1
- Nigerians with relatives in hospitals can start looking for alternatives
- This follows the threat of resident doctors to proceed on a nationwide strike
- According to them, this followed the ultimatum given to the federal government
PAY ATTENTION: Join Legit.ng Telegram channel! Never miss important updates!
Nigerians have been warned: Expect an indefinite strike on April 1. This is according to doctors under the aegis of the Nigerian Association of Resident Doctors (NARD).
This was disclosed by NARD president, Dr Uyilawa Okhuaihesuyi in a statement in Abuja
He said the action follows the expiration of the 60-day ultimatum to federal government to pay the salary arrears of house officers across the country and review hazard allowance, among other demands.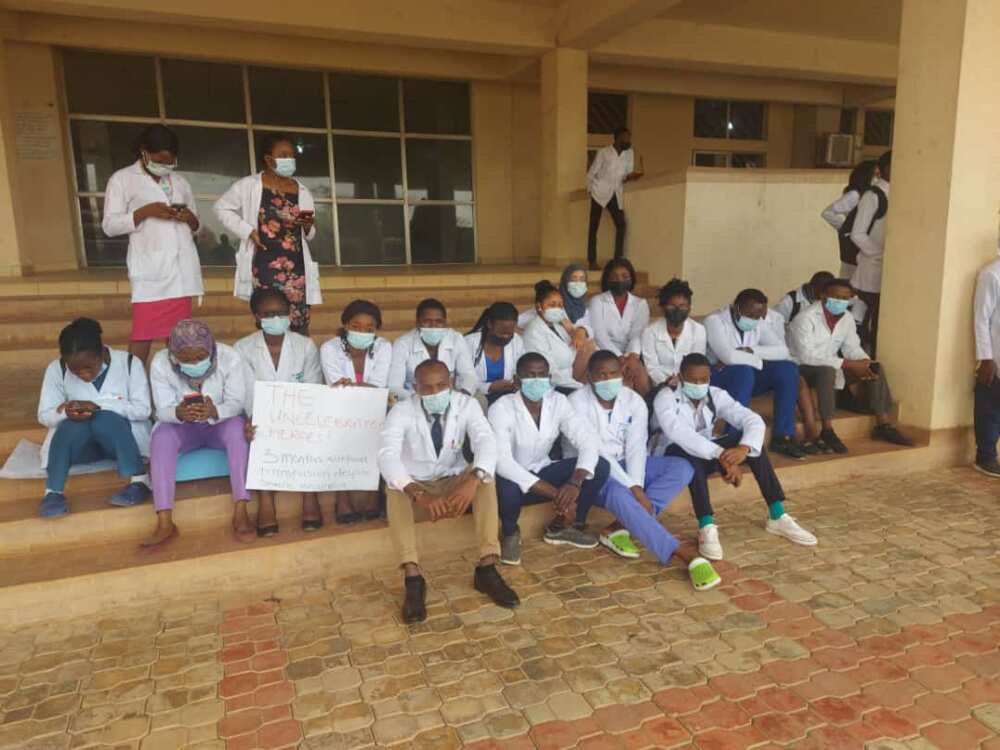 He said:
"The NEC unanimously agreed that NARD should proceed on a total and indefinite strike on the 1st of April 2021, by 8am if the following demands are not met.
"Immediate payment of all salaries owed to all house officers including March salaries (regardless of quota system) before the end of business on the 31st of March 2021.
"The NEC unanimously demanded for the sack of the Registrar of MDCN for failure to demonstrate competence in the handling of the central placement of house officers. This will give room for smooth implementation of the central placement of house officers without further delays."
Meanwhile, Legit.ng had reported that a report by the News Agency of Nigeria (NAN) indicated that an outbreak of a strange disease has affected 30 students of the Government Girls College in Sokoto state.
Abdurrahaman Dantsoho, the director of Sokoto state public health department, confirmed the development at a media briefing on Thursday, March 25.
Danstoho explained that the cause of the students' condition which started on Tuesday, March 23, has not yet been ascertained.
It was gathered that the infected students were rushed to the Sokoto specialist hospital where they received treatment until they were discharged.
Similarly, an outbreak of a strange disease suspected to be caused by food poisoning in Kano state has led to the deaths of three people, while 284 have been hospitalised.
The outbreak which occurred on March 11, is said to have been caused by contaminated water and local drink.
The director of the Disease Control in Kano state ministry of health, Dr Bashir Lawan, confirmed the incident to the publication. Lawan said the ministry of health has held a meeting over the outbreak.
Source: Legit