How I Make Money from What People Consider as Useless, Nigerian Lady Making Bags, Shoes from Pure Water Wastes
Adejoke Lasisi is one Nigerian lady saving the planet and fighting wastes emissions by converting plastic and textile wastes into creative products.
PAY ATTENTION: Legit.ng is on a mission to support vulnerable children of Calabar – join the initiative on Patreon, let's change more lives together!
She recently went viral for making beautiful shopping bags, clothes, bags and paintings from recycled sachet water nylon wastes.
In this exclusive interview with Legit.ng, the Economics graduate of Obafemi Awolowo University (OAU), Ile-Ife and founder of Planet3R bares it all about how she does the magic with waste and the journey so far.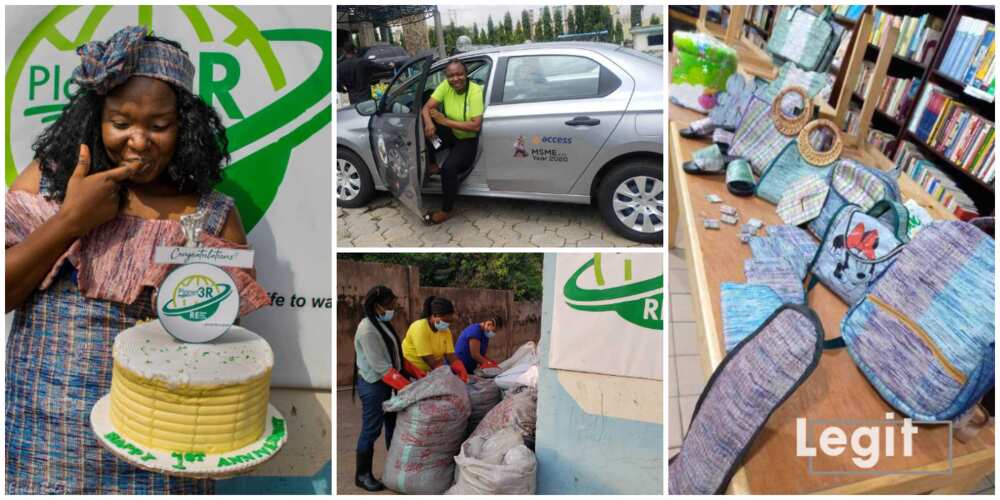 1. Can we meet you?
My name is Adejoke Lasisi. I was born in a dispensary in Ijaye, Akinyele Local Government Ibadan, Oyo state. I'm 34 years old.
I graduated from Obafemi Awolowo University Ile-Ife.
2. What informed your decision to venture into recycling of sachet water wastes and converting them into nice items - can you tell us how the journey began?
Well, since I was little, my mum usually weaves fabric called Aso Oke. I was born into a family that loved weaving. I did not like seeing wastes around me. Even though we were not doing anything with it then, we just packed the nylon and throw them away.
We throw them into the drainage in front of us especially when it is raining so that the rain will wash them away or we burn them. That's the kind of environment I lived in - we do not have a proper waste management system.
I asked myself where these wastes end up. So, even when I graduated and set up a school for teaching Aso Oke weaving, I felt I wasn't doing enough for the environment. I thought of what to do with the wastes people litter around on the streets as where I stay can be described as a semi-rural area.
I knew I could weave and then I thought of using my weaving skills to convert the wastes into something meaningful.
3. What are the challenges you have encountered so far, especially running your company Planet3r?
We have a lot of challenges and are still facing challenges. I think it is something that has to be there for one to move forward.
When we started, the texture of the textile we were using was too thick so we reduced the cutting to make it tiny and more beautiful. As at that time, we were just producing the fabric, we didn't know what to do with them.
Getting people to work with and even sourcing for raw materials posed serious difficulty. You'd think waste is everywhere but gathering it wasn't easy.
One of the things we did was sensitizing people to segregate their wastes. We taught them how to separate recyclable wastes from non-recyclable ones.
We told them to either sell the recyclable wastes or donate them. And this sensitization helped us to overcome some challenges.
4. Can you take us through the processes involved in making these items particularly the dress and bags?
The process is actually a simple one.
The 1st step is sourcing for raw materials (wastes 90% cotton thread 10%).
Next is sorting the wastes into different types especially colours of nylons.
3rd step is washing thoroughly and disinfecting as well.
4th step is shredding the nylons
5th step is weaving with 10% thread (it comes in different colours) then becomes fabric.
6th step is to make them into beautiful products such as shopping bags, shoes, dress and so on.
5. How do you feel about Nigeria's attitude towards wastes?
Honestly, the majority were sceptical about it. They were like, 'why will we wear waste or pure water nylon?'
What we did was to come up with a customer survey whereby we called up about 20 respondents and asked them if they faced waste problems in their environment. They agreed.
We gave them a questionnaire highlighting questions on the best way to make clothes and other products to the taste of customers. With time, our products gained acceptance as we worked on the responses we got from the survey.
6. What is the cost implication and would you advise anyone willing to be an entrepreneur to venture into this?
This our innovation at Planet 3R is actually the true definition of Circular Economy 3Ps which are People, Planet and Profit.
People consider waste as something that is useless and this makes it profitable when you produce something great from it.
I would really encourage people especially youths to venture into this skill or any other thing they do effortlessly and solve our problems in Africa.
7. What's Nigerians' attitude towards the product you make from these wastes?
Nigerians and many people across the globe have been wowed by this innovation and are willing to buy our products in large quantities.
Many people have also shown interest in learning the art of converting these wastes into eco-friendly products.
They've just been amazed by what we do. Many people are also interested in joining the team.
PAY ATTENTION: Download our mobile app to enjoy the latest news update
8. Has the government and NGOs been supportive?
Yes. The Nigerian government has been supportive and also rewarded us for the impact we are making.
We won the MSME of the year award 2020 which came with a brand new car, cash gift and an award plaque.
We were also nominated and awarded as one of the Nigerian five young INNOVATORS in November 2020 which held at Aso-villa Abuja.
We have managed to win some other amazing opportunities like Africa Green Grant Award Winner 2020, among others.
You know many people find it hard to believe we recently did our one year anniversary especially at the rate of the impact we've made in our community Ibadan and Nigeria at large.
9. What is your vision for Planet3r in the next 10 years?
In the space of one year, we have also been able to achieve some of our goals which include the collection of 58,352kg of recyclable waste (pure water sachet and other plastic bags) from the street.
Others are training of about 102 youths virtually and physically, sensitization of over 4300 students across various secondary schools in Ibadan, Oyo state on waste management and recycling.
We have also employed 16 individuals and this has overall contributed to a cleaner and safer environment.
In the next 10 years, this initiative would have impacted millions of lives as the idea can be replicated in different communities across the globe.
Source: Legit.ng