Man catches fish with human-like teeth and weird smile, says it is the strangest fish he has ever caught
- A fisherman has made an unusual catch on one of his fishing trips that have left him stunned
- The man named Paul Lore caught a fish that has teeth like humans and a strange smile, with zebra patterns on its body
- He says the marine animal is one of the strong swimming creatures and are interestingly easy to catch when fishing
PAY ATTENTION: Join Legit.ng Telegram channel! Never miss important updates!
A fisherman got the biggest shock of his life on one of his fishing expeditions as he came across a strange-looking fish.
The man identified as Paul Lore encountered the marine fish with human-like teeth and a weird smile around Melbourne, in Florida, USA.
Paul, speaking to LADbible, described the colouring pattern on the sea creature as having the form of a Zebra and its body as that of a snapper-fish.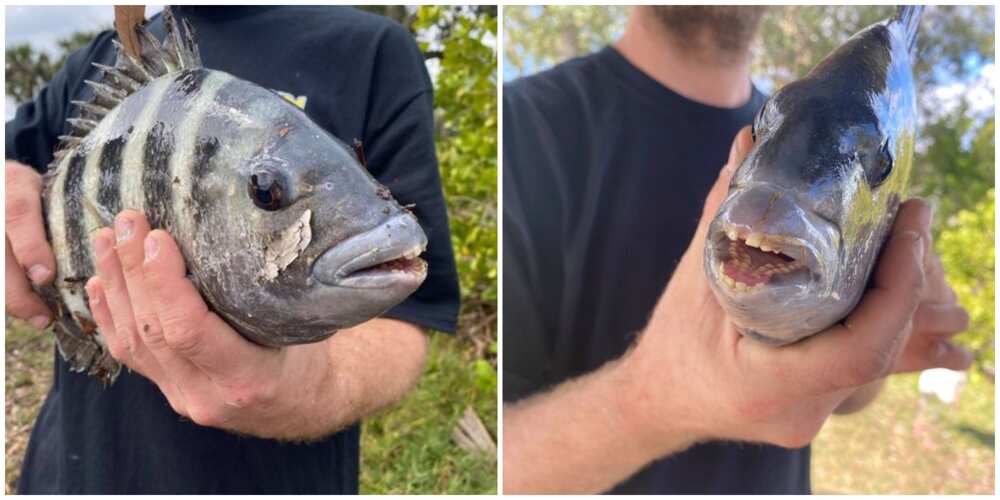 Explaining how the inside of the fish's mouth looks, Paul said it had human-like teeth that also resembles a shark's teeth in rows of about two or three.
He said:
"It has a zebra pattern of colouring and the body is more like a snapper-type fish – very compact but meaty.
"The teeth can only be described as human-like teeth but upon further inspection you'll notice they have rows of these teeth like a shark.
"Most of them have two to three rows with very strong bite power – not enough to take a finger but enough to make you never go near the teeth again."
Paul went on to give an account in detail what the strange fish uses its teeth for.
"They use these teeth to break barnacles, clam shells, and crab shells.
"They mainly consumes crustaceans, so they need these type of teeth to break them open.
"Then the shells come out of their gills almost like a filter so they do not consume a lot of the shell."
The 33-year-old disclosed that the fish which are easy to catch, are pretty good swimmers and have crabs and shrimps for food.
Mirror.co.uk identified what Paul caught as a sheepshead. It is a marine fish that has sharp dorsal spines according to Wikipedia and grows to 76 cm (30 in) but commonly reaches 30 to 50 cm (10 to 20 in).
It is deep and compressed in body shape, with five or six dark bars on the side of the body over grey background.
PAY ATTENTION: Click "See First" under the "Following" tab to see Legit.ng News on your Facebook News Feed!
Meanwhile, Legit.ng earlier reported that a Nigerian man had caught a weird fish while digging a hole in Yenagoa.
According to a post shared by a Facebook user, Emmanuel Emmanuel Udoh, he was carrying out excavations in a building site when he saw the fish which was supposed to be in the water. Udoh is however questioned if the fish moved to dry land due to pollution in the river.
Sharing the post he wrote:
"About yesterday! OK ...while excavating in a residential/built-up area I found lots of this, and they are quite huge! This one na small one sef For real......
"Before I ask if it's edible. I wonder what could make fishes leave the rivers and streams to shallow waters in residential areas.
"Could it be that the natural waters have been so destroyed by oil exploration, that they now migrate to safer waters with less pollution or it's just a natural occurrence? Now is this edible? Cos there are lots of them here."
Victor Duru is a Legit.ng journalist with more than three years of working experience in the media industry. He holds a Bachelor's Degree in Management Studies from Imo State University, where he was a Students' Union Government Director of Information. Victor is a Human Interest Editor, Strategic Content Creator and a Google-certified Digital Marketer. Connect with him on Twitter @DuruCVictor2
Source: Legit