The Ogun state Peoples Democratic Party (PDP) on Tuesday, February 16, lost one of its chieftains, Gbenga Daniel, to the ruling side All Progressives Congress (APC) in what has openly kick-started the political permutation ahead of 2023.
PAY ATTENTION: Join Legit.ng Telegram channel! Never miss important updates!
Otunba Daniel, a two-term former governor of the state, defected to the APC and he is expected to take part in the ruling party's registration and revalidation exercise to officially validate his defection and membership of the party.
Daniel was the campaign manager of former vice president Atiku Abubakar in the 2019 general election and a strong pillar of the PDP in the southwest.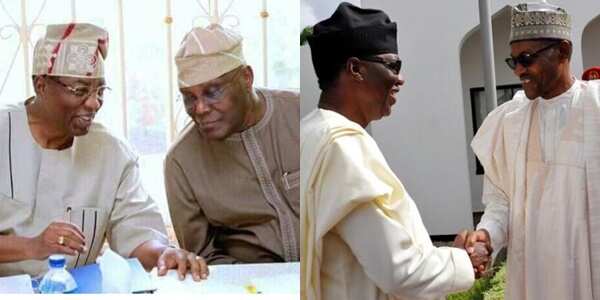 As PDP continues to count its loss, Legit.ng highlights some of the effects of Gbenga Daniel's defection in Ogun.
For PDP it is a huge loss
For PDP, it is no doubt that the party has arguably lost its most influential chieftain, poster boy, arbitrator and gladiator to the opposition side.
Otunba Daniel has been a powerline and one of the financial engines of the opposition party, having served as governor between May 2003 - May 2011, with numerous businesses in the state to prove his solid influence.
His defection means the party structure in Ogun state has partly collapsed, and there is a clear reality of the opposition party's hope of returning to power being dashed again in the 2023 governorship election.
For APC, it is added advantage - and trouble
The APC has been largely reaping from the recent massive defection from the PDP, meaning that the party is receiving confidence and hope of retaining power in 2023.
And of course, Daniel's defection means PDP is a party to beat as APC does not have a problem with the state come next election.
It should be noted that all the governors (Aremo Segun Osoba, Otunba Gbenga Daniel, Senator Ibikunle Amosun) who have governed Ogun state since 1999 are now in APC.
Besides, the state governor, Dapo Abiodun, and Vice President Yemi Osinbajo are also in the ruling party. All APC needs is to dance to the beautiful tunes.
PAY ATTENTION: Install our latest app for Android, read the best news on Nigeria's #1 news app
However, APC may have a problem in the future over the structure, leadership and control of the party. There is a possibility that there will be a clash of ego and political interest.
This may be detrimental to the chance of APC maintaining its unity or winning future election probably after 2023.
*********
Rahaman Abiola is a result-oriented journalist and content writer with a firm grip of over 5-year corporate experience stranding diverse roles in digital & traditional media and social media communication.
A published literary writer, freelancer and public commentator, he has written over 100 essays covering diverse issues on economy, politics and current affairs, entertainment and leadership published in virtually all notable Nigerian national dailies and digital media in Nigeria.
He is a graduate of English Literature, Obafemi Awolowo University, Ile-Ife. Follow him on Twitter via @ShugabanR