Twin sisters who couldn't find jobs become waste collectors, turn trash into cash
- Thandiwe and Thandeka Mzukwa found fortune in someone else's rubbish and turned their trash into their cash
- The twin sisters from Sunnyside moved from a small rural village in the Eastern Cape to look for jobs but were unsuccessful
- They decided to create a job for themselves and now make a good living collecting waste
Pay Attention: Join Legit.ng Telegram channel! Never miss important updates!
By Thomo Nkgadima - Freelance Journalist
Thandiwe and Thandeka Mzukwa are Sunnyside's twin sisters who are turning trash into money. Their inspiration came after many unsuccessful years of looking for employment.
Thandiwe and Thandeka, 34, have since purchased a Chana bakkie, H1 Truck and Toyota Yaris hatchback with the money they made from recycling. They also pay rent for their flat in the notorious street, Gerrardmoerdyk.
The Mzukwa twin sisters, who grew up in the rural village of Nqamakwe in Eastern Cape, both completed their distance learning qualifications through Unisa, also from the money they made from their recycling business.
Thandiwe completed her BSc Degree in Agricultural Management, majoring in plant and animal production, in 2016. Thandeka completed her Bcom degree in Business Management.
They came to Gauteng some years ago after passing their matric as fortune hunters looking for greener pastures. The twins completed their N6 diploma in electrical engineering with Ekhuruleni West College while staying with their mother in Thokoza township situated in the East Rand.
Their love for recycling developed in 2010 when they were in Pretoria looking for jobs. They submitted several applications without any success.
The sisters decided to take their fate into their own hands and spent their time sorting waste material for recycling.
Thandiwe's advice to the youth is to look further than old traditional employment for opportunities to better their lives. She said youngsters should create jobs opportunities as this is a generation of job creators.
She said:
"We started to ask so many questions and became inquisitive, like a child, when we saw people pulling trolleys up and down in town. At the time we didn't have money to buy food for lunch as we were job hunters. We were waiting to take an evening train back home."
Thandiwe explained that the following week, they also tried their luck and collected waste to recycling for money to buy food while they continued looking for work.
In an exclusive monitored by Legit.ng, Thandiwe said their love for recycling blossomed and now they are also taking care of their brother's daughter after he died in 2018.
Thandiwe said:
"The first step we took was deciding to be waste pickers and we continued to work as waste collectors to generate income."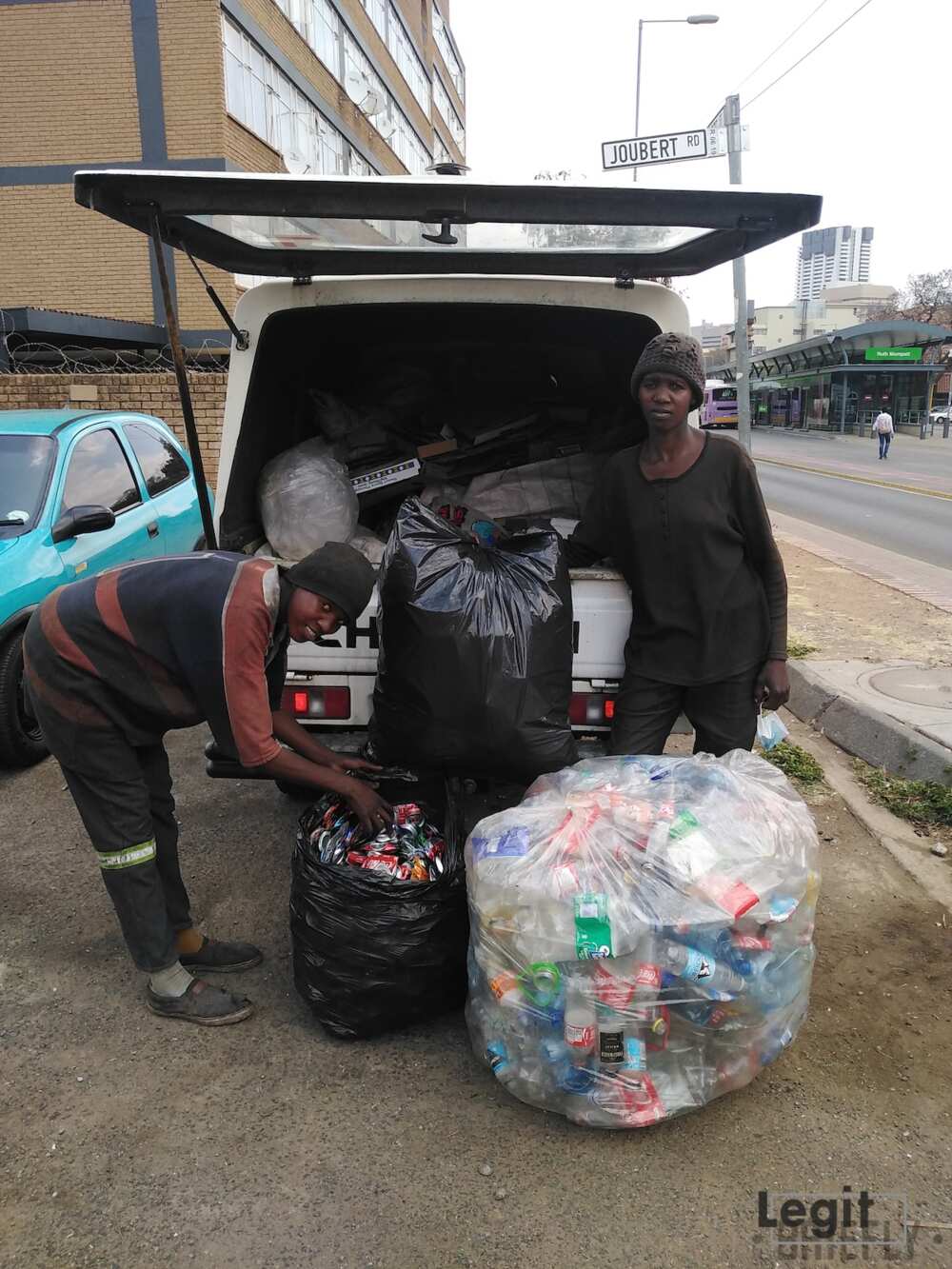 Their biggest challenge is a place to work in, such as a warehouse, as well as machinery to compress their products and a big truck with a crane to transport their waste.
They dream and wish to create many jobs for the unemployed youths of South Africa.
The early bird catches the worm
The twins start their day while most of Pretoria still sleeps. After collecting the waste, they sort and separate it.
Thandiwe added:
"If you don't want to get your hands dirty, this is not for you. You can't make it here.
"The more waste you have the more money you generate. What we like about this business is that during bad or good times people tend to consume more and we also generate more money."
Thandeka said they are worried about their lack of social life.
The sisters purchased cars after using a trolley to transport their waste to town and had taken a physical toll on both of them.
The health hazards and environmental impact of waste collecting
Thandiwe and Thandeka dig through potentially toxic materials and expose themselves to germs and bacteria while digging through dustbins. This poses a huge risk to both, but for these twins, the reward outweighs the risk.
Thandeka said with the current discourse around climate change and sustainability, there is a wealth of information as to why recycling is considered good for the environment and an alternative viable job.
She concluded that collecting waste is their way of life but was not their obvious career of choice. Now they can provide for their families.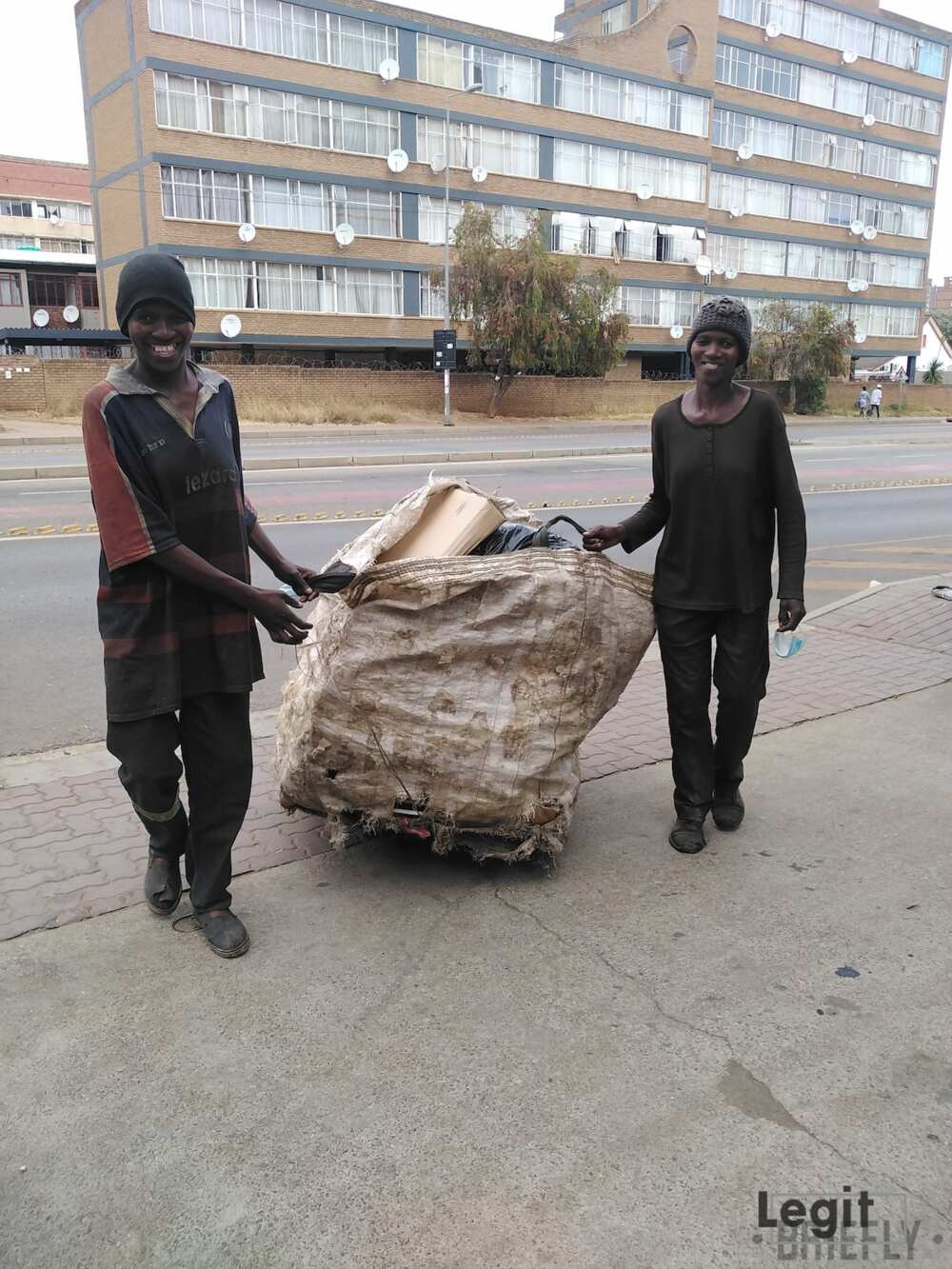 In similar news, one man's trash is another man's treasure and for this African man, this could not be any more true.
Heading online, a hardworking man shared how he turns trash into his own very special kind of treasure.
@Makatjane3 took to Twitter to share how he goes through dumpsites and trash to find old bottles that he turns into decorative pieces for people's homes. He also shared pictures of his beautiful work with his impressed followers.
Tunde Ososanya, a Legit.ng editor, is a graduate of Mass Communication from the Nigerian Institute of Journalism. He's passionate about what he does and finds fulfillment in informing the people. Ososanya is the author of Later Tonight: a Collection of Short Stories.
You can follow him on Twitter: @TundeOsosanya
Source: Legit.ng