From typist to SAN, professor: Prominent Nigerian lawyer shares story of his humble beginning, leaves many inspired
When he got his first employment in 1970 as a Typist Grade III at the Judicial Department, High Court of Justice, Benin, Paul Oboarenegbe Idornigie probably didn't know he would end up being one of the highest-ranking legal luminaries and academics in Nigeria.
PAY ATTENTION: Join Legit.ng Telegram channel! Never miss important updates!
Ahead of his 70th birth which comes up on Wednesday, February 24, Professor Paul Idornijie (SAN) shared his life story with The Nation.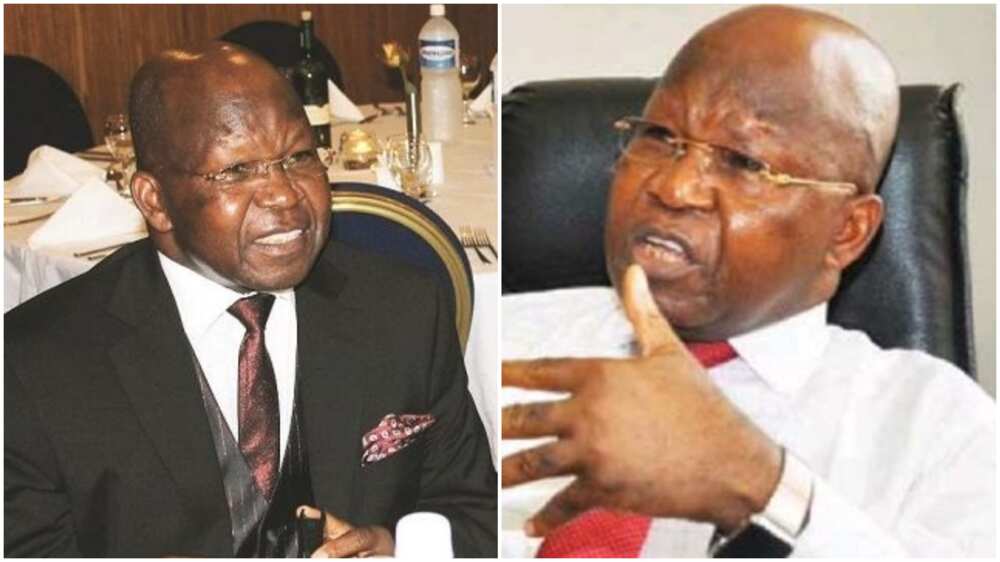 Legit.ng curates major highlights of the inspiring story in this report.
The son of farmers
Professor Idornijie, according to the report, was born at a village called Ayogwiri-Uzairue, Etsako West local government area of Edo state.
His parents, Mr & Mrs Ikozi Idornigie, were farmers. The senior lawyer fondly recalled life at the village when he and his parents used to go to the farm and sometimes slept there.
He lost his father at the age of 14.
First job: the typist
Shortly after his education at St Peter's Commercial College, Onitsha/Benin (1966-68), Professor Idornijie got his first job; a Typist Grade III at the Judicial Department, High Court of Justice, Benin (1970).
He was later posted to Auchi High Court (1970-1974). Professor Idornijie rose to the level of Stenographer at Auchi High Court.
The first big break
Professor Idornijie got a job at the University of Benin as a Stenographer and resumed duty in August 1974.
He later registered for an evening programme and obtained his WASC, Division I, Aggregate 11 in 1976.
The senior lawyer proceeded to register for Higher School Certificate (HSC) which he finished in 1978.
As he pursued career and education, Professor Idornijie found love along the way and got married in 1976 to "a charming, highly spiritual and vivacious young lady".
The marriage is blessed with wonderful children.
New job: The second big break
In 1979, Professor Idornijie resumed work as a personal secretary to the Vice-Chancellor, University of Jos, Prof E U Emovon, now late.
In 1983, the senior lawyer and academic secured a training leave to Anglia Ruskin University, Chelmsford, UK to qualify as a Chartered Secretary.
He returned to Nigeria in 1986 as qualified Chartered Secretary.
Unrelenting in his quest for education, Professor Idornijie in 1987 registered for an Evening Law Programme at the University of Jos which he finished in 1992.
He emerged as the Best Graduating Student and with Second Class, Honours, Upper Division.
He proceeded to the Nigerian Law School, Lagos in 1993 and also had a Second Class, Upper Division in the Qualifying Examination.
Going higher: New promotion
Upon returning to the University of Jos, Professor Idornijie became a Senior Assistant Registrar in the Registry.
He, however, opted to go into academics and got transferred to the Faculty of Law, University of Jos as an Assistant Lecturer on salary Grade Level 09.
He registered for a Masters degree programme in law in 1994.
By 1995, Idornijie briefly switched to the political sector as he became a personal assistant to the then Honorable Minister of State, Works & Housing and moved to Lagos.
In 1997, he went back to academics and became a Lecturer Grade I at the Nigerian Law School, Abuja where he rose to the level of Senior Lecturer in 2000.
Meanwhile, he had in 1998 registered for a doctorate degree at the University of Jos. Professor Idornijie finished the programme in 2002.
He was also elected Fellow, Institute of Chartered Secretaries & Administrators (FCIS), London in 1998.
Another milestone: Public Service
In 2002, Idornijie took leave of absence and went to the Bureau of Public Enterprises (BPE) as an Assistant/Deputy Director.
In 2004, he became the General Counsel (Legal Adviser) and a Consultant to BPE till February 2009.
Within the same period, he also served as Head of Council Secretariat (Company Secretary) and covered all meetings of the National Council on Privatisation (NCP) and Management Committee.
Double promotions: Professorship and SAN
In 2009, Idornijie became a Professor of Law at the Nigerian Institute of Advanced Legal Studies (NIALS), Abuja where he worked till 2020.
While at NIALS, Professor Idornijie was elevated to the rank of Senior Advocate of Nigeria (SAN) in 2015.
At NIALS, he served as Head of Department, Director of Research (equivalent to Dean of Law) and Acting Director General (equivalent to a Vice-Chancellor).
In 2015, Professor Idornijie became a Fellow, Chartered Institute of Arbitrators (FCIArb), UK and Chartered Arbitrator (C.Arb) in 2016, among other enviable positions.
From an ordinary typist in 1970, Idornijie rose to become a professor and SAN and emerged the Acting Director-General of the prestigious Nigerian Institute of Advanced Legal Studies in 2019.
Professor Idornijie's story is indeed an inspiring one.
PAY ATTENTION: Download our mobile app to enjoy the latest news updates
In another inspiring report, a young black lady with the Twitter handle @brenyyaaa has gained admission into 50 different universities.
In a post on Tuesday, February 9, the lady shared the news with her followers as she posed against a backdrop that has logos of the schools.
Twitter blew up hours after her tweet as many rushed to her comment section to congratulate her and also ask how she intends to deal with the task of choosing one from the pool of opportunities.
Source: Legit.ng