Young man who relocated to Canada lists the Nigerians that cannot live in Canada
- A Nigerian man has shared why he almost returned to Canada from Nigeria
- The Canada-based man said Nigerians who cannot do chores should avoid Canada as they will not be able to cope there
- He said the low population in Canada is the reason why getting a nanny over there is expensive
PAY ATTENTION: Join Legit.ng Telegram channel! Never miss important updates!
While many Nigerians strive to seek greener pastures overseas, a Nigeria man has narrated why he almost left Canada for Nigeria.
The man took to Twitter to make interesting revelations about life in Canada, saying that Nigerians who cannot do house chores should not think of moving to Canada.
In a post on Saturday, February 6, 2021, seen by Legit.ng, @Eloka51 said that contrary to general belief, Canada is quite an expensive place to find labour.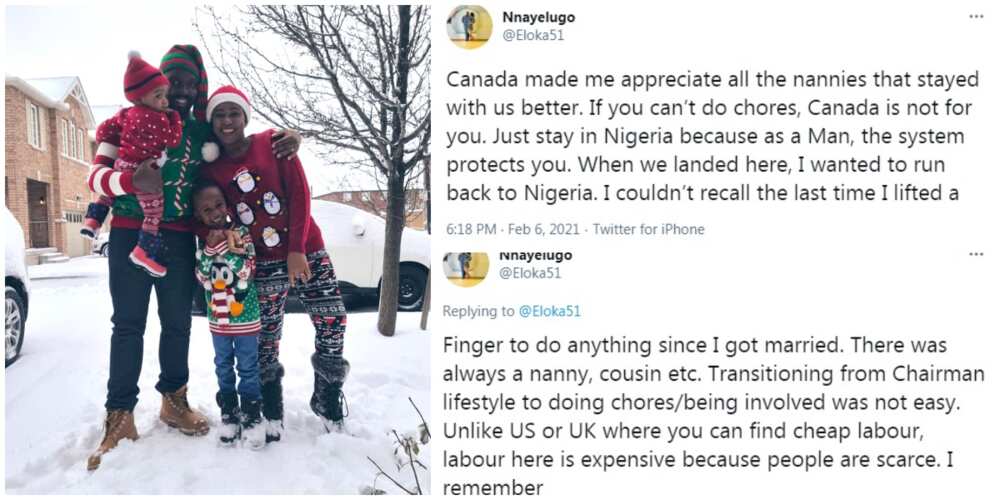 This, according to @Eloka51, is because people are scarce. He had to adjust his living from a man who didn't lift so much as a finger to do any chores in Nigeria to one who now does almost everything, as far as house chores are concerned in Canada.
@Eloka51 who is based in Canada with his family said his experience in Canada has made him value and appreciate nannies more.
His post read in part:
"Canada made me appreciate all the nannies that stayed with us better. If you can't do chores, Canada is not for you. Just stay in Nigeria because as a Man, the system protects you. When we landed here, I wanted to run back to Nigeria.
"I couldn't recall the last time I lifted a finger to do anything since I got married. There was always a nanny, cousin etc. Transitioning from Chairman lifestyle to doing chores/being involved was not easy. Unlike US or UK where you can find cheap labour, labour here is expensive because people are scarce.
"I remember when we rented our place and had to buy furniture, I rented a Uhaul truck, drove to the furniture shop, loaded the furniture into the truck with the help of friends. Got home, offloaded them into the house. My back nearly broke. Not worked that hard in ages."
Nigerians took to the comments section to give their own two cents on the matter.
@Victor_HF_ said:
"Sometimes I just stand in front of the AC for minutes after a cold shower and say to myself that Canada had nothing on me. To clean na small something. Even with a bad lower-back I still do heavy lifting every now and then. I'm BUILT for Canada."
@santabdul reacted:
"Before I got married I change diapers, cooks wash dishes, fetch water .. Now that i am married I still change diapers, cook, wash dishes. Bros Nah you lazy from Naija. You See That Canada Unah no fit discourage us, WE DEY COME, if you like tell me say I go turn houseboy."
@UUnyimeJackson commented:
"He never discouraged you from going to Canada. He just pointed out a difference between Canada and Nigeria.
"You know how to do those things already? That's totally fine. It means the message is not for you. However, you can still learn from it.
"Always read to understand."
PAY ATTENTION: Click "See First" under the "Following" tab to see Legit.ng News on your Facebook News Feed!
Meanwhile, Legit.ng earlier reported about a Nigerian man who shared abroad photos as he relocated to Canada.
In a post on Wednesday, December 30, 2020, the man tweeted that he is happy to have finally left Nigeria for Canada. He said the evil the country did to him is enough.
The man attached photos showing him in the foreign country wearing a big smile. He also revealed he wrote IELTS many times.
Source: Legit.ng