History: Buhari's ADC becomes longest-serving Aide-De-Camp to a civilian president
- Colonel Mohammed Abubakar has made history as Nigeria's longest ADC to a civilian president
- Abubakar is also the second longest-serving ADC in the history of the Armed Forces of Nigeria
- President Muhammad Buhari has already appointed Yusuf Dodo, a lieutenant colonel, as Abubakar's replacement
PAY ATTENTION: Join Legit.ng Telegram channel! Never miss important updates!
President Muhammadu Buhari's outgoing Aide-De-Camp, Colonel Mohammed Abubakar has made history as Nigeria's longest ADC to a civilian president.
Abubakar is also the second longest-serving ADC in the history of the Armed Forces of Nigeria after late Colonel Walbe who served General Yakubu Gowon for nine years.
Abubakar is leaving the position since his appointment by the president in May 2015 when Buhari was elected president.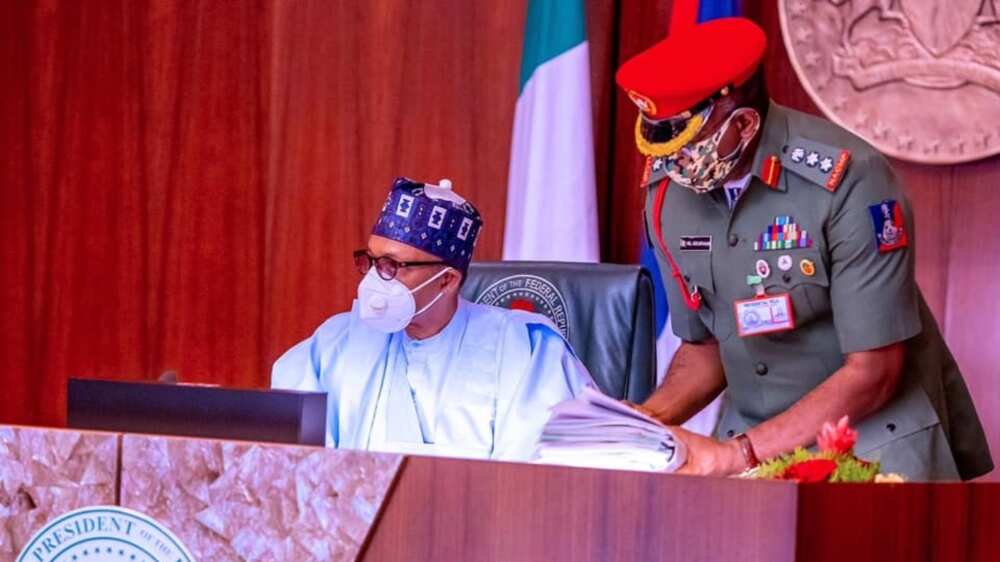 PAY ATTENTION: Install our latest app for Android, read best news on Nigeria's #1 news app
The outgoing ADC is due for the rank of a Brigadier-General and he will proceed to Chile for a course before his expected promotion.
President Buhari has already appointed Yusuf Dodo, a lieutenant colonel, as Abubakar's replacement.
Until his appointment, Dodo was the Academy Adjutant of the Nigerian Defence Academy in Kaduna state.
He is currently understudying his predecessor pending when Abubakar leaves for the course in the South American country.
An Aide-De-Camp is a personal assistant or secretary to a person of high rank, usually a senior military or government officer, a member of a royal family, or a head of state.
Various countries have their own individual traditions regarding the duties of the ADC or equerry to their Commander In Chief.
In France, Russia, and the United States, the president's ADC carries the country's nuclear briefcase.
In the United Kingdom, an ADC is usually a high-ranking officer or member of the Royal Family (eg, Prince Philip and Prince Charles are ADCs to the Queen) and an ADC is called an equerry.
Aides-De-Camp are usually of the rank of major, lieutenant colonel, or colonel.
Nigeria inherited the practice of assigning military aides-de-camp to the head of state and commander in chief from the British. British governors-general of Nigeria (before independence) had military ADCs.
Similarly, following his resignation as Nigeria's Chief of Army Staff, Major-General Tukur Buratai now holds the title of the country's longest-serving Chief of Army Staff.
The Borno-born General spent a total of 66 months as the nation's top army chief.
He is followed closely by Late General Sani Abacha who went on to be Nigeria's military president, with 60 months.
Meanwhile, a group has called on the immediate past service chiefs to always make themselves available for consultations by their successors.
The National Democratic Front said the past service chiefs' wealth of experience can be used by their new colleagues in the effort to end the war against terrorism in Nigeria.
Source: Legit.ng