Tears of joy as stranger gifts woman hawking fruits N25k, many react
- BI Phakathi has shared yet another touching and inspiring video of his good deeds
- The good Samaritan helped a lady identified as Mam Dlamini who was selling fruit and roasted peanuts on the street
- Phakathi handed over R1,000 (N25,481.71 ) to Mam Dlamini before telling her to keep her goods
Pay Attention: Join Legit.ng Telegram channel! Never miss important updates!
South African hero BI Phakathi is still changing lives. In a recent video shared on Facebook, Phakathi purchased all the stock being sold by a local street vendor and then gave it back to her. Mam Dlamini was walking around with her goods when Phakathi approached her.
Mam Dlamini had peanuts, bananas and pears packed neatly into a plastic bowl which was placed on top of her head. Phakathi started by purchasing the peanuts but then asked Mam Dlamini how much all of her stock was going for.
She revealed to Phakathi that she makes between R300 and R400 a day by selling her goods. After asking Mam Dlamini to count her goods, Phakathi handed over R1,000 (N25,481.71) and told her to keep her stock.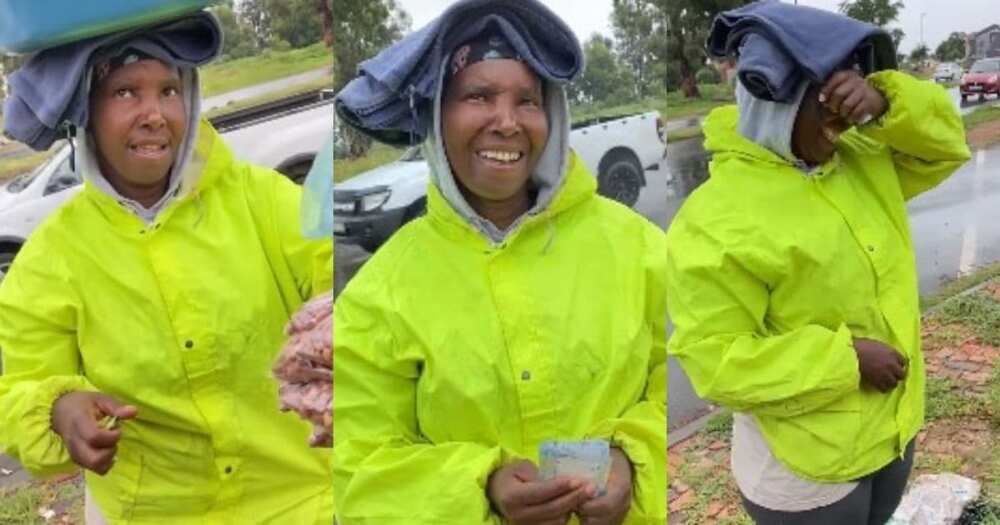 Mam Dlamini graciously thanked Phakathi for his wonderful gift. Smiling from ear to ear, she wiped a stray tear as the video came to an end. Take a look at the clip below:
Phakathi stated that the above video was shared in an attempt to inspire others to support and tip mothers who are doing their best to sell goods and survive. The comments section could not be more positive as peeps thanked Phakathi for his kind deed. Read some of the responses below:
Melvin Kose said:
"They say blessed are those who give without expecting anything in return. You are going very far, my brother. God bless you."
Zamo Xaba wrote:
"Phakathi, you always bring tears to my eyes, you are such an earthly angel. Be blessed abundantly, my brother."
Sergio Tchen commented:
"This man is amazing. He changed the lives of so many people. It's so so sweet to see this lady's smile. Thank you so much for posting it. Take care and God bless."
Sandile Mike Ndlovu added:
"I am even afraid to open your videos in public places because I always shed some tears. Every time you do something good I feel like I am that person you are blessing. Keep up the awesome work. The heavens are smiling at you. You will NEVER lack in your life."
PAY ATTENTION: Install our latest app for Android, read the best news on Nigeria's #1 news app
BI Phakathi has quickly become a faceless hero in South Africa. When he is not blessing homeless children and giving old ladies money for groceries, he is putting a smile on thousands of South Africans' faces who thoroughly enjoy watching him make a difference.
In one act of kindness, BI shared a video in which a homeless man could be seen eating food from a busy street floor. The man behind the camera, who we have come to know as BI, approached the homeless man to ask him if he would like to go and buy food.
The two then entered a local restaurant where the staff tried to chase the homeless man away. BI quickly explained that the two of them were together. Once seated, the old man could be seen enjoying his meal while he and BI had a light-hearted conversation, during which BI told the man he was his new family.
Source: Legit Nigeria