Good Samaritan blesses man eating from floor with a meal and cash
- A Good Samaritan named BI Phakathi recently shared another heartwarming video
- In the video, the man watched as a homeless man ate from the ground
- BI then took the homeless man to buy some food and the video received thousands of reactions
PAY ATTENTION: Click "See First" under the "Following" tab to see Legit.ng News on your Facebook News Feed!
BI Phakathi has quickly become a faceless hero in South Africa. When he is not blessing homeless children and giving old ladies money for groceries, he is putting a smile on thousands of South Africans' faces who thoroughly enjoy watching him make a difference.
In his latest act of kindness, BI shared a video in which a homeless man could be seen eating food from a busy street floor. The man behind the camera, who we have come to know as BI, approached the homeless man to ask him if he would like to go and buy food.
The two then entered a local restaurant where the staff tried to chase the homeless man away. BI quickly explained that the two of them were together. Once seated, the old man could be seen enjoying his meal while he and BI had a lighthearted conversation, during which BI told the man he was his new family.
This was after the man, whose last name is Govender, explained that he lost contact with his family after a lot of "family disputes". After their brief conversation, BI proceeded to hand the man an undisclosed amount of money.
The touching video was at the receiving end of nearly 27,000 reactions from fans of BI who seem to find joy in watching the man do his bit to change the world, one good deed at a time.
Read some of their comments below.
Tina StMaria said:
"You did a beautiful thing for this man, dear bro BI. You restored his dignity in being able to sit, enjoy his food in the restaurant. You were gentle and kind. God bless you to touch many more hearts!"
Sheila Paren said:
"It's really sad to see that some people can quickly judge you because of the way you look and will treat you like a trash, not even like a human. Thank you, Mr BI Phakathi though for helping out the people in need and standing up for them. May God bless you more!"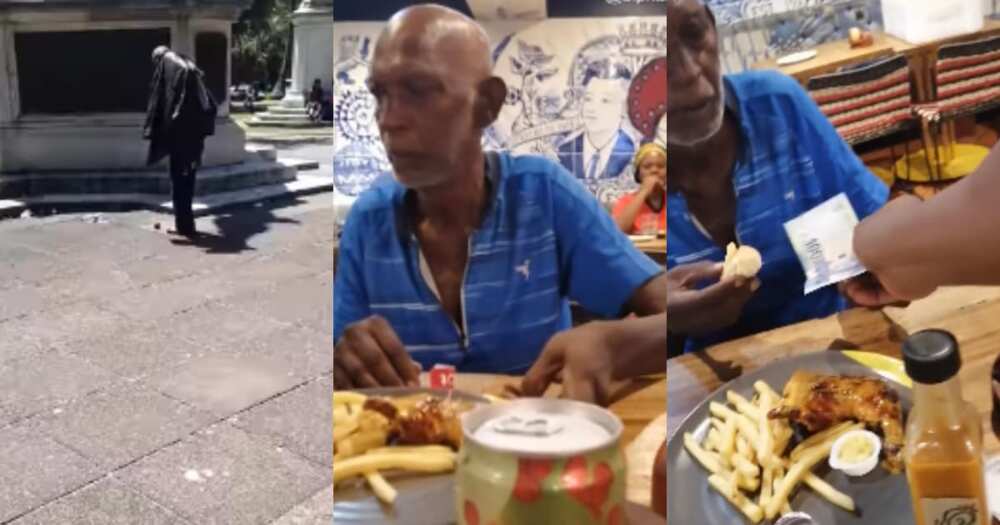 Legit.ng previously reported that a homeless was rewarded by BI Phakathi after displaying honesty when he was sent on an errand.
Social media users were impressed by the man's honesty as well as BI's kind heart.
Should a 'homeless' man move into a house built by his wife? (Nigerian Street Interview) | Legit TV
Source: Legit.ng