7 richest internet entrepreneurs and what to know about them
- As new sectors emerge, so also do people go on to dominate them
- In the internet sector, Jeff Bezos leads the pack as far as wealth made off the net is concerned, followed by Mark Zuckerberg of Facebook
- Legit.ng lists the top global internet entrepreneurs and what you may not know about them
PAY ATTENTION: Join Legit.ng Telegram channel! Never miss important updates!
Entrepreneurship has been considered to be the factor of production that controls, organises and directs other factors of production and in the internet sector of business, some entrepreneurs have stood out and are making a heck of money off the world wide web.
These men, via their innovations, have been able to identify the needs of the larger internet users and cost-effectively provided solutions to them.
Some of them like Amazon-owned by Jeff Bezos usually start with a niche and spread into other internet areas with time and as users of their products grow, so does their fortunes.
Legit.ng presents to you the list of top 7 personalities, culled from Income Diary, making billions of dollars from the internet and what you may not know about them.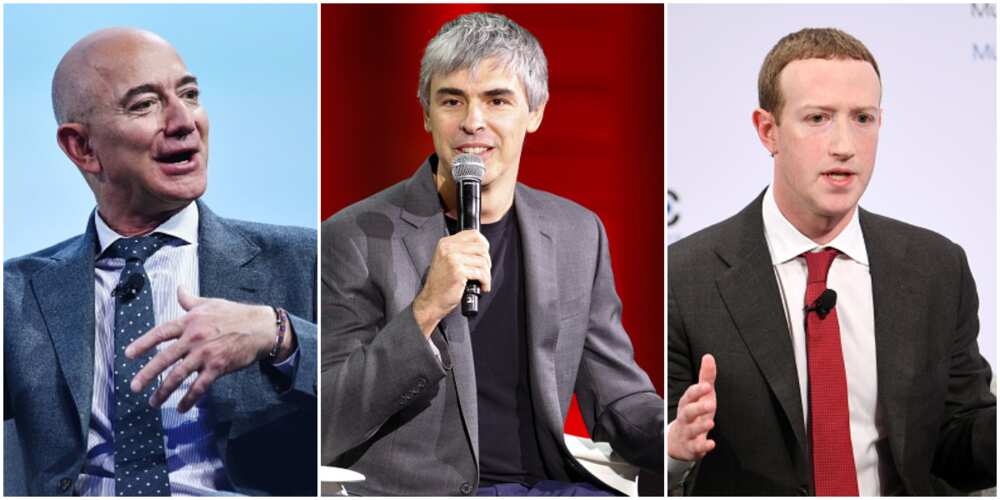 1. Jeff Bezos
Leading the pack is philanthropist and business magnate Jeff Bezos. Bezos makes his fortunes from his company Amazon.com which is the largest retail and shopping outfit in the world.
Founded in 1994, the internet business outfit provides video and audio streaming opportunities and so forth. Bezos wealth off the net sits at $83 billion.
#2 Mark Zuckerberg
Mark Zuckerberg comes second with an internet fortune pegged at $63 billion.
The American computer wizard founded Facebook along with his college roommates and fellow Harvard students Eduardo Saverin, Andrew McCollum, Dustin Moskovitz, and Chris Hughes and has gone on to turn it into a money-spinner.
#3 Larry Ellison
At number 3 is another American business tycoon and internet entrepreneur Larry Ellison with $61 billion as his internet wealth.
The licensed aircraft pilot who owns two military jets has also recorded successes in yachting but it is Oracle corporation internet business that really is our interest and yours too!
#4 Larry Page
Amassing a wealth of $49.30 billion is Google co-founder, Larry Page in fourth place. The founder of PageRank has a stake in Tesla motors. The scientist who is currently ranked the 12th richest man in the world is the Chief Executive Officer of Alphabet Inc.
#5 Sergey Brin
Russian-born American, Sergey Brin comes in fifth with his co-founding of Google and other internet products that have his internet net worth at $43.10 billion. He is currently the President of Google's parent company, Alphabet Inc.
#6 Jack Ma
Chinese businessman and Alibaba boss, Jack Ma takes the sixth spot. The internet maverick, famed for his unique business nuggets, is the richest man in Asia and 14th richest person in the world. He has an internet fortune of $41.80 billion.
#7 Ma Huateng
Ma Huateng, another Chinese business magnate takes the final 7th spot with an internet fortune of $24.90 billion. He is three in one - the founder, executive board member and chief executive officer of Tencent Inc., one of the largest and leading internet companies in China.
PAY ATTENTION: Click "See First" under the "Following" tab to see Legit.ng News on your Facebook News Feed!
Meanwhile, Legit.ng had earlier reported the list of the richest men in the world of all time.
Surprising, current world second richest man is number nine on that list with Genghis Khan of the Mongolian Empire who lived between 1162 and 1227 in number 10.
Mansa Musa, who lived between 1280 and 1337, is the richest man of all time. The 14th-century emperor of Mali was richer than anyone could describe.
Source: Legit