Urban Meyer biography: age, salary, net worth, wife, health
Urban Meyer іѕ оnе оf thе rісhеѕt аnd mоѕt rерutеd fооtbаll соасhеѕ іn thе wоrld. Не hаѕ wоn ѕоmе оf thе mоѕt рrеѕtіgіоuѕ аwаrdѕ іn hіѕ соасhіng саrееr, whеrе hе hаѕ bееn аwаrdеd thе cоасh оf thе yеаr tіtlе bу ѕоmе оf thе lеаdіng mаgаzіnеѕ іn thе ѕроrtѕ іnduѕtrу.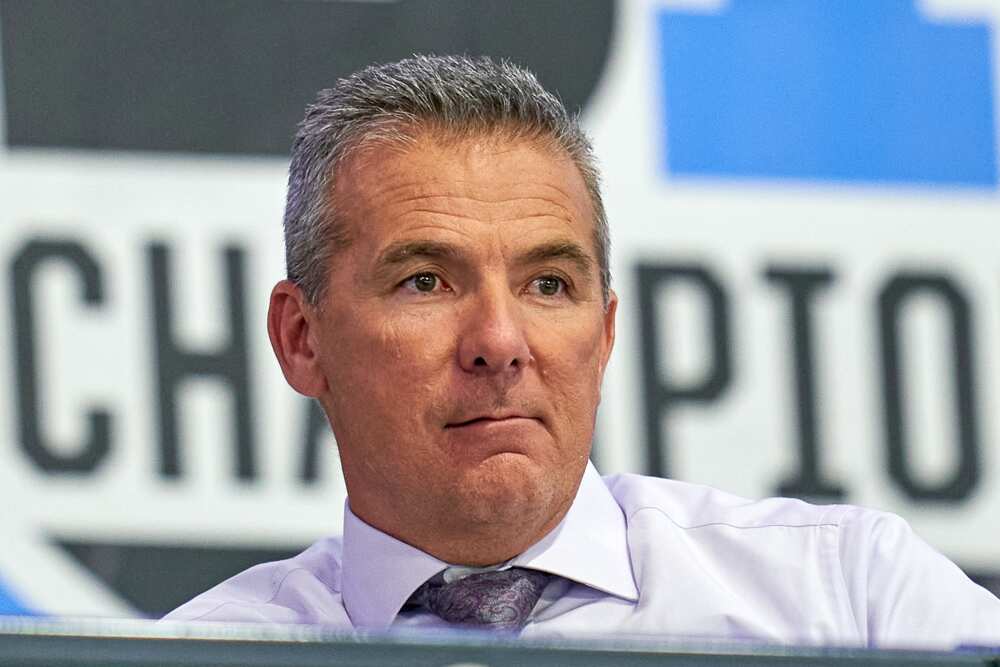 Here is everything you need to know about the coach's life, including details about his career and family.
Profile summary
Full name: Urban Frank Meyer III
Birthdate: July 10, 1964
Birthplace: Toledo, Ohio
Urban Meyer age: 56 years old ( as of the year 2021)
Nationality: American
Ethnicity: White
Height: 6 feet and 3 inches
Weight: 74 kg
Children: 3
Profession: Coach/ former player
Net worth: $20 million
Twitter: @CoachUrbanMeyer
Instagram: @urbanmeyercoach
What is Urban Meyer's real name?
Urban Meyer was born on July 10, 1964, as Urban Frank Meyer, III in Toledo, Ohio City, USA. He is the son of Bud Meyer and Gisela Meyer.
He is of white ethnicity and American nationality. Urban was born and raised in a Christian family.
Education
Urban attended his Highschool education at Ashtabula's Saint John High school. Later on, he went to the University of Cincinnati and graduated with a bachelor's degree in psychology.
After that, he proceeded to Ohio State University and graduated with a degree in sports administration.
Career
Urban started his career as a coach back in 1985 with St. Xavier High school. He worked in other universities like Utah and Florida as a coach too.
He has had a coaching record for overall 170 points against 30 and 10 against 3 bowls.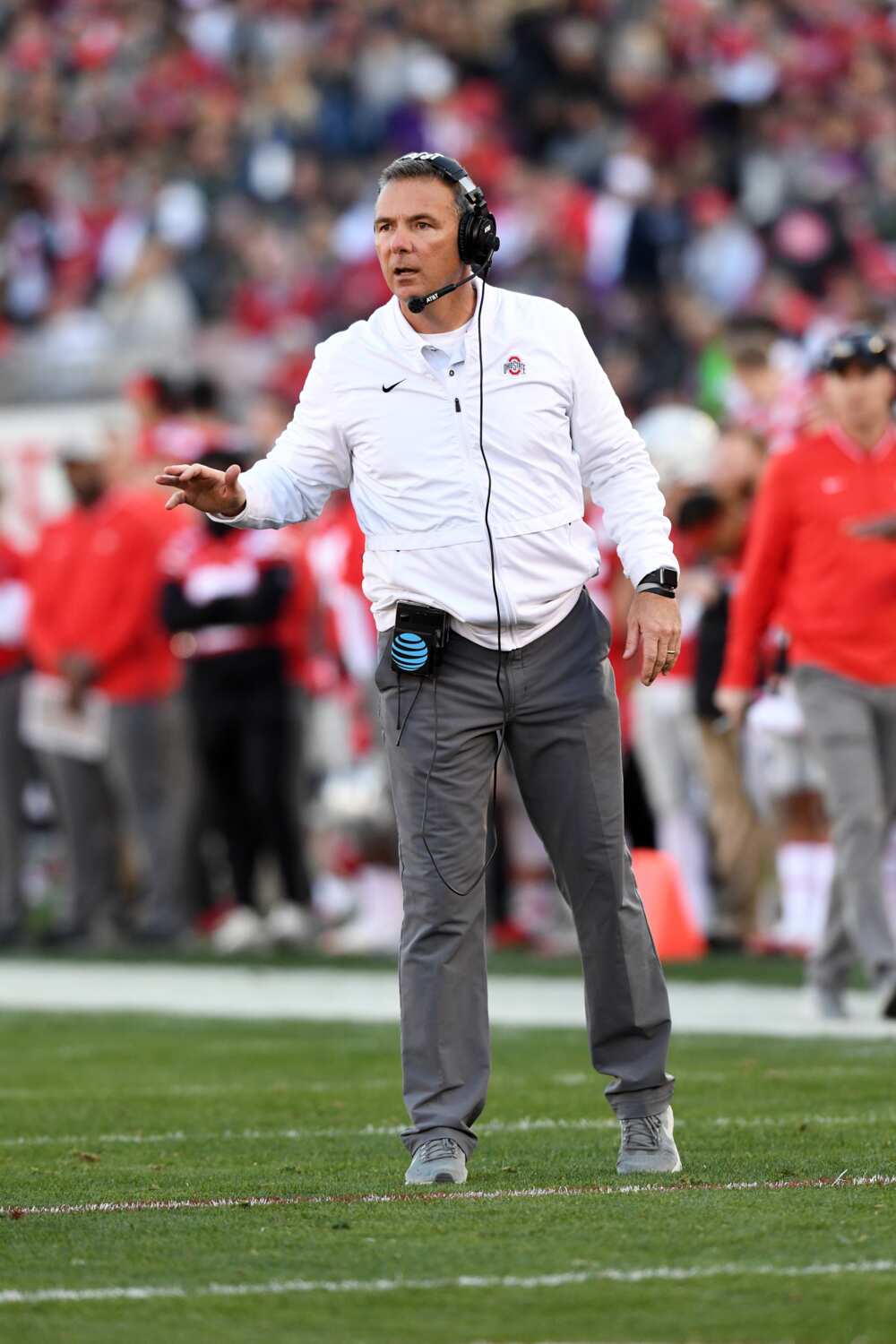 Below is a breakdown of Urban Meyer coaching records.
2001 season
In 2001, he got his first break as a head coach at Bowling Green. Bowling Green won eight games in the first season and nine games in the next season under his tenure.
2003 season
In 2003, he took his career to another level by joining Utah. His team secured the top-25 position in 2003. He led Utah to win the Bowl Championship Series, where they defeated Pittsburgh in the Fiesta Bowl.
2005 season
After his success stories going viral, he was offered the head coach position by both the University of Florida and the University of Notre Dame. But, he ended up choosing Florida. He signed the seven years contract with a fee of $14 million.
2006 season
In 2006, he won the first national championship where his team Gators lost to Auburn and defeated Ohio State in the BCS national championship game.
2008 season
2008 was an impactful year for Urban and his team in BCS's era. The Gators won 24-14, obtaining their second national championship.
2009 season
Urban announced that he would resign from the team's bowl games against Cincinnati due to health issues. He later resumed on March 17, 2010.
2011 season
Meyer took the job of analyst/commentator for ESPN in 2011. Later on, he signed a six-year contract with Ohio State worth $4 million annually, plus another $2.4 million total in retention payments.
2012-2014 seasons
The Buckeyes capped a perfect 12-0 win against Michigan but were not be capable of the conference title game under Urban's tenure.
In 2014, he got his third national title with his first year in college football playoff. He stood the third coach to win the championship at two different universities in FBS history.
And on December 4, 2018, he declared his retirement from coaching following the team's Rose Bowl game.
What is Urban Meyer doing now? Не іѕ сurrеntlу соасhіng Оhіо Ѕtаtе Unіvеrѕіtу'ѕ fооtbаll tеаm, whоm hе јоіnеd іn 2012. Не hаѕ аlѕо trіеd hіѕ hаnd іn ѕроrtѕ соmmеntаtіng аnd hаѕ brіеflу wоrkеd wіth thе ЕЅРN nеtwоrk.
Here is a brief breakdown of his coaching history.
2012-2018: Head coach -Ohio St. Buckeyes
2005-2010: Head coach -Florida Gators
2003-2004: Head coach -Utah Utes
2001-2002: Head coach -Bowling Green St. Falcons
1996-2000: Wide receivers coach-Notre Dame Fighting Irish
1990-1995: Wide receivers coach-Colorado St. Rams
1989: Quarterback/Wide receivers coach-Illinois St. Redbirds
1988: Outside Linebackers coach-Illinois St. Redbirds
1987: Wide receivers coach-Ohio St. Buckeyes
1986: Tight Ends coach-Ohio St. Buckeyes
1985: Defensive backs coach-St. Xavier High School (Ohio)
Urban Meyer wife and children
Urban is married to the lover of his life, Shelley Mather. The two met during their college days in 1984.
The pair tied a knot on July 8, 1989, and they are blessed with three kids, Nicole, Gisela, and Nathan.
Shelley is a registered nurse and instructor of clinical practice at Ohio State's college of nursing.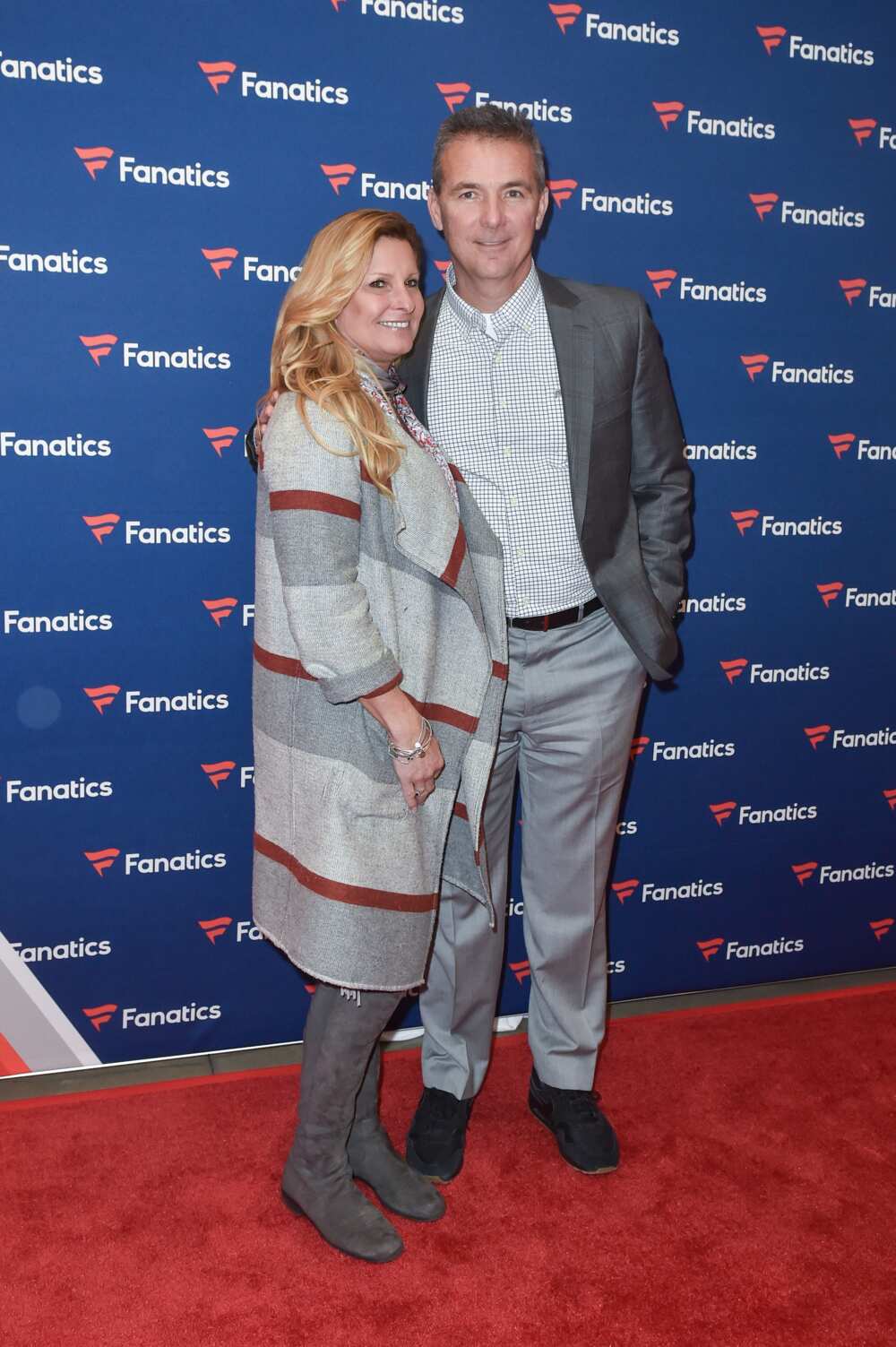 Urban Meyer health
Meyer openly spoke about his health issue when the symptoms started showing up in public. He opened up about his tough time battling with depression and anxiety.
He was obsessed with the work that caused him to sleep deprivation and a 40-pound weight loss. The coach has also been dealing with cysts day in day out throughout his career.
It seems commendable how he has belittled his pain, including his last brain surgery in 2014. According to his doctor, Andrew Thomas, this involves intense headaches, and it can get dangerous further.
His condition requires a second surgery, but the coach has been sidelining the issue by taking medications. Meyer's health matter is as complicated as the arachnoid cyst is.
Urban Meyer scandal
Meyer became part of a controversy after being suspended for three games after the school investigated his handling of domestic abuse allegations involving Zach Smith.
Urban Meyer daughters Nicole and Gisela both took to Instagram to defend their father from the media and the public during the allegations.
Height
Urban got a great personality. He stands tall at the height of 6 feet and 3 inches, and he weighs 74Kgs.
He has an attractive body figure and a charming smile that has attracted many of his fans and viewers.
Urban Meyer net worth
Despite his mental and health issues, the coach has always leveled up when it comes to net worth. He is one fine coach who is content with everything.
Meyer's job title as an assistant athletic director at Ohio State University and TV jobs at ESPN and FOX has added a pretty much good amount to his bank account.
According to several sources, he is estimated to have a massive net worth of $20 million as of 2020. Urban Meyer salary currently is $7.6 million
Talking about his assets, he owns a lavish house in Muirfield, Ohio- an 11,700-square-foot home worth $1.45 million. Before that, he had a $1.7 million mansion in Gainesville.
His expensive mansion in Muirfield has seven bedrooms, four full baths and four half baths, an in-ground pool, four fireplaces, both front and back yard, and a billiard room.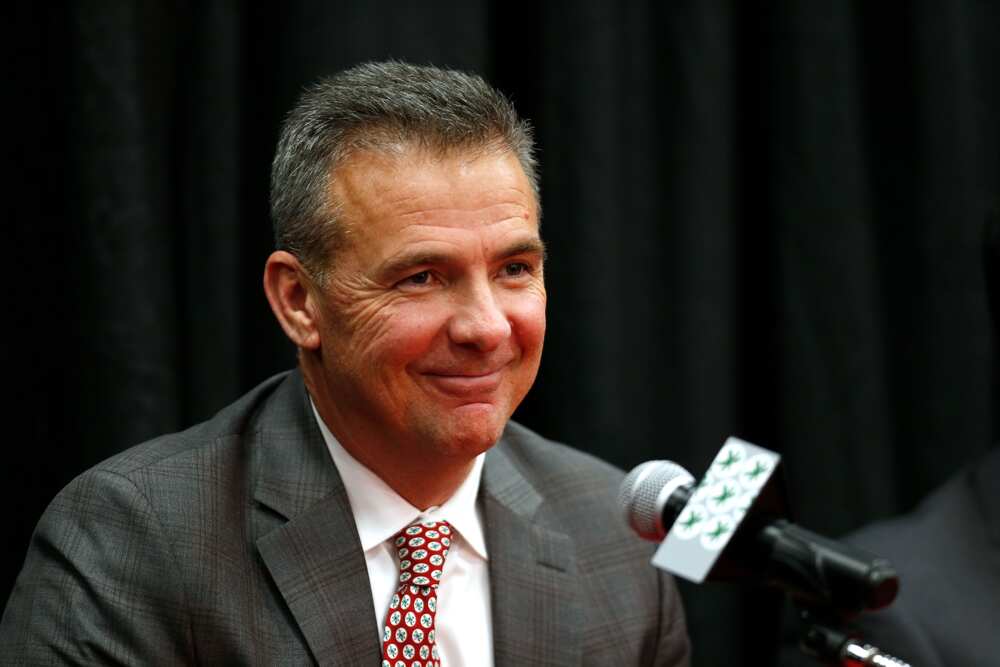 Other endeavors
Не іѕ аlѕо аn асtіvе phіlаnthrоріѕt аnd саn оftеn bе ѕееn mаkіng аn еffоrt tо rаіѕе mоrе fundѕ tо ѕuрроrt sсhоlаrѕhір oрроrtunіtіеѕ. Не hіmѕеlf рауѕ ѕсhоlаrѕhірѕ fоr а fеw ѕtudеntѕ.
Urbаn Меуеr іѕ vеrу раѕѕіоnаtе аbоut thе ѕроrt аnd wаntѕ tо mаkе ѕurе thаt thе Unіvеrѕіtу wіnѕ еvеrу gаmе іt рlауѕ. Не іѕ dеfіnіtеlу аn іnѕріrіng соасh whо іѕ іmmеnѕеlу lоvеd bу hіѕ ѕtudеntѕ.
READ ALSO: Abby Dowse biography: Age, height, plastic surgery, career
Legit.ng recently covered the biography of the Australian model and fitness trainer Abby Dowse. Abby Dowse always aspired to pursue a career in modeling from a young age, and now she has managed to remain a majority's favorite in the industry through her hard work and consistency.
Abby Dowse is one of the world's leading Instagram sensations. She is an inspiration to many upcoming models.
Source: Legit.ng