Irefin: Kinsmen question army general's COVID-19 death
- Late army general Irefin's relations in Ayetoro-Gbede area of Kogi state are unconvinced that he died of COVID-19 complications as said by the military
- The kinsmen, speaking under two umbrella groups, called for more explanations on the demise of the General Officer Commanding, 6 Division, Port Harcourt
- Reports of Irefin's death emerged on Thursday, December 10 while he was attending the Chief of Army Staff conference
The recent claim by the Nigerian Army that one of its top officers, Major-General Johnson Olu Irefin, died of COVID-19 complications has been challenged by his kinsmen.
TheNews magazine reports that Irefin's relations under the umbrella of Ayetoro Gbede Traditional Council and Ayetoro Gbede Development Association demanded explanations.
The unconvinced kinsmen told the army to provide answers to some important questions that they had about his death.
The Punch reported that Dino Melaye, who is from Aiyetoro-Gbede, confirmed the authenticity of the demands of the kinsmen.
The report added that the relations said they found the circumstances that led to the late major-general's death very suspicious.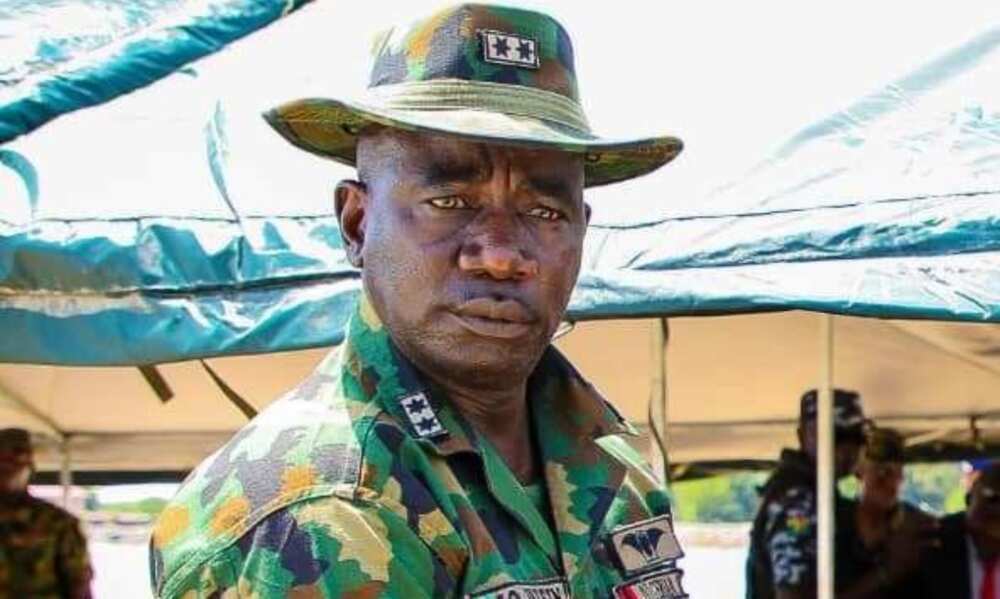 The questions they wanted to be answered include:
"1. Did General Irefin show symptoms like high fever, severe headache and others which occur after 2 weeks incubation period of Covid-19?
2. Even if the symptoms mentioned above manifest in the General, does it also kill the victim instantly?
3. If at over 80 years old, late Abba Kyari battled COVID-19 for weeks before he died, shouldn't General Irefin, who is of a younger age than the late chief of staff to President Muhammadu Buhari, be able to battle it for a longer period of time?
4. Except there is Covid-20 which is doubt, COVID-19 does not kill its victims within 3 days
5. Why the sudden haste in the burial of the general by the military authority?
Legit.ng reported on Thursday, December 10 that Irefin, the General Officer Commanding (GOC) 6th Division, Port Harcourt, Rivers state, died of complications from the coronavirus disease COVID-19.
Irefin's sudden death was said to have thrown the Army into mourning.
The late major-general had just recently assumed command of the division in July after replacing Major-General Felix Agugo,
Coronavirus: Are Nigerians really afraid of COVID-19? New survey reveals more | Legit TV
Source: Legit.ng News