President Trump's wife Melania wishes to go back home
- Melania Trump is thinking about life after the White House and has started planning for the future
- According to sources, the first lady's desire is just to leave the White House and go home
- Also, she is reported to have inquired whether any taxpayer money will be available for her to cover future plans
PAY ATTENTION: Click "See First" under the "Following" tab to see Legit.ng News on your Facebook News Feed!
While President Donald Trump and his supporters are looking for ways to change the outcome of the United States of America's recent presidential election, First Lady Melania Trump, has started her exit plan in earnest.
According to a report by CNN the president's wife has been preparing her move to the family's Mar-a-Lago residence in Palm Beach, Florida.
"She just wants to go home," a source familiar with Melania's thinking was quoted to have said.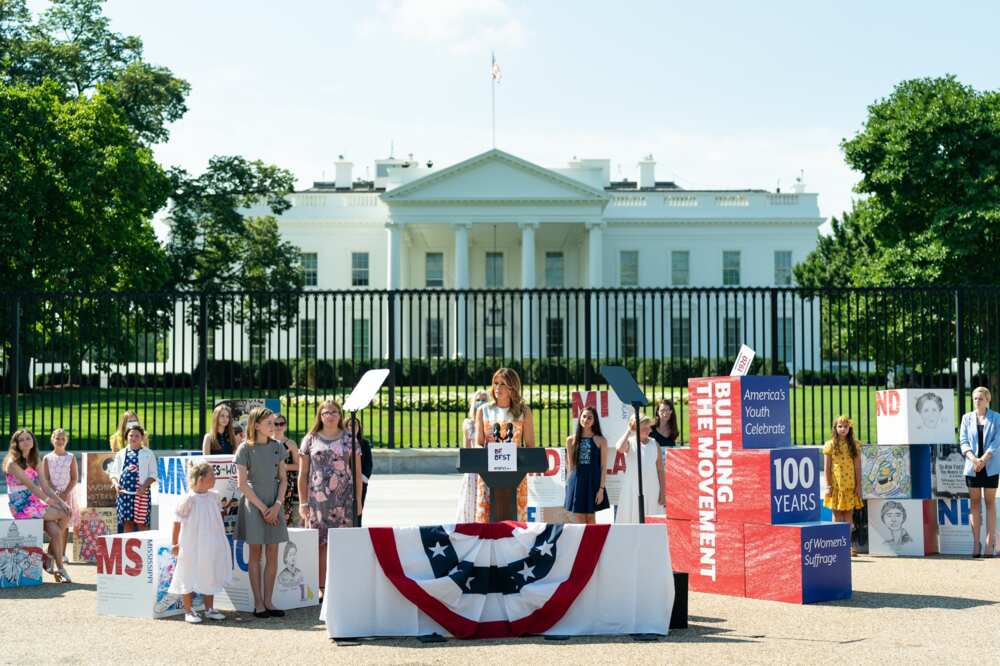 In fact, she is reported to have sent shipments to Florida and Trump's New York properties.
Also, the president's 14-year-old son, Barron, will complete his school year in Florida.
She is also reported to be considering authoring a coffee-table book on White House hospitality history.
Going further, the report claimed that she has even asked whether any taxpayer money was available for her to help cover future endeavours.
Meanwhile, reactions have followed the latest development on social media.
@LOdragonmom wrote:
"So someone who wears $1000 shirts and $6000 dresses inquired whether she received a budget after she leaves? Disgusting."
@LovelyPartisan also said:
"When you have used the WH for your own personal profit, HELL NO, there are no additional funds for you to move out. And "perks" to trump? Also, NO. When you are a traitor, the taxpayers do not foot the bill for any perks, including @SecretService protection."
@husainaltaf added:
"It is utterly disgusting that someone of means (supposedly) would want to grift even more from the taxpayers, after having barely done anything to benefit the taxpayers."
@FazS18 also added:
"The money spent on new dining plates etc. and outlandish Christmas decor could feed many Americans, time to tone down or do away with some of these traditions."
Meanwhile, Legit.ng had reported that the United States Supreme Court on Tuesday, December 8, voided a suit filed by a Republican congressman, Mike Kelly, to cancel Joe Biden's victory in Pennsylvania during the presidential election.
Kelly's application challenged the state's law which approved no-excuse absentee voting and insisted that the expansion of mail-in voting was outrightly unconstitutional,.
Apart from the apex judicial body, many other US courts had ruled against the suit on the ground that it was dead on arrival because Kelly waited till 2020 when the law (enacted in 2019) was already in place.
Street Gist: Will Nigeria be a better place with Trump as president? | Legit TV
Source: Legit.ng