US election 2020: Donald Trump suggests he would leave America if Biden wins
- US President Donald Trump he wouldn't be able to handle the embarrassment he will have to face if he loses to former Vice President Joe Biden
- The American leader jokingly suggested that if he lost to the Democratic presidential candidate, he would leave the country
- Trump was speaking during a rally in Georgia where he continued with his criticism of Joe Biden and other myriads of issues
PAY ATTENTION: Click "See First" under the "Following" tab to see Legit.ng News on your Facebook News Feed!
President Donald Trump has hinted at leaving the United States of America (USA) should he lose to Democratic presidential candidate Joe Biden in the forthcoming election.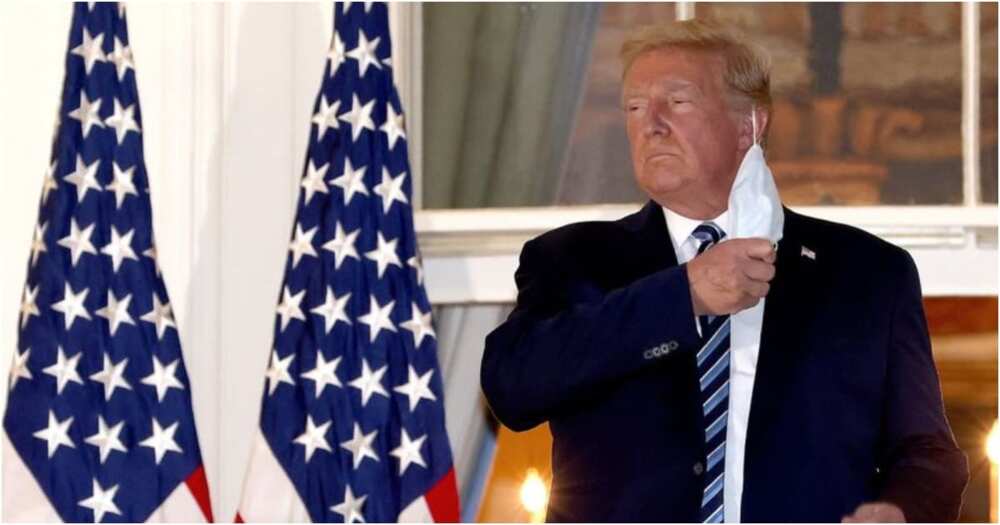 The incumbent said it would be embarrassing for him to lose to the former vice president whose candidacy he has repeatedly mocked.
He was speaking during a rally in Georgia on Friday, October 16, where he spoke for close to two hours while sounding proud to be in friendly territory, Daily Mail reported.
"Could you imagine if I lose? I'm not going to feel so good. Maybe I will have to leave the country, I don't know," he said.
However, it was reported most of his remarks during the rally focused on his own personal grievances.
They included the joy he alleged his opponents felt at his virus diagnosis, a news media he continues to argue was stacked against him.
In the past few weeks leading up to the election, Trump came under sharp criticism for his handling of the coronavirus pandemic.
PAY ATTENTION: Install our latest app for Android, read the best news on Nigeria's #1 news app
A New York Times bombshell report about his tax returns, which showed he only paid $750 in taxes in 2016 and 2017, as well as a myriad of other legal battles were also among things criticised.
Technology companies and, of course, his Democratic opponent Biden, and his family were also topics of discussions during the rally.
He also said he had opted out of raising money for his presidential campaigns as he entered the final stretch of the election.
"I could raise more money. I would be the world's greatest fundraiser, but I just do not want to do it," he said.
Legit.ng previously reported Biden had announced that the continuing fundraiser towards his White House bid had raked in a record N148billion in September 2020.
The September donations were contributed by at least 5.5 million wellwishers who forked out an average of N18,950 with online donors accounting for about N76.9 billion.
Covid-19: Trump fulfils promise to Nigeria, presents 200 Ventilators to health ministry | Legit TV
Source: Legit