Nigerian man "arrests" Nsukka deity, accuses it of crashing his business
- After his honey business crashed in Anambra, a man returned to Enugu and "arrested" a deity he accused of being responsible for his misfortune
- Nnajiofor Donatus says people of his community in Nsukka have been rendered useless by the deity
- According to him, he used to have a thriving business in Anambra, but the deity made it crash
PAY ATTENTION: Click "See First" under the "Following" tab to see Legit.ng News on your Facebook News Feed!
A Nigerian man identified as Nnajiofor Donatus has "arrested" a deity in Enugu state, saying the latter was tormenting his community and made his business crash.
According to the man, who hails from Ibeku Opi community in Nsukka local government area, he removed the deity by a stronger force from above, Vanguard reports.
Legit.ng gathers that the young man said the deity had rendered many people from the community useless, thrown many out of business and tied up many girls of the community from getting married.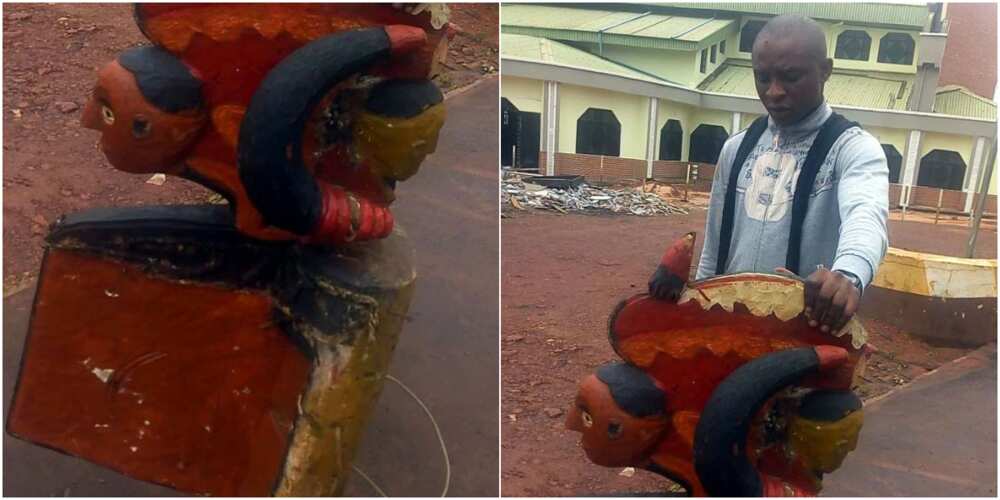 Donatus said his honey business was thriving in Anambra but the deity made it crash and he returned home empty handed.
The young man, who also accused the deity of being responsible for the poverty level of Ibeku Opi, has been arrested by the police.
The young man was said to have exhibited violent tendencies.
The security officer at the St. Theresa's Catholic Cathedral said he was frightened at the sight of the man and the deity.
Nnajiofor was taken away with the deity for further interrogation by Nsukka Urban Police Division.
In other news, Mark Walker has announced his readiness to return back to Nigeria the items his grandfather stole from the country.
Recall that thousands of items were stolen from Nigeria during a British military expedition in the late 19th century.
Walker's grandfather, who was a soldier, took part in the looting of Benin City in the late 19th century.
The man's grandfather was in his twenties when he brought the artefacts back on his return to the UK.
The artefacts have remained in Walker's family ever since his grandfather brought them from Nigeria.
African Drum Festival 2018: Nigerian youths show Buhari that they are not lazy | Legit TV
Source: Legit.ng