REPORT: How COVID-19 increased child labour in Lagos state
Nigeria may have almost certainly overcome the worst periods of COVID-19, but some of the effects of the global pandemic are still evident in the country.
PAY ATTENTION: Click "See First" under the "Following" tab to see Legit.ng News on your Facebook News Feed!
This special report by Legit.ng which is supported by the Wole Soyinka Centre for Investigative Journalism investigates how Covid-19 propelled the scourge of child labour in Lagos, Nigeria's commercial nerve centre, due to the economic hardship faced by residents.
According to the Child Right Acts of 2003, the rights for children are stated, including the right for survival, a name, family life, private life, dignity, recreation, cultural activities, health services and education.
Child labour by implication refers to the exploitation of children through any form of work that deprives them of their childhood, interferes with their ability to attend regular school, and is mentally, physically, socially or morally harmful.
Such exploitation is prohibited by legislations worldwide.
In Africa, child labour accounted for an estimated 32% of the workforce while the number of child workers in Nigeria as at 2006 was estimated to 15 million.
Multiple reports quoted the Lagos state government to have received a minimum of N10 billion and a large chunk of the fund was expected to be spent on the feeding of children and distribution of palliatives to vulnerable indigenes.
Even though the Lagos state government said it spent the money judiciously, claims by Lagos residents in recent reports have proven otherwise.
In this report, Legit TV visits two families to carry out findings about children who were involved in child labour during the Covid-19 lockdown and to find out if truly the act is instigated by the ravaging pandemic or if it was a choice made simply our of poverty.
Fourteen (14) years old Sunday stays with his sister, Madam Evelin Alli and her family in a one-room apartment in downtown Ogba, a suburb of Lagos state.
Sunday said he was going to school before the pandemic but was forced to stay at home and hustle with his sister when the hunger became unbearable.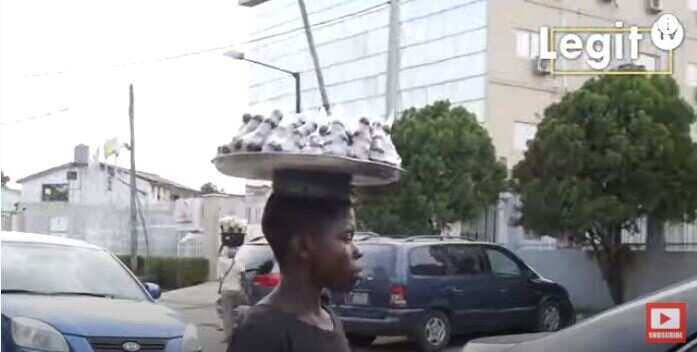 They wake up as early as 5am to fix their wares and hit the streets in search of their daily bread, a venture which does not end until about 12 hours after.
Sunday said he does not want to engage in street hawking but had to because of the hardship brought by the Covid-19 pandemic.
The young boy who wants to become a lawyer in the future said he made between N3,000 and N6,000 on daily basis.
He lamented about the hardship he experiences while hawking:
"My body dey pain me because the waka too much."
He told Legit TV he will resume school when the lockdown is over.
Although she is not comfortable with it, Sunday's sister, a mother of four, noted that the best option they had was to engage in street trading, especially since her husband also lost his job during the pandemic.
She explained that she had to persuade her brother to go with her to sell walnuts on the streets. Mrs Evelyn was working a factory cleaner before they were stopped due to the pandemic.
She also noted that the pandemic has affected her children's education and the family's feeding.
Mrs Evelyn Ali told Legit TV:
"My husband who was a school bus driver, picked up another job while I took to street trading with my (14-year-old) brother."
On her own part, Mrs Mary Olozionwa who sells roasted corn around Ilupeju area of Lagos expressed her disappointment in the government while the lockdown lasted.
She explained why she allowed Favour, her 13-year-old jewel, follow her to the roadside to sell corn for her.
The woman repeatedly said she was not happy about the situation of things and was ashamed of having her daughter go through the stress, but noted that she had no choice.
She added that Favour had to stop school due to the Covid-19 lockdown.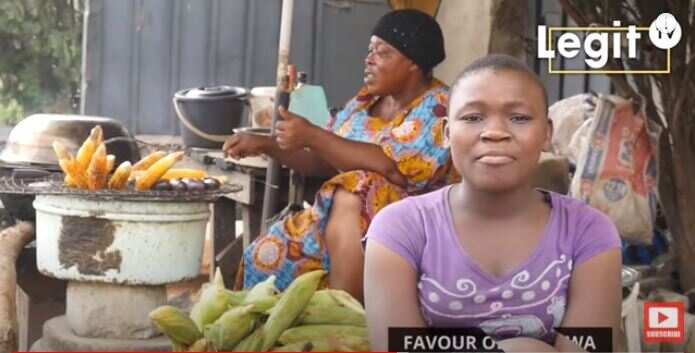 In other climes, like in the United States, children who stayed at home during the pandemic were properly fed and given online lectures since they could not go to school, but the same cannot be said about Nigeria.
Favour who seemed happy to be helping her mother says she would one day love to be a doctor but may not able to pull through if she does not assist with these little things.
With her beautiful smile, the teenager stated that she would jump at any opportunity to return to school for academic activities.
Among the non-governmental organisations working against child labour is the Bimbo Odukoya Foundation.
PAY ATTENTION: Get the Latest Nigerian News Anywhere 24/7. Spend less on the Internet!
Legit TV spoke with Mrs Aderonke, the coordinator of the organisation who spoke extensively on how parents unknowingly exploit their own children.
She also explained that the sensitisation of parents and guardians is ongoing and that the state government is doing a lot to educate citizens.
Aderonke noted that the cases of child labour increased during the Covid-19 lockdown.
Another child protection advocate, Alhaji Idris, noted that the cases of child labour are undrereported, hence, the need to intensify the reports of such incidents.
Watch the full video here:
Source: Legit.ng