EgyptAir flight gives baby born onboard free air travel for life
- A female passenger identified as Hiyam Nasr Naji Daaban realised she was going into labour and the plane was forced to do an emergency landing
- Nasr was lucky as she delivered with the help of a doctor who happened to be on board
- In a tweet, EgyptAir announced that the newborn had been granted a free lifetime travel ticket
PAY ATTENTION: Click "See First" under the "Following" tab to see Legit.ng News on your Facebook News Feed!
A baby girl who was born while airborne is very lucky as she has been given free flights for life.
The EgyptAir flight which was headed to London from Cairo had to do an emergency landing when Hiyam Nasr Naji Daaban realised she was going into labour.
According to The Independent, Nasr is a Yemen passenger and when she went into labour, the pilot diverted the service to Munich, Germany in hopes that she could reach the hospital in time.
Even will all the efforts the pilot made, the lady did not reach the hospital as she delivered a baby girl before the plane landed.
Nasr was lucky as she delivered with the help of a doctor who happened to be on board.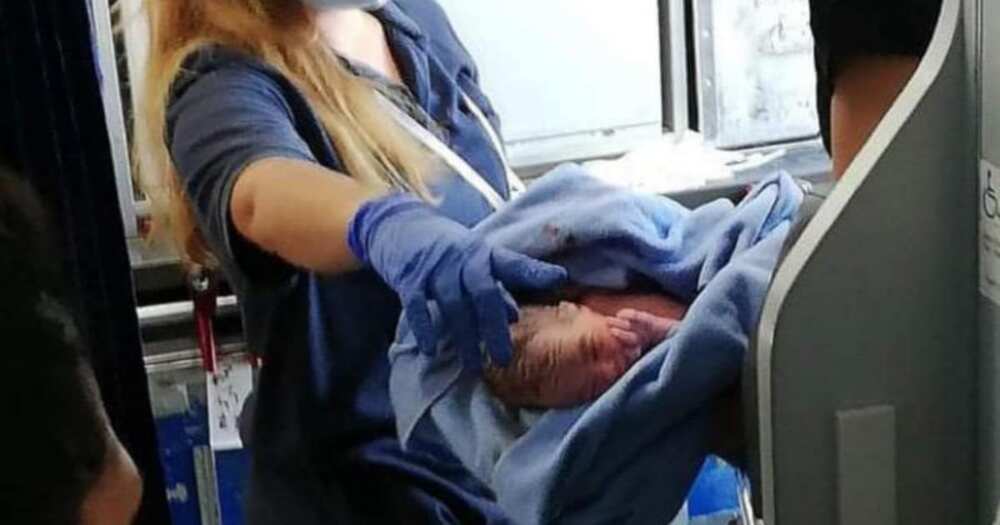 In a tweet seen by TUKO.co.ke, the pilot Rushdi Zakaria who is also the chairman of the Holding Company for Egypt congratulated the patient and granted the new born a free lifetime travel ticket.
"The pilot, Rushdi Zakaria, Chairman of the Holding Company for Egypt, congratulated the passenger Hiyam Nasr Naji Daaban, a Yemeni national, for her safety and granting her newborn a free lifetime travel ticket, which she gave birth on board the plane during the Egypt Air flight yesterday from Cairo to London," read the tweet by Egypt Air.
The chairman of the Board of Directors of Misr Aviation Company announced that they presented the newborn with a souvenir to celebrate with her family.
"It is our pleasure to receive a new customer to Egypt to fly to the world onboard our plane and we are also pleased to present her with a souvenir to celebrate with her family and to give her a free ticket for life on Munich flights," read the tweet.
Legit.ng had earlier reported how good fortunes recently smiled on a 21-year old armless lady, Ada Aniwetalu, as she was gifted a newly built three-bedroom bungalow and a scholarship award by the church.
Ada was born without arms but she was determined to pull through the rigours of life with the aid of her legs.
Slum Chronicles: People mock us when we go to school, saying we can't get better | Legit TV
Source: Legit.ng