Priceless reaction of baby when she saw waterfall for the first time
- It was all joy for Lisa Fleisher when she captured the joyful reactions of her daughter as she witnessed her first waterfall in New York
- The mother said that though things are so bad presently, her daughter was able to have the waterfall experience
- Many praised the baby's beautiful face as she laughed watching huge water cascade over a high cliff
PAY ATTENTION: Click "See First" under the "Following" tab to see Legit.ng News on your Facebook News Feed!
When they say babies are wonderful creatures, what they perhaps mean is that they approach everything with their pure innocence.
A baby got many people talking when her mom, Lisa Fleisher, posted her video on Twitter on Friday, September 4.
As at the time this report was written, the clip has over 6 million views. In the video, the baby reacted sweetly with surprise mixed with her toothless laughter when she saw a waterfall for the very first time.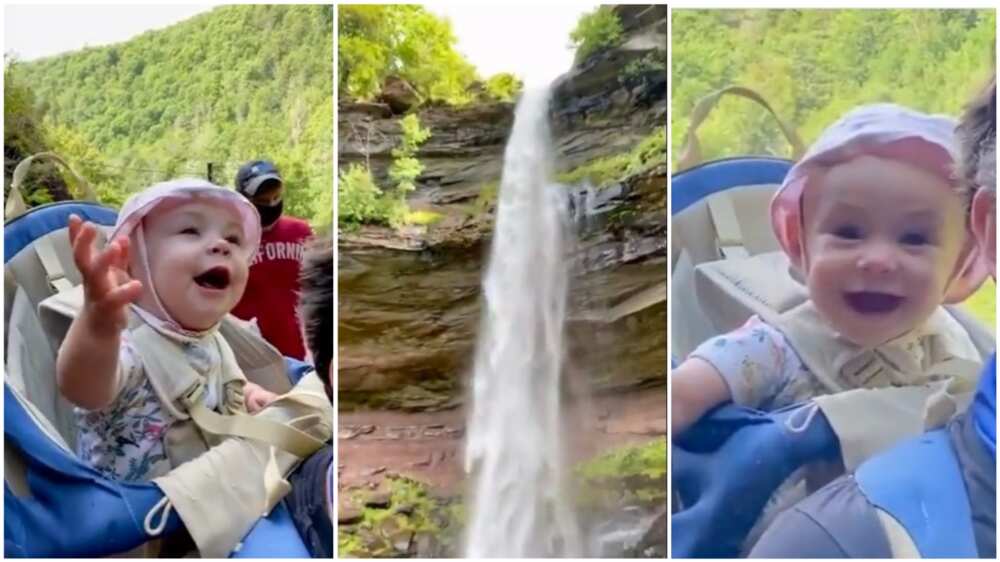 The event happened at the Kaaterskill Falls in America in New York. Lisa Fisher captioned the video saying: "Things always seem terrible around here, but yesterday my daughter saw her first waterfall and I got to watch her face."
Watch the video below:
The baby's reaction to the awesome sight was one of pure joy. Many who commented on the video spoke about how really beautiful she is. Most pointed out her happy reactions.
Below are people's comments:
A commenter said she gets the same feeling whenever she sees a waterfall.
According to Rachel Metz, her daughter gets the same way whenever the faucet is turned on.
Meanwhile, Legit.ng earlier reported that another little baby also left many amazed as she trended on social media after she was caught on camera dancing to her mom's bedtime lullaby.
The toddler's mother, 27-year-old Chane Milner-Joseph, said that it is her routine to always sing to Chyla Rae before she sleeps.
When she discovered the 11-month-old baby was standing and dancing to her gentle lullaby, the woman was overjoyed.
"I lay Chyla in her cot, ready for bed and put on lullabies which I do every night but one day she decided to get up and start dancing," she said.
Of her dancing nature, the woman added: "'She dances all the time. When she's eating, when I brush my teeth, if she hears a packet rustling, to her toys or any melodic sound.
"I wasn't surprised she dances a lot; she is such a happy little baby with such a big personality and character"
In speaking about the popularity of her baby's video online, she said that she did not know it would get that much attention, adding she uploaded it just for friends.
Is it right for parents to fight in front of their children? | Legit TV
Source: Legit.ng