Editor's note: Public affairs analyst, John Amenaghawon, writes on the many actions of Governor Godwin Obaseki ahead of the Edo state governorship election, noting that the governor is showing signs of desperation.
Read below:
PAY ATTENTION: Click "See First" under the "Following" tab to see Legit.ng News on your Facebook News Feed!
Edo state governor, Mr Godwin Obaseki's recent recourse to threats of retaliating violence against his perceived political opponents is rather unbecoming of someone occupying an exalted office as the governor and whose primary responsibility is to protect lives and property. 
By many of his actions, outgoing Governor Obaseki has shown very poor temperaments that are not gentlemanly enough for his current job, the latest being his threat to resort to violence if his perceived political opponents perpetrated violence any. 
Though some news media reported that the governor issued a warning to perpetrators of violence, however, watching the governor's statement on national television it was obvious that instead, he threw caution to the wind while he vowed to unleash violence in retaliation for violence.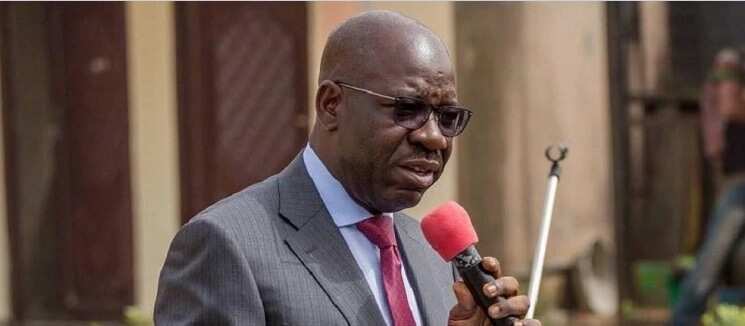 PAY ATTENTION: Download our mobile app to enjoy the latest news update
He did not stop at that, the governor indicated that his response would be lawless but even at that, he would be protected by the immunity that exempts state executive and their deputies from facing the legal consequences of their actions while still in office. 
The signal the governor sent was that he could use state apparatus to retaliate violence. But that is wrong! As a governor, he is the Chief Security Officer and as such, must not be seen to be perpetrating or encouraging violence for whatever reason. Rather, he is expected to take all necessary actions to move against anyone instigating violence. 
By his statement, Governor Obaseki ran foul of Section 12(2b) of the Nigerian constitution, which provides that security and welfare of the citizenry is the basic purpose of government. So, referring to the president as Commander-in-Chief of Armed Forces and governors as Chief Security Officer is not by choice. It is a constitutional responsibility to which they swore an oath to uphold.
The governor's utterances have continued to elicit responses and increase tension. He has been at loggerheads with his predecessor, Comrade Adams Oshiohmole, the All Progressives Congress (APC) and a cross-section of Nigerians, who had already taken to their social media accounts to castigate him for stooping so low in his desperation to return for a second term. 
PAY ATTENTION: Download our mobile app to enjoy the latest news update
Meanwhile, in the fallout of the violent exchanges outside the Oba's palace, vice chairman, media and publicity committee of the APC campaign council, Mr Patrick Obahiagbon, raised the alarm, alleging that the governor has sinister motives towards Oshiomhole and a business mogul, Captain Idahosa Okunbo.
The former House of Representatives member, who said the opposition PDP unleashed terror on the citizenry by enlisting the support of renowned cultists in Benin, further alleged that Obaseki is working on plans to arrest the duo of Oshiomhole, Okunbo and other APC leaders on the eve of the election for not supporting him. He also claimed that there was a plan to set Okunbo's farm on fire. 
Everyone in the governor's camp who is familiar with some of his major mistakes would agree that apart from setting out to wage a protracted war against his predecessor, his attack on Captain Okunbo is perhaps another major mistake he made in his quest to return to power in the September 19 election.  
Though the governor is not without one or two of his supporters cheering him up on his violence agenda, his handlers should be smart to enough to evaluate the negative public opinion that trailed his unfortunate and irreversible commentary on social media. 
Disclaimer: The views and opinions expressed here are those of the author and do not necessarily reflect the official policy or position of Legit.ng.
Your own opinion articles are welcome at info@corp.legit.ng— drop an email telling us what you want to write about and why. More details in Legit.ng's step-by-step guide for guest contributors.
Contact us if you have any feedback, suggestions, complaints or compliments. We are also available on Twitter.
APC disqualifies Obaseki from Edo guber primaries | Legit TV