APC faces big hurdles ahead of Edo election after Oshiomhole's suspension (analysis)
It started like a small setback that would soon vanish when Governor Godwin Obaseki and his former mentor, boss and godfather, Adams Oshiomhole, began to set a warpath against each other.
PAY ATTENTION: Click "See First" under the "Following" tab to see Legit.ng News on your Facebook News Feed!
The relationship got more frosty and estranged as Obaseki attacked his predecessor in a fierce political rift that became pronounced in June 2019.
Oshiomhole felt betrayed and buffeted when the Edo governor made an attempt to send him into oblivion and decided to take his pound of flesh after surviving the first blow.
The mess, unfortunately, ran into a redline on Friday, June 12, as the governor's re-election bid hit a massive iceberg as he was disqualified from the All Progressive Congress (APC) ticket race over a defective certificate.
The feud festered and hit a climax on Tuesday, June 16. Obaseki resigned his membership of APC in a strange circumstance.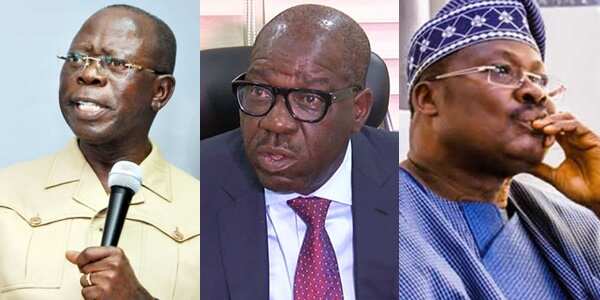 The embattled governor took a bow out of the ruling party like a feisty warrior after collapsed attempts to make the warring parties in Edo APC bury their grievances.
He will announce his new political home in due course but there are indications he will move to Peoples Democratic Party (PDP).
Appeal Court upholds Adams Oshiomhole's suspension
Sad and shocked, Oshiomhole received a big blow from the back while making efforts to axe Obaseki out of the governorship race in Edo state.
His suspension as the chairman of the ruling party was upheld by the Court of Appeal in Abuja.
In a judgment by the president of the court, Justice Monica Dongban-Mensem, the judicial body ruled that Oshiomhole's appeal that challenged his suspension lacked merit.
The shock pronouncement came barely three months after a Court of Appeal sitting in Abuja stayed the execution of the March 4 order of the Federal Capital Territory (FCT) high court restraining Oshiomhole from further acting in that capacity.
The National Working Committee (NWC) of APC has announced that Senator Abiola Ajimobi, former Oyo state governor, would serve as the party's acting national chairman.
APC in shambles and this is why
With less than two weeks to the primary election and three months to the guber poll in Edo state, APC faces the tricky hurdle of leadership which may cost the party the Edo state election.
The reason is that Senator Ajimobi, who was given the mantle of leadership after Oshiomhole's suspension has been upheld, is coming in with less or no idea of the national leadership of the party having been sworn-in recently.
Interestingly, with Obaseki and his deputy governor Philip Shaibu's resignation, Ajimobi is going in with APC about to lose a large number of its supporters and members and the party apparently enmeshed in crisis.
It would be recalled that the former Oyo state governor was recently nominated as the deputy national chairman of the ruling party (south), while Waziri Bulama was also nominated as the party's acting national secretary.
Ajimobi reportedly hospitalised due to Covid-19
APC is in dire need of stable leadership. Ajimobi's emergence could have given a flash of hope but reports remerging from Oyo state confirmed that the former governor is reportedly in a coma.
The governor is said to be on a ventilator for some time now battling for his life having contracted coronavirus infection.
According to the report, Ajimobi is being treated at the First Cardiology Consultants Hospital in Ikoyi with APC leadership mantle in his hands less than three months to the election.
APC is indeed in shambles as Obaseki and his deputy resign, Oshiomhole suspended and Ajimobi hospitalised due to suspected Covid-19.
APC disqualifies Obaseki from Edo guber primaries | - on Legit TV
Source: Legit