June 12: Ending the culture of 'legal but illegitimate elections' in Nigeria by Joseph Phillip
Editor's note: Joseph Phillip, a good governance advocate writes on the significance of June 12 especially regarding the conduct of elections in Nigeria, lamenting that recent experiences make it hard for one to refute such an assertion that most of our recent elections are "lawful but illegitimate."
PAY ATTENTION: Click "See First" under the "Following" tab to see Legit.ng News on your Facebook News Feed
Nigeria and many parts of Africa have experienced mixed feelings of democratic and multi-party system journey after a sizeable share of the military or what others describe as an autocratic rule since after their independence. The wave of elections that brought multi-party democracy to Nigeria in the late 90s have in no little way successfully consolidated the democratic system of government while easing out the military regime.
Accordingly, Nigerians seem to have embraced democracy as 'the only game in town'; where mandates and legitimacy for leadership are only given to individuals and political parties through the ballot box. All of these were driven in part by the conviction of the civil society that a plural democratic society will greatly contribute to the promotion and attainment of good governance and development.
Democracy day in Nigeria was May 29th until the change was announced by President Muhammadu Buhari and for the first time in our nation's history, we celebrated June 12 as democracy day. June 12 carries such a huge significance as it was the date in which the 1993 presidential elections were held for the first time since the 1983 military coup. An election in which many observers described as the most significant in Nigeria's post-independence political history; as twenty years down the line it is still being viewed as the freest, fairest and most peaceful election ever held in Nigeria. Recent experiences make it hard for one to refute such an assertion as analyst and experts described most of our recent elections as "lawful but illegitimate."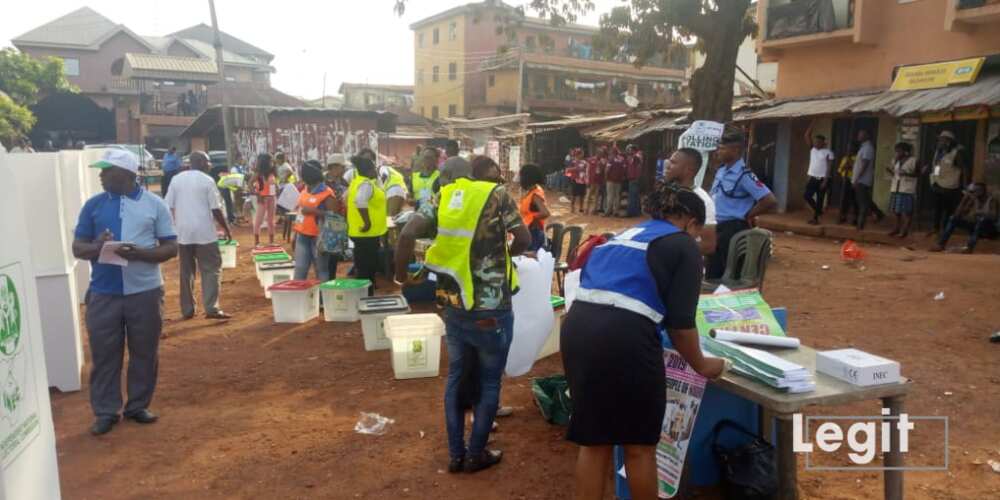 This assertion is more real and urgent when one takes into account the fact that voter apathy has been a major issue plaguing Nigerian elections as we are yet to record a voter turnout of at least 50% of the 73 million registered voters, with an estimated population of 200 million people. Given the size of the registered voters as announced by Independent National Electoral Commission (INEC), the 2019 general elections in Nigeria was billed to be record-breaking; as being Africa's biggest ever, however, this didn't happen as only a third of the electorate showed up. In fact, it was the lowest voter turnout in Nigeria's 21-year history as a democracy. This generally indicates a declining or loss of faith in the Nigerian electoral process or the political establishment as a whole.
PAY ATTENTION: Install our latest app for Android, read the best news on Nigeria's #1 news app
Furthermore, almost all elections conducted in Nigeria have been disputed by those who lost the elections. For instance, the recent general elections in Nigeria had 1,689 post-election litigations and of the 30 elections to be conducted this year by INEC, 28 are court-ordered re-run elections. Rather than working together to move the country forward after elections, precious time and resources are wasted by the state, candidates and parties undermining each other and further dividing their supporters and the general citizenry.
There are also instances where state institutions and resources are deployed to suppress opposition or dissent against unpopular government policies. The urge to win-at-all-cost and the huge democratic governance deficits currently on display give credence to the notion that "election is just a means to power, which is then used to plunder the commonwealth of the country by the elected politicians and that for a people to enjoy a share of the national cake, they must vote based on interest and not credibility." So all seems fair to politicians in their quest to win including, but not limited to using ethnicity and religion as vehicles for mobilisation of supports and votes.
These trends have been attributed to grinding poverty, widespread illiteracy, limited investment in critical infrastructures that support credible polls, low level of social cohesion among Nigerian and huge trust deficit among the political class. Furthermore, democracy advocates have argued that beyond these issues, the absence of accountable and inclusive institutions, which are part of the aspirations of the sustainable development goals are the major causes of the current situation we have found ourselves in the country.
The present concerns of voting amidst COVID-19 wouldn't have been this dire if the proper electoral frameworks have been put in place. For instance, the electoral commission has no constitutional mandate to cancel elections when such process is marred by high-level electoral malpractices as was seen in Kogi and Bayelsa. The same thing applies to the candidate nomination process of political parties, INEC can only monitor such a process but cannot penalise such parties when they go against the laid down guidelines for the conduct of such a process. It is unfortunate that we had ample opportunities since 2015 to correct some of these anomalies but fails to do that and all these are further compounded by public health concerns in the face of voting amidst COVID-19 for Edo and Ondo.
We might have missed the opportunity to make elections count in the past, Edo and Ondo elections presents another unique opportunity to restore confidence and sense of legitimacy not just to the electoral process, but the leadership that will emerge from such a process. One sure way is by ensuring the reversal of the low voter turnout that has plagued Nigerian electoral space. This might seem a far cry in the face of public health concerns in voting amidst COVID-19, however, it is not impossible. Delivering credible polls is not just the mandate of the EMB alone but that of all electoral stakeholders. It is our collective responsibility to see that Nigerians start enjoying the dividends of living in free and open societies, by participating in elections that are credible and accountable even amidst COVID-19.
The present administration in its wisdom has recognised the June 12 elections as the hallmark of Nigeria's democracy, it will be great to see such wisdom applied beyond personal or party interest, in using the current constitutional amendment process to implement electoral reforms that can finally deliver an election Nigerians can call their own.
Your own opinion articles are welcome at info@corp.legit.ng— drop an email telling us what you want to write about and why. More details in Legit.ng's step-by-step guide for guest contributors.
Contact us if you have any feedback, suggestions, complaints or compliments. We are also available on Twitter.
Democracy Day: Nigerians lament bitterly over governance | Legit TV
Source: Legit